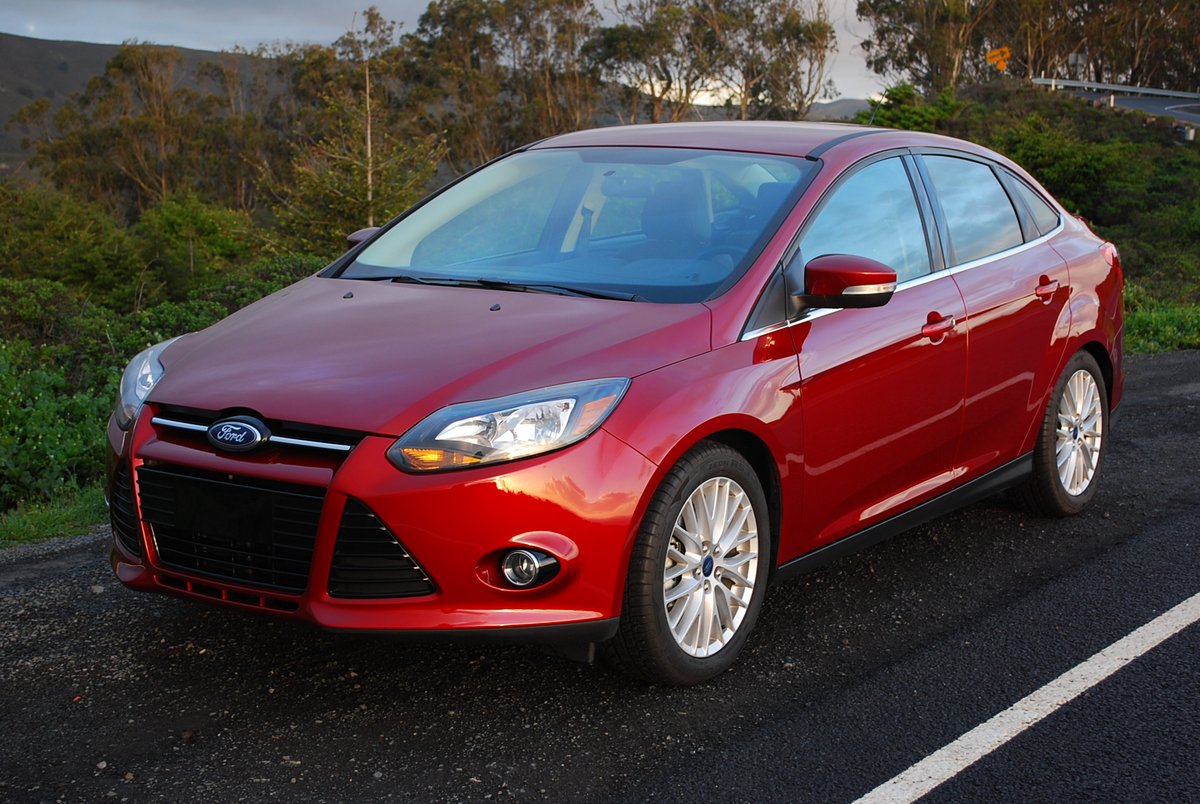 By David Colman
Hypes: Great Directional Stability in Rain
Gripes: Tight Rear Seat
Ford has mastered the art of building a cheap car that doesn't feel cheap. You won't find any telltale signs of penny pinching when you drive a Focus. The charcoal leather trimmed front seats envelop you so hospitably that three hour sittings pass without complaint. Standard five stage seat heaters ease the journey at no extra expense. Ford has crammed the standard issue Focus with such thoughtful addenda as a tilt/telescope steering wheel, one touch drop of the driver's window, remote fob lock and unlock, and push button start. Sony provides the excellent audio components, while Ford adds its own navigation unit for $795 extra. A rear view camera which displays its image on the large navigation screen is standard equipment. You'll be pleased to discover that Ford provides easily modulated dual zone climate control at no extra charge, as well as power operated and heated exterior rear view mirrors complete with wide angle inserts and built-in puddle lamps.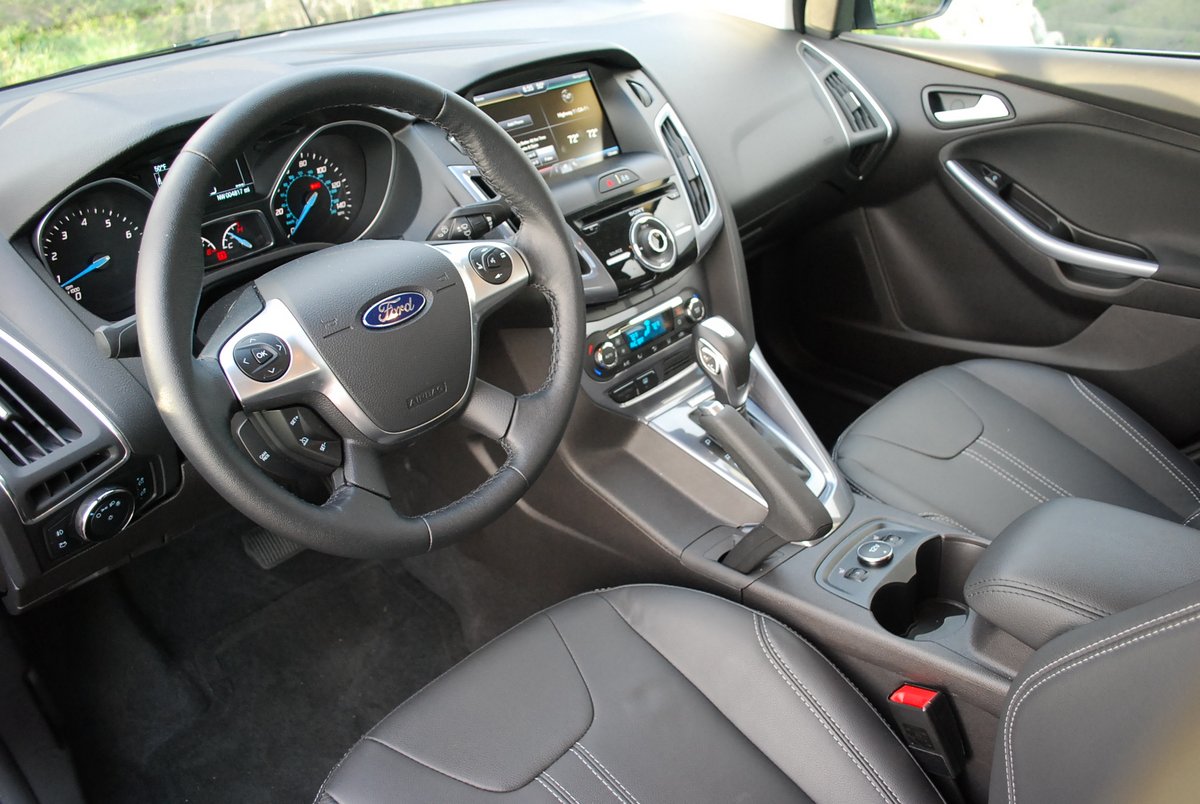 Yet this extensive portfolio of goodies costs just $25,500, navigation upgrade included. The cabin of the Focus Titanium is so competently organized that you could easily drive this 2,995 lb. compact hatchback across the USA without hesitation or discomfort. Especially compelling are the 17 inch Cooper Zeon RS3-A mud and snow rated tires (215/50R17) which offer a premium combination of ride comfort and responsive handling. They especially earned their stripes during a scary torrential downpour on US 101 near Gilroy where they never lost their grip on the flooded pavement.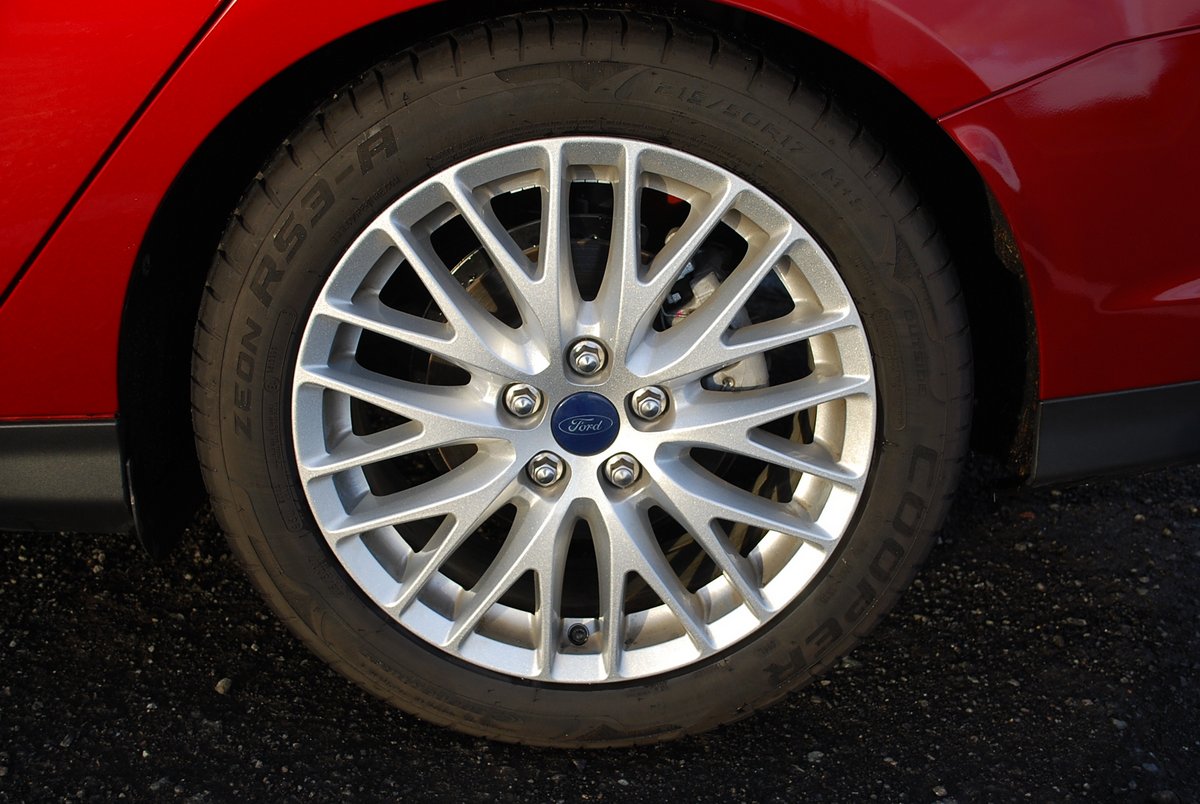 While the 160hp output of the Focus' inline four cylinder motor may seem paltry on paper, in practice it's more than adequate for zippy but economical forays. We were able to complete a week of Bay Area commutes plus a 120 mile jaunt from San Rafael to Monterey before refilling with a paltry 9 gallons of standard grade gas. Despite this remarkable fuel efficiency (overall EPA rating of 31 MPG), the Focus never felt underpowered. Ford has achieved a rewarding balance between economic operation and responsive engine performance.
If 160hp is not enough to light your wick, consider the Focus ST, which Ford turbocharges to produce 252hp – more than enough to spin the front tires off the rims. The ST Focus is available only with a 6-speed manual transmission. Our Titanium test car eased city driving with its 6-speed automatic gearbox which includes a "Sport" mode gate. When you slot the lever into "S," you're able to control up shifts and down shifts via a rocker switch inconveniently located on the shift knob. Although this method of gear override is fairly compliant with your wishes, it occasionally decides to up shift on its own with no provocation from you. This idiosyncrasy can prove inconvenient during passing maneuvers.
While Ford offers a 5-door hatchback Focus, we spent the week driving the conventional 4-door sedan version that combines a huge trunk with a 60/40 split-fold down rear seat that gives you almost as much storage space as the hatchback but with the added benefit of more privacy for your valuables. The amount of luggage the Focus trunk swallowed without protest was a real eye opener: 2 hard shell cabin trolleys, two large soft sided duffel bags, a hard shell large plastic storage bin, and numerous paper sacks stuffed here and there. No matter what we threw at the Focus, it obligingly accepted. All this despite the fact the Ford has positioned a large, space grabbing Sony sub-woofer along the right side flank of the trunk.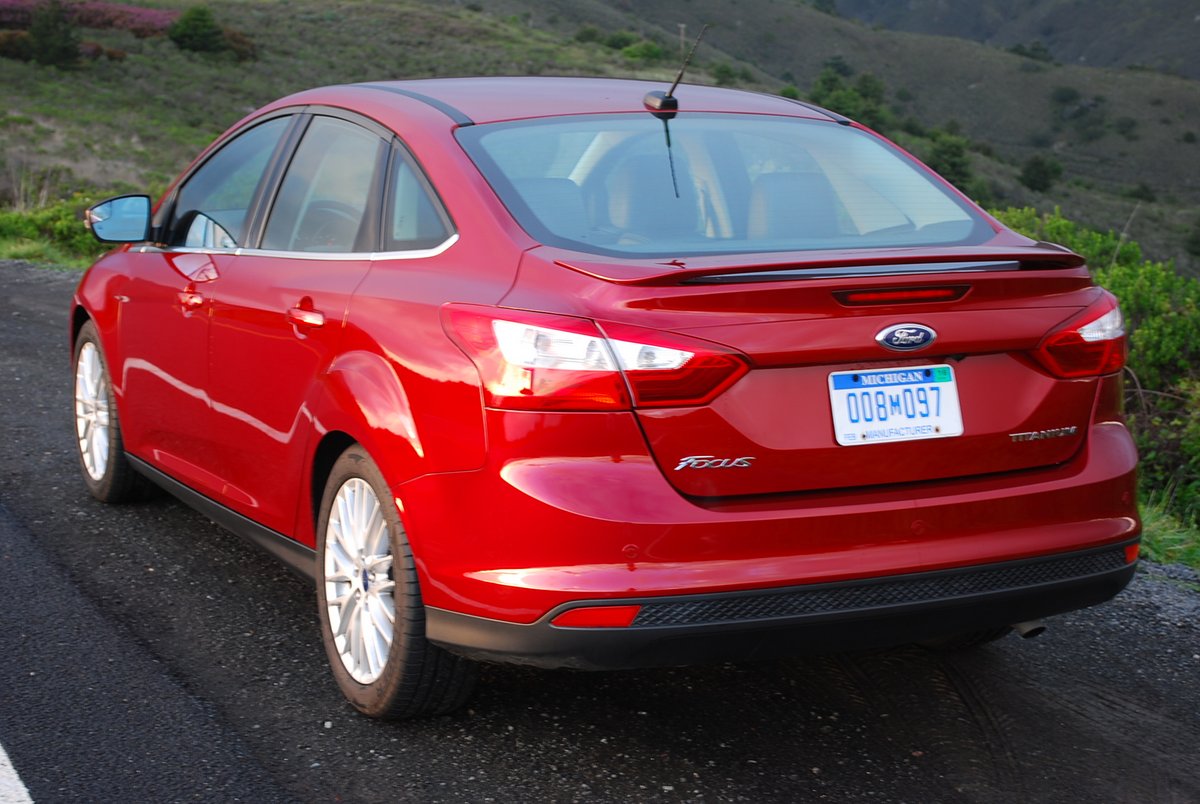 Although the rear seats are tight for adults, the Focus sedan would make an ideal companion for families with two sub teen children. For that quintessential foursome, the Focus offers just the right combination of interior space, ample hidden trunk storage, and economic propulsion to make it a prime candidate for the prime American garage.
2014 Ford Focus 4-Door Titanium
Engine: 2.0 Liter Inline 4 with Direct Injection
Horsepower: 160hp
Torque: 146 lb.-ft.
Fuel Consumption: 27 MPG City/37 MPG Highway
Price as Tested: $25,500
Star Rating: 9 out of 10 Stars
Related posts: