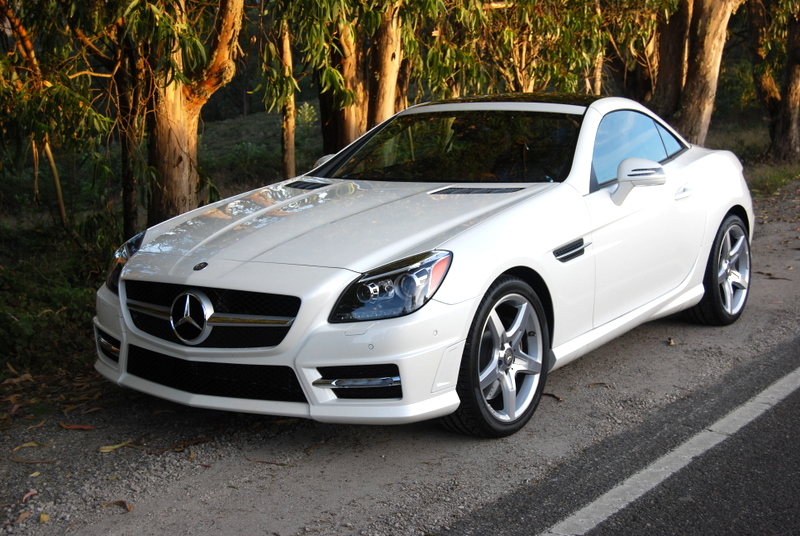 By David Colman
The Carreview Window Sticker
Specs: $67k price, 302 HP, 19/26 Mileage and 0-60 in 5.5 seconds
Pros:
The best SLK styling in years
Slingshot Acceleration and excellent handling
Custom Tailoring
Slick Roof with on-the-fly adjustable tint
A roadster that appeals to many of the buyer's instincts
Cons:
Lack of Storage
No Manual Tranny
Steep price of $67k
The Review:
The SLK is the closest thing Mercedes makes to a sports car. It is small, nimble and fast, seats only two, and functions as a convertible or a closed coupe. The SLK is a stunning piece of design. You can learn more about a car's true mettle if you wash and dry its metal. In the process of cleaning the SLK for a photo shoot, I marveled at the complexity of its shape. This roadster has more flutes than a champagne glass. In fact, you can hardly find a single flat plane on the entire body. The bodywork looks muscular and buffed, with short overhangs fore and aft, and bulging fenders to accommodate the beefy tires and AMG alloys. 7.5 inch front rims carry 225/40ZR18 Pirelli P Zero rubber, with 8.5 inch back rims equipped with 245/35ZR18 Pirellis. The simple AMG 5-spoke rims are part of a $2,500 Sport Package that includes appealing "Sport Body Styling" plus haunting interior illumination in "SOLAR red."
What prevents the SLK from full sports car status is lack of manual transmission availability. Like so many other manufacturers, Mercedes sees no point in Federalizing a separate (manual) gearbox for a customer take rate of 5 or 10 percent. Still, those are the very customers who will buy an Audi TTS or Porsche 911 expressly because those companies offer them the choice to shift gears by depressing a cutch pedal. Not that the SLK's 7-speed automatic is a bad piece of engineering. To the contrary, it offers the driver Efficiency, Sport and Manual modes, while providing small steering wheel-mounted paddles to control up and down changes. Even so, the SLK is less driver-involving than it could be with a slick stick shift.
Video by Driverseat.tv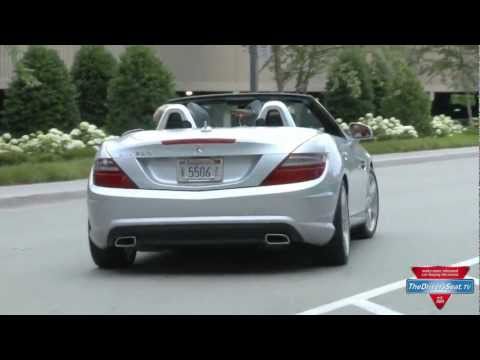 Packaging is tight in this baby Benz, Pretty much anything you carry on an outing will need to store in the compact trunk because there's almost no ancillary storage in the cockpit, save two small door pockets, a lockable cubby between the seats, and the glovebox. There is absolutely no storage behind the seats. If you chose to retract the nifty folding hardtop, available trunk space becomes even more circumscribed. Use of the folding hardtop restricts you to a small central bin in the trunk, fitted with a latchable lid. Weekend outings for 2 will require backpack-size take-alongs.
Related posts: