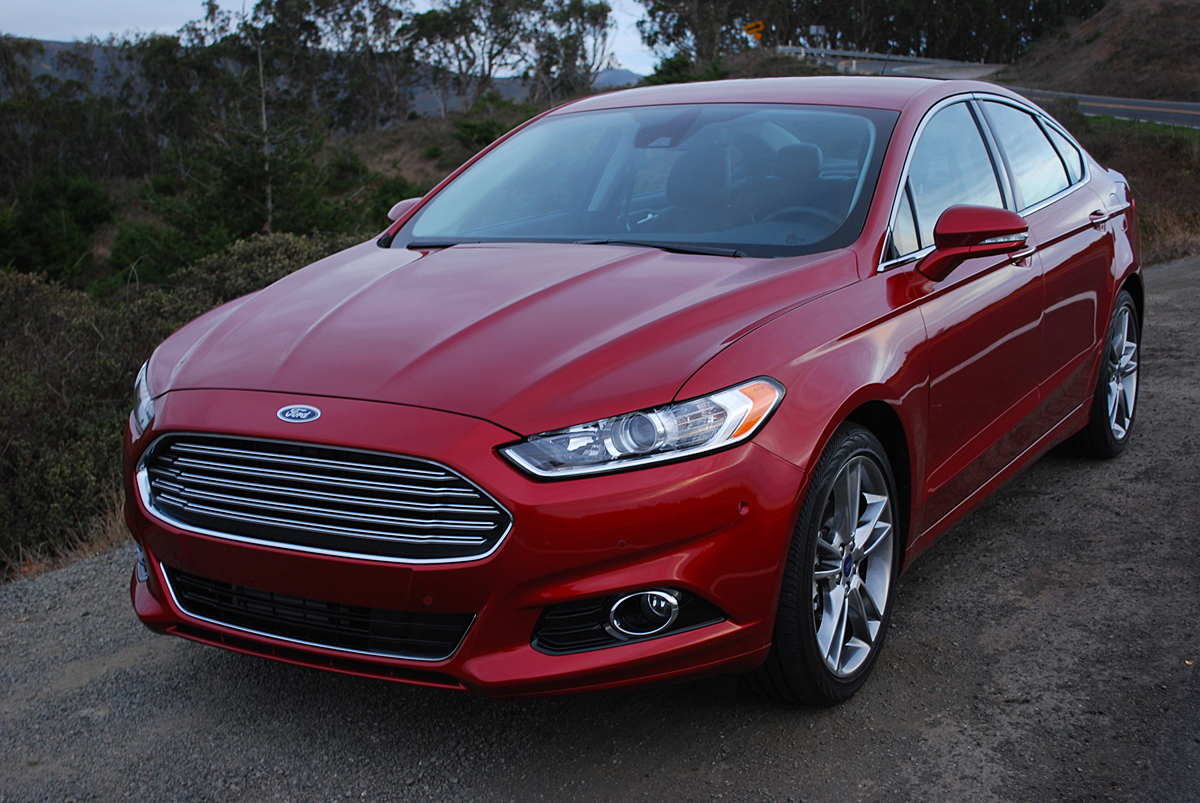 By David Colman
Hypes: Sweet Motor, Excellent Balance, Precise Handling
Gripes: Sharp Edges on Lower Steering Wheel Spoke
The Fusion ticks the "best ever" box in a number of departments for Ford. Its form fitting seats rate this accolade, for example, by providing such tightly molded support that you don't want to leave them when you've reached your destination. The tailored looks of the Titanium Fusion are fetching enough to make you cast a parting glance at it every time you walk away. Interior furnishing are slick enough to convince you you're driving a German built Audi, not a Ford made in Mexico. And the driving experience is precise enough to make you think you're wheeling a BMW rather than a domestic product. So what's the secret to all this success? Good design augmented by even better implementation.
The fun starts under the hood, where the 2.0 liter turbocharged "EcoBoost" engine makes a prodigious amount of horsepower (240hp) and torque (270lb.-ft.) given its modest displacement and excellent 25 MPG overall fuel consumption. In fact, it wasn't long ago that any Grand Prix engine producing 120hp per liter would have landed in the winner's circle at every Formula 1 race on the schedule. This direct injection gem of a Ford motor processes its fat torque curve through a creamy smooth 6 speed automatic gearbox featuring "SelectShift," a proprietary Ford gear changing system that utilizes both a console lever and steering wheel paddles to manipulate gear choice. If you slot the console lever into the rearmost position designated by an "S" for Sport, the transmission automatically revises its program to favor use of lower gears, higher engine speeds, and faster shifts from gear to gear. In the Sport range, the diminutive paddles adjacent to your thumbs on the steering wheel become operational. In other words, the Fusion can be driven like a true sports sedan.
Fortunately, it also enjoys the kind of handling precision and all wheel drive traction that usually costs far more than the Fusion's base price of $32,200 might suggest. The only optional item enhancing performance on this test car was a set of 19 inch alloy wheels for an extra $695. These "H-Spoke" dark stainless colored aluminum rims mounted beefy 235/40R19 Continental Conti Sport Contact tires that stuck to the pavement assiduously. Ford has snubbed the suspension movement of this Fusion effectively. It will cut apexes with the best sedans Europe has to offer. Those scooped bucket seats pin you in place while the taut springs and shocks do their job.
But we can keep the little secret about this car's exceptional handling between us, because you can sell it to the family as a practical and safe means of transportation, and nothing more. After all, the 5-passenger Fusion scores high on the Institute For Highway Safety's Rating System, with "Good" results on all 4 crash tests. Up front, standard dual stage airbags combine with knee bags to afford maximum driver/passenger protection. Side curtain airbags are also standard fitment. The rear seat is spacious and inviting, and the low beltline of the Fusion's redesign for 2013 emphasizes outward visibility. Ford has also improved airflow over exterior surfaces by 10 percent, resulting in a corresponding increase in fuel economy at freeway speed.
The cockpit of the Fusion Titanium is a restful and well crafted space. I noted very close tolerances at the tricky joint where the dashboard meets the door panel. In fact the only interior demerit was a failed retraction spring on the passenger side grab handle which allowed the handle to dangle. Microsoft's" MyFordTouch" computer system interface inhibits intuitive programming of the infotainemt system. But once you've mastered that hurdle, the system does work well. Below the removable coin holding tray in the compartment between the front seats. you'll find a pair of memory stick receptacles which you can use to load all your musical choices into the Fusion's memory. Ford uses Grace Note software for all disc and music file identification. Although our test Fusion boasted several expensive technological additions (including a $1,000 Driver Assist Package for lane keeping, a $995 radar Adaptive Cruise Control, and a $795 Parking Assist) you can easily do without any of them and still enjoy the many primary virtues of this sedan. However, a rear window wiper would be a useful option that Ford does not offer.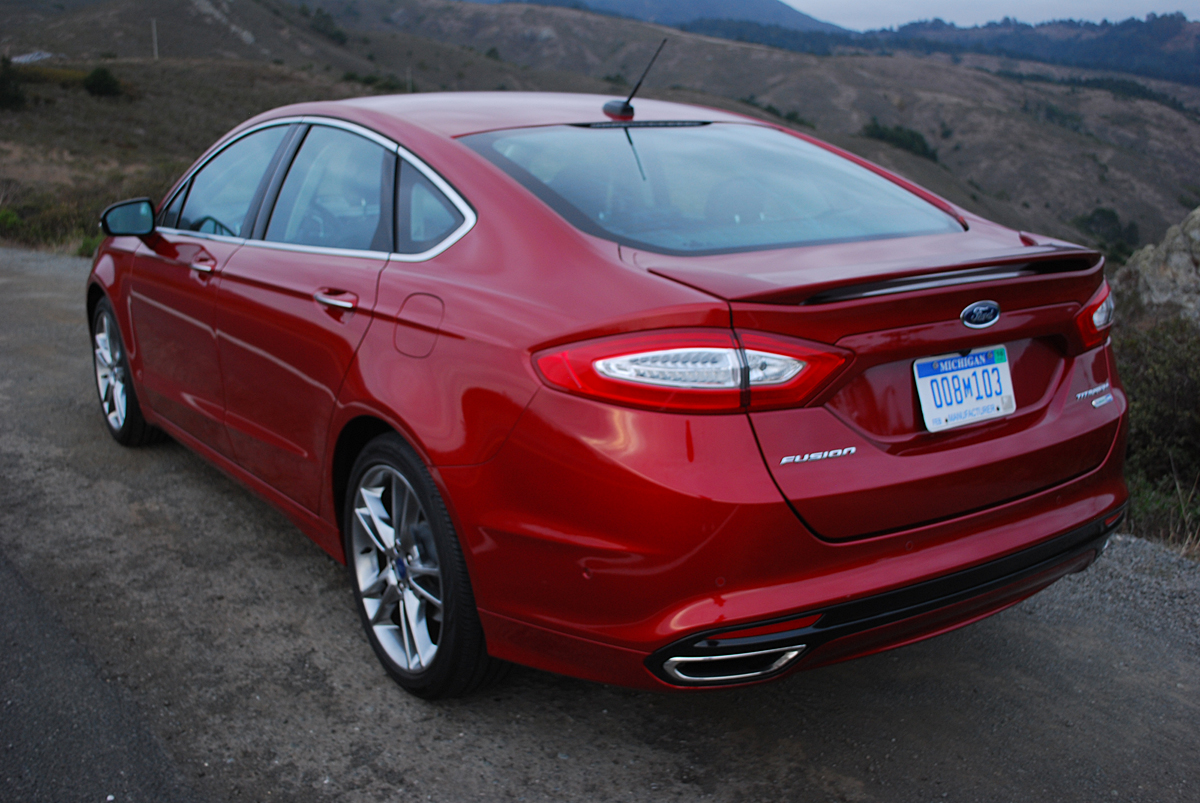 The Fusion Titanium AWD offers exceptional value, great comfort, and such sublimated driving pleasure that anyone canvassing the market for a sports sedan ignores this impressive Ford at their peril.
2013 Ford Fusion Titanium AWD
Engine: 2.0 liter inline 4, turbocharged, direct injection
Horsepower: 240hp
Torque: 270lb.-ft.
Fuel Consumption: 22MPG City/31MPG Highway
Price as Tested: $37,670
Star Rating: 9 out of 10 Stars
Related posts: