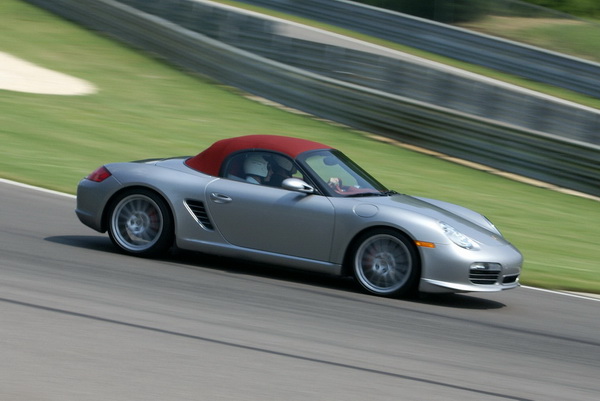 Just what distinguishes the RS Spyder from a plain-jane Boxster or even the Boxster S? The Boxster RS 60 Spyder is based on the S version of Porsche's mid-engined convertible and mimics the design of the race-winning Type 718 RS that won at the 12 hours of Sebring in 1960. Power output of the RS 60 Spyder from the horizontally opposed 3.4-liter six is 303 hp at 6,250 rpm and 251 lb-ft of torque. That's 58 extra horsies over the Boxster and 8 over the Boxster S. A retuned ECU and sport exhaust are responsible for the increase in power. Compared to a Boxster S, acceleration isn't noticeably affected (0-60 mph in 5.4 seconds), and top speed increases only 1 mph to a paltry 170 mph, but the new sound raises the grin level much more than that.
Car enthusiasts and Porsche aficionados can spot the RS 60 Spyder by its beautiful GT Silver Metallic paint, Porsche SportDesign integrated front spoiler, 19-inch Porsche SportDesign alloy wheels, and smashing Carrera Red interior. Closer inspection of the interior reveals the signature aluminum door sills, color matched seatbacks, and the official serial number plaque prominently displayed on the dash board above the glove box. Sign up for your Spyder quickly as only 1,960 special edition Boxsters will be produced, with less than 800 destined for North American shores.
Combining the luxury features, attractive but subdued styling, and superb handling performance I would say the Porsche has produced another winner. The great thing about Porsches, and the RS 60 Spyder is no exception, is that they inspire you to drive. There is no discounting the "fun" factor that is incorporated into a Porsche and that aspect in of itself deserves a gold medal.
###
---
Related posts: