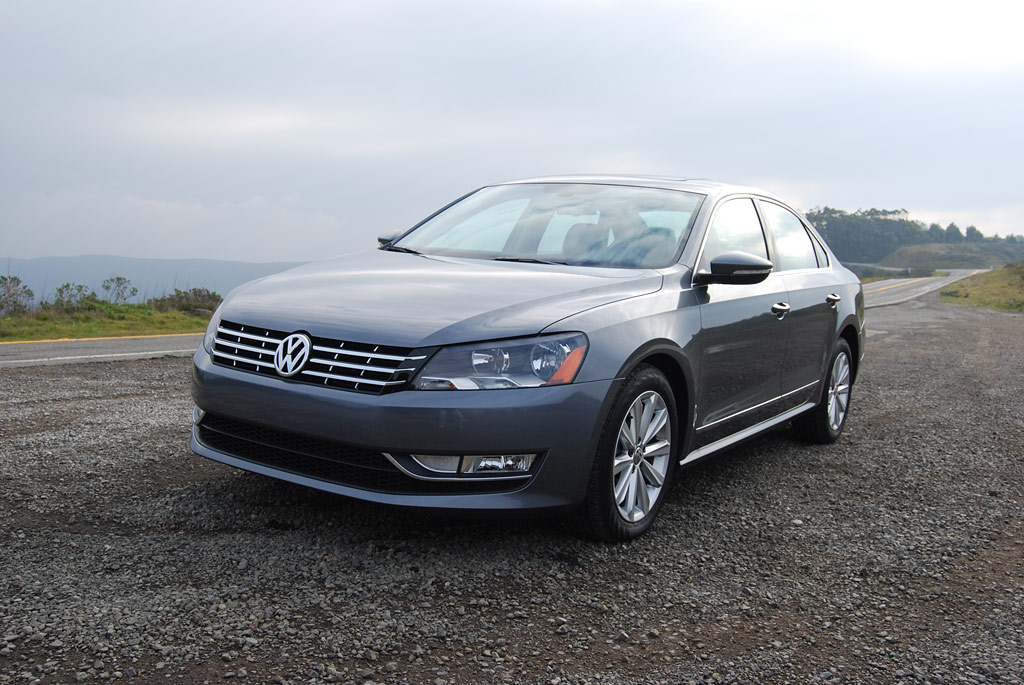 By David Colman
Pros: Immaculate construction, Spacious, Handsome
Cons: Underpowered, Niggling mirror controls, Loose rear arm-rest pass-thru cover
The long-awaited, built-in-USA Passat is finally here, imported from Chattanooga, TN. VW hasn't built anything on our shores since they closed the Westmoreland, PA Rabbit factory back in the early 80s. So the newly reborn Passat, much larger than the car it replaces, not only carries a lot of baggage in its commodious, 15.9 cubic foot trunk, but some ancillary "baggage" concerning its domestic derivation. Is the new Passat a legitimate VW in terms of fit, finish and quality? The answer is an unqualified yes. If you can find any trace of sloppiness in construction, any evidence of mismatched panels, or cheap material, please let me know, because my persnickety analysis led me to conclude that the Tennessee Passat is every bit as good as anything VW builds in Germany. Panel gaps are consistently slight, doors thunk with customary VW certainty, interior switchgear and fabric appear to be of the highest quality. In fact, Passat construction is so sound and tight that the end product is reminiscent of much more expensive VWs of yore like the W8 sedan and the $100,000 Phaeton.
Not until you park next to a prior generation Passat will you realize just how much this sedan has grown. Older Passats look positively diminutive by comparison, because the latest offering stretches overall length to 191.6 inches, and increases wheelbase to 110.4 inches. This expansion creates palatial back seat legroom, equivalent to such extravagant luxury sedans as the Audi A8 and BMW 7. Because VW has set their sights on the heart of the mid-size market, the revamped Passat now competes directly with Honda's Accord, Toyota's Camry, and Nissan's Altima in this crucial segment. The re-imagining of the Passat is consistent with Volkswagen's stated desire to become the number one manufacturer of cars worldwide.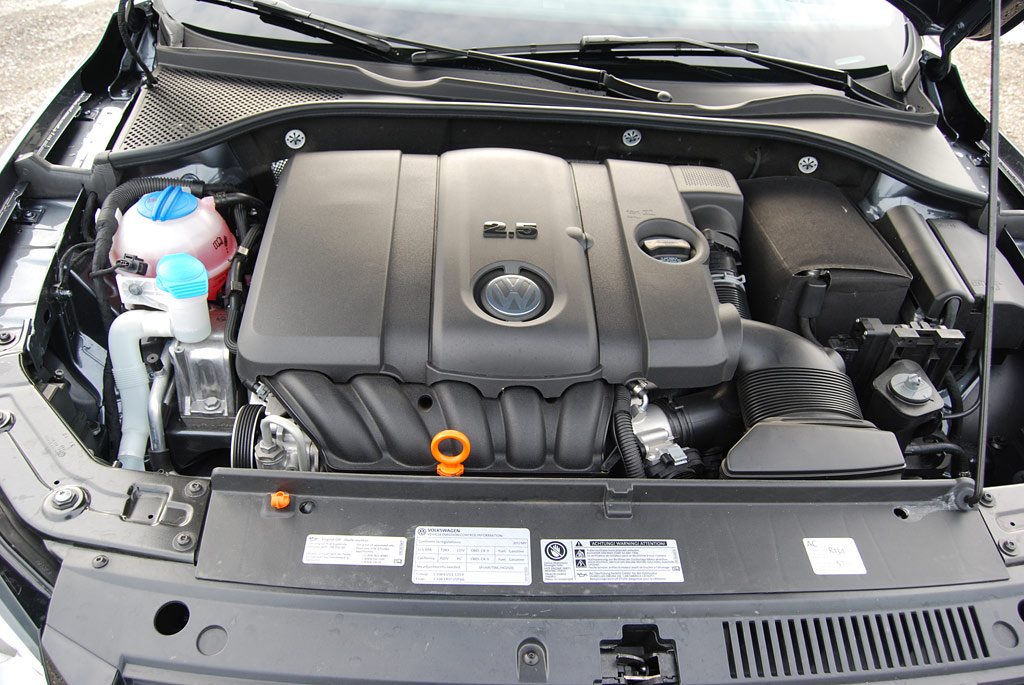 If our week in the Passat 2.5 SEL is any indication, VW has a ways to go before the Passat gains equal footing with the big three in this market segment. The problem lies under the hood, where the in-line 5 cylinder motor produces just 170hp and 177 lb.-ft. of torque. That kind of output would have been acceptable in the former, smaller, lighter Passat, but in the 3,221 pound current version, the horsepower to weight ratio stands at 18.9. This is not a stellar figure for performance motoring, and the Passat confirms diminished expectations by responding sluggishly to throttle application. With the 6-speed automatic transmission set in Drive, forward thrust is barely adequate with the 2.5. In order to assure yourself of completing safe passes on two-lane roads, you need to flop the shift lever into the manual gate, and downshift to 2nd or 3rd gear. Paddle shifters are not available. With the engine on full boil between 4,000 and 5,000 rpm, the 2.5 is quick enough to accomplish such passing maneuvers. Although the 2.5 yields decent gas mileage (22 City/31 Highway), the trade-off in performance is too great for the payback at the pump. You would be well advised to step up to the 6 cylinder, VR6 Passat, which produces 280hp and 258 lb.-ft. of torque, at only a slight penalty in mileage (20 City/28 Highway). Although Volkswagen is making a lot of noise about the base model 2.5 costing just $19,995, the Passat you'll want to own is the 3.6 liter SE, with standard sunroof and navigation. This VR6 engine model carries a base price of $30,595.
2012 Volkswagen Passat 2.5 SEL
Engine: 2.5 liter in-line 5, 4 valves per cylinder
Horsepower: 170hp at 5,700rpm
Torque: 177 lb.-ft. at 4,250rpm
Fuel Consumption: 22 City MPG/31 Highway MPG
Price as Tested: $28,395
Star Rating (Scale of 1-10): 6.5
Related posts: