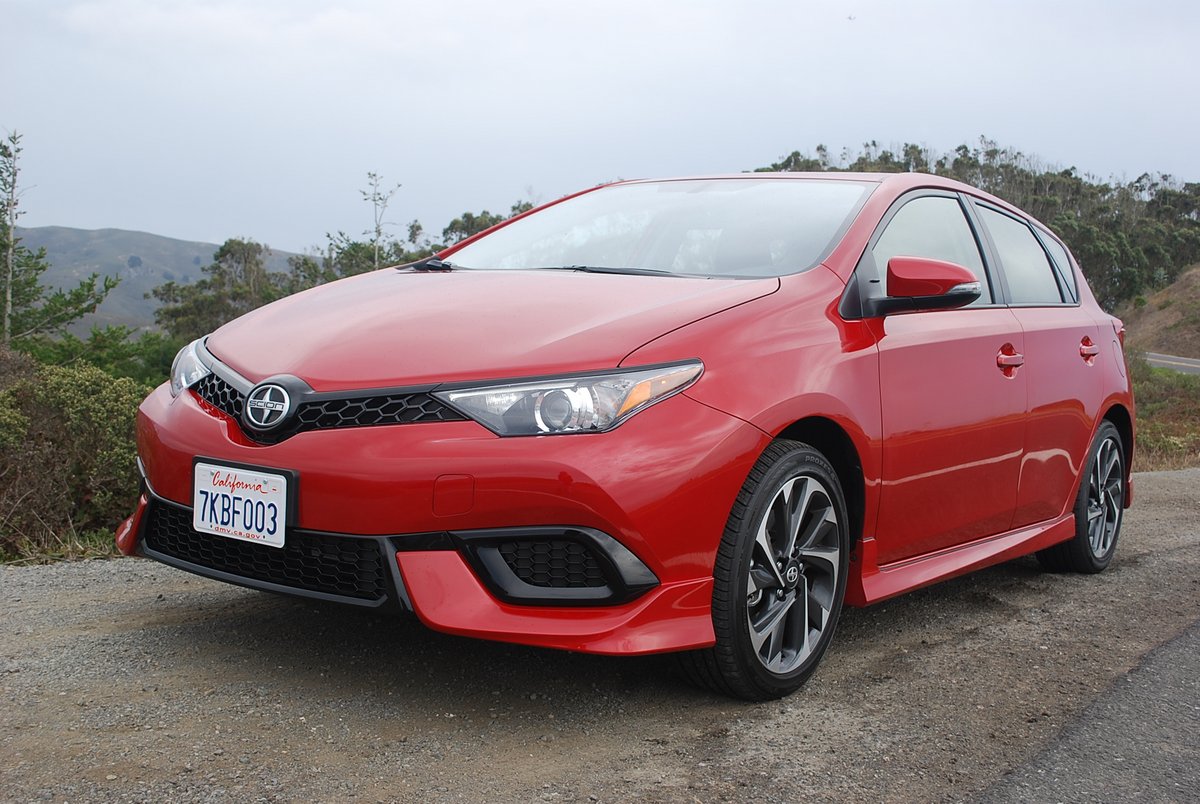 By David Colman
Hypes: Manual Transmission Available, Bargain Price
Gripes: Poor Gear Ratio Choice, Needy High Beams
Scion's introductory advertising campaign for the brand new iM model stresses the fact that it's "Weird." Really, the only thing weird about the iM we drove for a week is that its price ($19,594) is inexplicably low. This is really a very serviceable sedan with features you would expect to find in the next price class up the food chain. From a mechanical standpoint, the iM platform is first rate, with ABS disc brakes with brake force distribution at all 4 corners, standard alloy wheels ditto, and premium grade Toyo Proxes rubber (225/45R17) providing decent grip. Our test iM featured a 6 speed manual gearbox which imparts a sporting feel to operation. The gates of the linkage are well defined, and the synchronizers allow quick, sure transitions from gear to gear. If you opt for an automatic, you will find your choice limited to a Continuously Variable Transmission (CVT) borrowed from the Toyota Corolla ECO. Also taken from the ECO is the iM's 137hp 4 cylinder engine which powers the front wheels.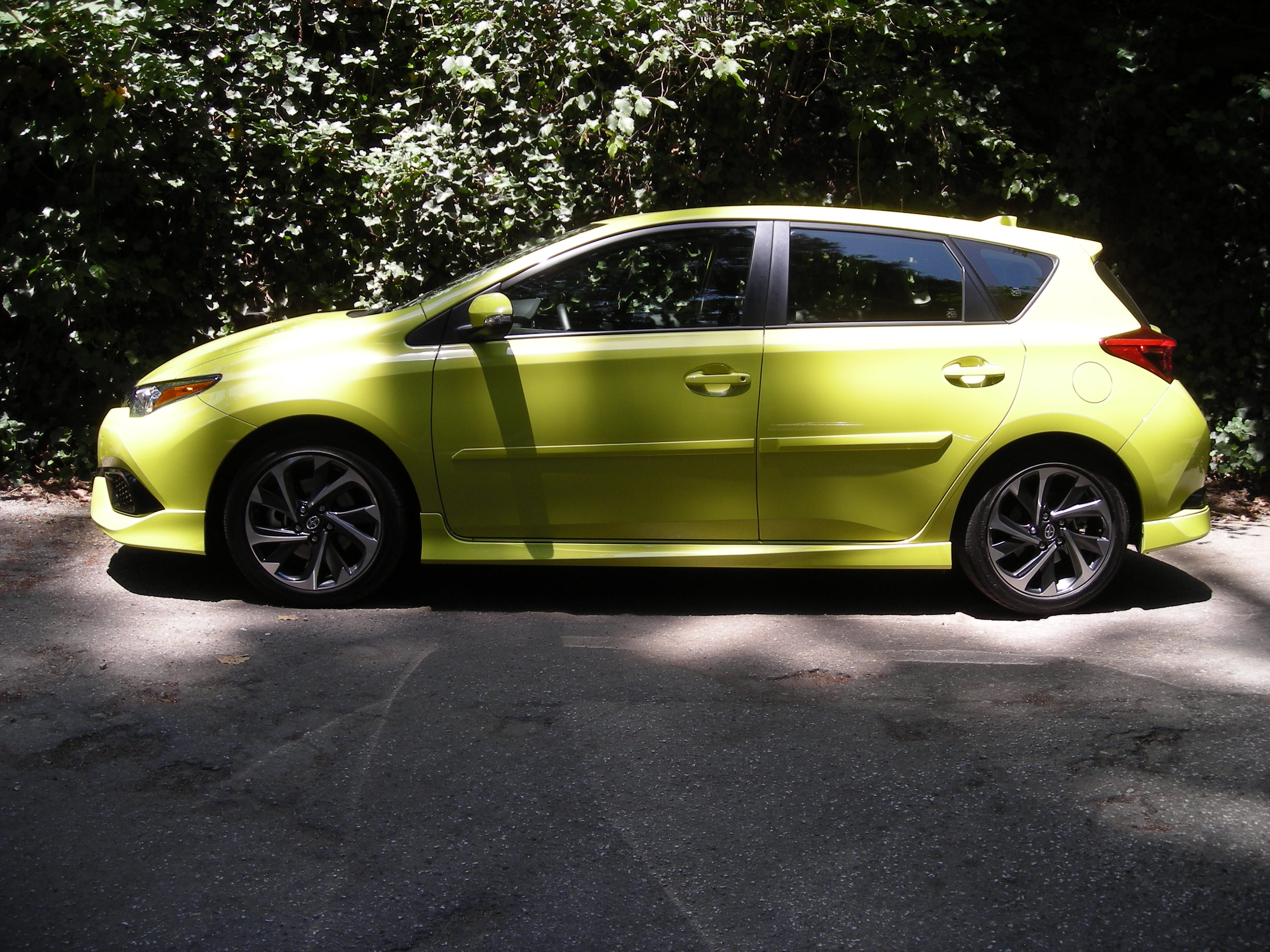 The iM has the makings of a promising little sports sedan. But in current form, those promises are partially unrealized. The manual gearbox is fun to shift and does get you involved in the art of driving. But mushy clutch engagement spoils the party. In particular, it's difficult to judge just when the clutch bites to engage first gear. An even bigger problem is the choice of gear ratios for second and third. These two gears are so far apart that your engine speed drops nearly 2,000rpm when up-shifting from second to third. If the engine produced lots of torque this would not pose a problem. But because the iM's 1,8 liter four makes only 126lb.-ft. of torque, you need to conserve every foot pound. The transmission's "weird" gearing fails to meet this need.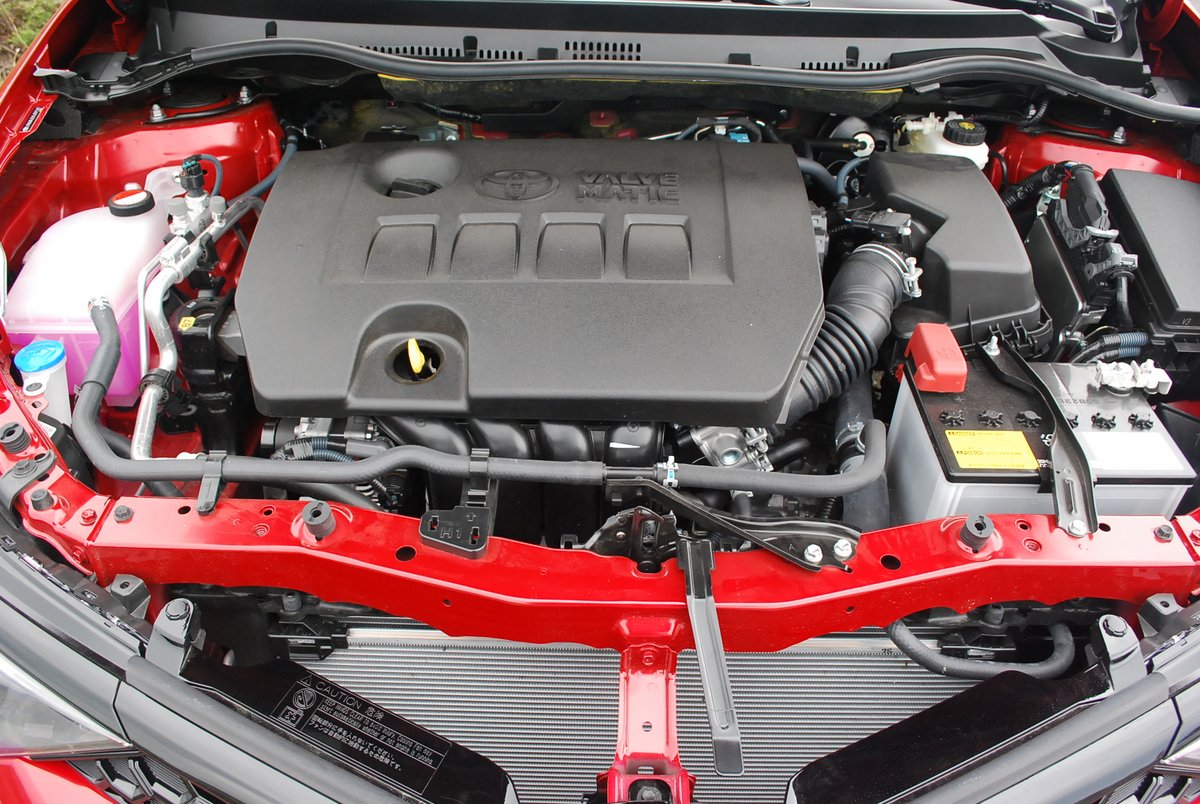 As with previous Scion progeny, customization of the car's appearance and handling are left to dealer installed options. As it stands at delivery, the iM affords a comfortable, plush ride quality at the expense of handling precision. While the Toyo tires do their best to hang on through corners, the softly sprung platform hikes over under duress, negating the grip of the tires. But help is at hand. Your local Scion dealer will offer a full line of TRD performance parts such as stiffer anti-roll bars and tauter springs. The iM will respond well to such improvements because its basic platform features fully independent strut front suspension and independent double wishbone rear suspension. This is a sophisticated design primed for aftermarket fine tuning.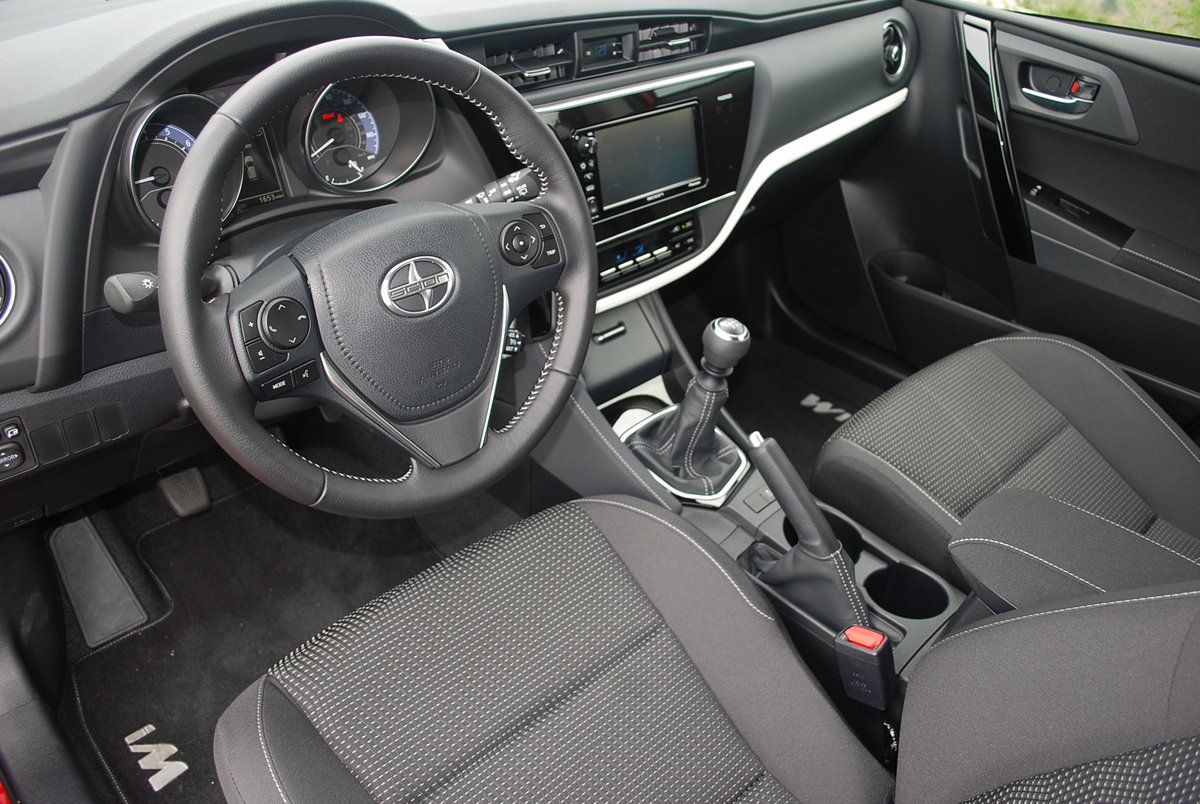 Nothing in the iM's cabin looks or feels cheap. The front seats are comfortably configured for excellent lower back support. The driver's seat is manually adjustable for height. All seating surfaces feature a grippy cloth that looks good and promises long life. A curious white stripe demarcates the lower edge of the black dashboard, bringing to mind the tuxedo look touted by Scion in recent TV ads for the iM. Aside from this one jarring note, the interior scores high marks for its standard 7″ Touch-screen that is easy to read and control. Although you can easily hook up your music device through provided AUX or USB ports with iPod connectivity, Scion does not offer Satellite Radio on the iM, so you'll have to make do with your own devices or the available HD radio instead. Almost all HD selections key to album covers shown on the sizeable Touch-screen display.
A night time run in the iM revealed soothing blue lights for the instrument pod, which boasts its own 4.2 inch color multi-information display. One item to note is the fuel range read-out. We watched it hold steady at 60 miles estimated range, but as soon as we hit a few curves, the fuel warning light started blinking, and the display shifted to "Range Low." So be extra careful when you reach the quarter tank mark on the gas gauge, because the fuel range is likely to diminish from acceptable to concerning instantly. That night run through curves also revealed a sharp cut-off of the high beams, which left much territory unlit on the driver's side.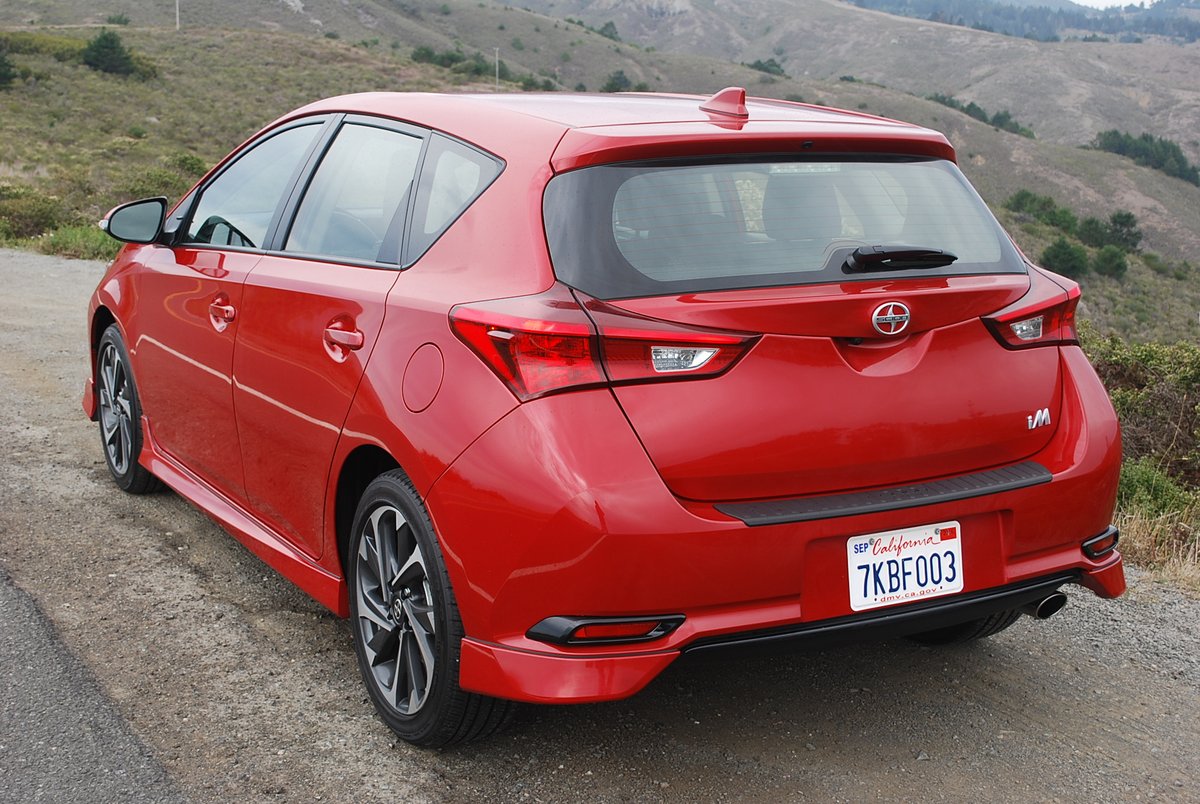 The new iM is a solid piece of design work. Its crisp good looks, serviceable interior, and fun gearbox make it an affordable choice for urban drivers or millennials who aren't car-obsessed. And with just a little help from the TRD parts bin, the iM can develop a new performance personality. Either way, it's definitely a lot of new Scion for the money.
2016 Scion iM
Engine: 1.8 liter inline 4, DOHC, 16 valve
Horsepower: 137hp
Torque: 121lb.-ft.
Fuel Consumption: 27MPG City/36 MPG Highway
Price as Tested: $19,594
Related posts: