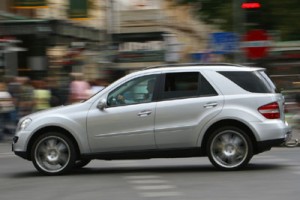 The good news is that Mercedes-Benz is going to bring a diesel/electric hybrid out later this year. The bad news is that it will be in their M-Class SUV.
Mercedes-Benz is bringing a hybrid version of its S-Class sedan, the S400 BlueHYBRID, to market first, that's true, but the FIRST hybrid Mercedes wanted released was their SUV. A hybrid version of the automaker's M-Class SUV was supposed to make production last June, but a supplier glitch delayed that plan.
The M-Class hybrid will share the same hybrid drive system found in the S400 BlueHYBRID, only it will be diesel-powered, using the same 3.2L clean turbo-diesel found under the hood of the ML320 BlueTEC.
The M-Class hybrid will crank out a combined 340 horsepower, which is very comparable in power to the V8-powered ML550. Thanks to the electric motors fuel economy should be improved by about 30 percent. The ML320 BlueTEC already achieves 18/24 mpg city/highway, so the new model should be even better, particularly in city driving.
The hybrid M-Class is expected to hit showrooms sometime during the fourth quarter of this year.
Source: LeftLaneNews
Related posts: