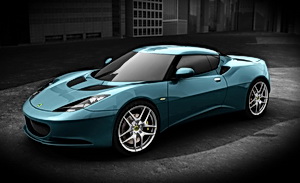 Lotus, makers of light and nimble cars for time immemorial, has just announced that their upcoming Evora will also be available in a convertible variant. The coupe version of the Evora will be a 2+2, the first such configuration for a Lotus in quite some time, but the convertible version, in addition to loosing the hard top, will also do away with the two back seats. Meaning the drop top will also be a two-seater.
Apparently, the addition of the convertible is all part of Lotus' plans to keep the buzz about the Evora on a boil by adding new features to the car each year. In addition to the 2+2, there will also be a model with a paddle-shift gearbox, a high-performance supercharged variant and then the convertible in 2012.

It seems that doing a topless version isn't exactly a cakewalk. "It's not going to be easy to fit the roof in. It will have to go in front of the engine, where the rear seats are now. The rest of the car has been designed with the cabrio in mind; the doors, for instance, are styled so that they can accommodate the system without any changes," said Steve Crijns, the Evora's exterior designer.
Also, the Evora convertible will have a soft top, rather than a retraceable hardtop, which seems to be all the rage these days. Going with a conventional soft top will not only save on engineering time but will also keep the car's weight down.
Source: LeftLaneNews
Photo from Flickr user exfordy
Related posts: