Hyundai is partnering with three aftermarket tuners to highlight their new Genesis coupe and sedan. Last month it was announced that HKS USA, Inc. will build a high-performance Genesis Coupe for the 2008 SEMA show. The all-new, rear-wheel drive Hyundai model will make its 2008 Specialty Equipment Market Association (SEMA) debut at the Las Vegas Convention Center November 4 – 7.
"Genesis Coupe has the basic DNA that HKS looks for – an excellent chassis, rear-wheel drive, aggressive styling and a new generation turbo-charged engine. These attributes provide the opportunity for HKS to maximize the Genesis Coupe driving performance capabilities for the serious driving enthusiast," said Rick Lafferty, president, HKS USA, Inc. "HKS is allocating R&D, engineering and prototyping resources to lay the groundwork for HKS-brand Genesis Coupe performance parts. We are looking forward to working with Hyundai to realize the full performance potential of the Genesis Coupe."
HKS has a product catalog that will make any import enthusiast wet his pants faster than a teenage boy searching the Internet for free porn. With such a deep product line, the HKS plan for the Genesis Coupe includes a HKS GT Turbo upgrade to maximize horsepower and torque, HKS engine internals, HKS limited-edition turbo exhaust system, HKS Super Mega Flow Intake System, HKS Engine Management and HKS Hipermax III fully-adjustable suspension.
The HKS Genesis Coupe will also be showcasing functional ground effects designed by Ken Style, HKS Time-Attack cars' aerodynamic partner. The interior emphasizes driver comfort and control with HKS electronics and programmable calculations for fuel costs, average fuel consumption and fuel efficiency in real time.
Street Concepts Genesis Coupe


Partnership number 2 is with Street Concepts, one of the leading developers of auto show vehicles, to create a modified Genesis Coupe for the 2008 SEMA Show. The all-new, rear-wheel drive Street Concepts Genesis Coupe will debut at this year's SEMA show in Las Vegas. The Street Concepts Genesis Coupe will join vehicles designed by Rhys Millen and HKS as the third Genesis Coupe scheduled to appear at SEMA.
"Its aggressive, powerful design and high performance attributes make the Genesis Coupe a perfect vehicle for SEMA," said Shawn Williams, owner, Street Concepts. "We plan to maximize the driving capabilities of the Genesis Coupe while striving for a level of practicality…
The Street Concepts Genesis Coupe will showcase Volk 19-inch racing wheels, performance tires, a modified suspension and Brembo brakes.
Performance mods include a modified suspension, Brembo brakes and 19-inch Volk wheels shod in performance rubber. A Magnaflow cat-back exhaust and cold air intake system will enhance the performance of the 3.8-liter V6 engine. Inside, carbon fiber trim joins a pair of Cobra seats with black suede accents and an Infinity audio system."
RKSport Genesis Sedan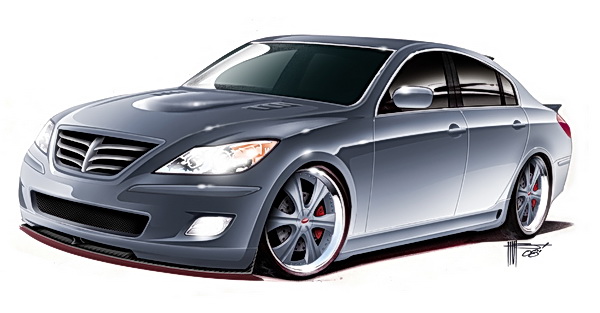 The trio of partners working with Hyundai America Technical Center is rounded out with RKSport, Inc. to develop a customized, high-performance Genesis sedan for the 2008 Specialty Equipment Market Association (SEMA) show. In addition to various exterior modifications, the RKSport Genesis will reveal a never-seen-before enhanced version of the Tau V8 engine developed by Hyundai's U.S. powertrain engineering team in Michigan.
The RKSport Genesis is designed around a European look and feel. The Platinum Silver color scheme highlights the body kit, exterior components, clean lines and contours of the vehicle.
Styling modifications to the RKSport Genesis include a composite hood, unique front and rear lower fascias, side skirts, a composite rear roof spoiler and trunk spoiler. RKSport will partner with well-known aftermarket companies to add TSW alloy wheels, a Baer performance brake package, K&N performance air intake, Eibach lowering springs and a Magnaflow performance exhaust.
HYUNDAI GENESIS COUPE HIGHLIGHTS
· Hyundai's first rear-wheel drive sports car
· 306 horsepower (est.) from enhanced 3.8-liter V6 from Genesis sedan
· Standard 210 horsepower (est.) turbocharged, intercooled inline four cylinder
· Genesis Coupe arrives in the spring of 2009 as a 2010 model
HYUNDAI GENESIS
Genesis is built on Hyundai's all-new, performance-driven rear-wheel-drive architecture. It offers two powertrains, including a 3.8-liter V6 engine and Hyundai's all-new 4.6-liter Tau V8. Tau produces 375 horsepower, leading all its competitors in specific output with 80 horsepower per liter. With technology rivaling more expensive luxury sedans, Genesis showcases features such as XM NavTraffic, Adaptive Front Lighting System (AFLS), Smart Cruise Control, Lexicon® audio systems and electronic active head restraints.
HKS USA, INC.
HKS USA, Inc. is a leading manufacturer and supplier of premium automotive aftermarket performance systems, parts and accessories. Delivering its products to both the import and domestic car markets, HKS has been recognized for its engineering and performance excellence in the automotive industry since 1973. Established in 1982, HKS USA, Inc. is a wholly-owned subsidiary of HKS Company, Ltd. Japan and distributes its products through its worldwide dealer network. For more information about HKS USA., visit their website at www.hksusa.com.
RKSPORT, INC.
Established in 1993 by R.K. (Bob) Smith, RKSport's products are founded on appearance, performance, style and functionality from RK's extensive racing background. Located in Murrieta, Calif., RKSport manufactures its own brand of high performing and aesthetically pleasing polyurethane and composite material products. RKSport also builds tooling and private label products for several well-known companies around the globe. For more information about RKSport visit www.rksport.com.
HYUNDAI MOTOR AMERICA
Hyundai Motor America, headquartered in Fountain Valley, Calif., is a subsidiary of Hyundai Motor Co. of South Korea. Hyundai vehicles are distributed throughout the United States by Hyundai Motor America and are sold and serviced through 800 dealerships nationwide.
Related posts: