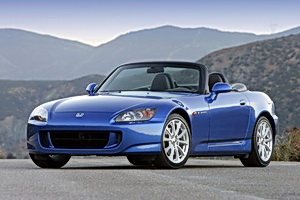 A sad, if inevitable moment, please: Honda has decided to cease production of its highly respected S2000 sports car. Yes, there have been rumors about this happening since before the world wide economic downturn, and of course Honda is using that downturn to justify this as a cost cutting move, but this has been in the cards for a while.
Honda said 2009 will be the last year for S2K high-performance roadster. Although Honda gave no official reason, they did mention that the program was originally conceived as a limited-edition tribute to the company's 50th anniversary. That was something I was unaware of, and, if you ask me, Honda should have made a bigger deal about. A little dash plaque or some such would have been nice.
Dash plaque or no, no more S2000 means Honda is effectively out of the sports car business completely given the recent termination of the NSX program. Coming from a company so deeply involved in racing, it can't mean a great confidence booster for the guys on the factory floor, and for us gearheads out there, it's pretty damn depressing as well.
All might not be lost though. There have been recent rumors of an Acura-badged roadster similar to the S2000 hitting showrooms within the next two production cycles. How sporty would an Acura drop top be though? Remember when the Miata set the sports car world on fire and the answer from Lexus was the SC? A great tourer to be sure, but not a real canyon carver. So we'll see if this rumor holds, and if Honda decides to get back into the sports car game sometime soon.
Source: Edmunds
Related posts: