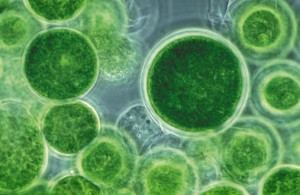 As gas prices fluctuate, the world is racing to find new sources of fuel. From cooking grease to corn oil; from electricity to steam; from natural gas to propane—scientists, engineers and even backyard hobbyists are clamoring to find the "next big thing" when it comes to powering the cars of the not-so-distant future. It's a race and whoever wins it will be hailed as the next Henry Ford or Albert Einstein
I'm talking about algae.
Algae biofuel is all the rage right now, and although it's just in its infancy, it could soon be the one thing that will solve many of the world's fuel problems. Since it can be found within every ocean on the planet and can be produced in great abundance, algae is starting to get the publicity and attention it deserves. As we phase out fossil fuels, you're going to start hearing about this alternative source more and more.
One of the great things about algae is that it does not take up land space (like corn), and you can use polluted water to grow it in—even raw sewage. And if there's one thing we're good at producing, it's sewage. All it needs is water and sunlight.
I can see it now—Aquaman, Charlie Tuna or Olympic Swimmer Michael Phelps can do the commercials for algae. This is one weed that won't get Phelps in hot water. I can already see the taglines—"Dive Into Algae" or "Algae: The Other Green Fuel."
Read the article from CarJunky.com after the jump:
Related posts: