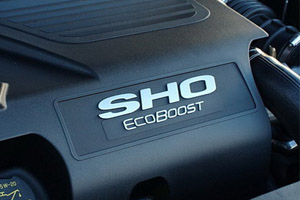 Turbos and lighter cars could be both efficient and fun
Ford Motor Company has announced that they will sell three new versions of their fuel-saving EcoBoost engines by the end of this year. The company hopes to produce 1.5 million EcoBoost engines by 2013. Ford is placing so much faith in its turbocharged engines that the company plans on using the engine in 90 percent of cars built in the U.S.
If you are not up to date on FoMoCo's marketing language, an EcoBoost engine is essentially a turbocharged direct-injected engine with variable valve timing. Ford designed the engine with the hope that it will produce the power of a larger displacement engine, but with the fuel efficiency of a smaller one. Ford claims the current 3.5-liter V-6 EcoBoost engine produces V-8 horsepower and V-6 fuel economy.
The three new EcoBoost engines are a 1.6-liter and 2.0-liter four-cylinder and a 3.5-liter V-6 designed for rear-wheel-drive applications. The 2.0-liter has been confirmed to be in the next-generation Ford Explorer and Edge. The V-6 will be used in the F-150. The new EcoBoost engine could potentially give the F-150 the best fuel efficiency in its class.

Imagine all the interesting applications for the new EcoBoost engines. A 1.6-liter and 2.0-liter turbo engine would be an excellent match for the upcoming Fiesta and Focus refresh. While the V-6 EcoBoost could never replace the new 5.0-liter found in the Mustang, it would be nice to have the option. Back in the 80s' Ford did offer a 2.3-liter turbo engine in the Mustang.
All EcoBoost engines in the future will also come equipped with cooled exhaust gas recirculation (EGR). The technology has been used for decades to reduce harmful emissions, but Ford plans on using it to increase gas mileage. Ford will employ a heat exchanger much like what is used on diesels, to cool the exhaust gases. The company claims this will improve the efficiency of all EcoBoost engines by five percent.
Ford is also looking to reduce vehicle weight in future models to improve gas mileage. The company hopes to shave off between 250 and 750 pounds per vehicle. This is a lofty goal especially considering how cars keep getting heavier to provide increased safety and features. Expect Ford to live up to the lower end of their weight reduction claim.
Weight reduction and turbo charging is just part of Ford's plan for meeting the 35.5 mpg fuel economy standard the federal government is requiring by 2016. FoMoCo plans on equipping 98 percent of cars sold with six-speed transmissions and start/stop technology on 20% of their cars by 2014. Ford is also moving its battery pack production from Mexico to Michigan to prepare for production of electric and hybrid cars.
The future seems good for Ford. Build quality is ever improving and they are coming out with an exciting line-up of new cars. Ford's multi-structured solution to improving fuel efficiency is the right way to go. Who doesn't want lighter-weight turbocharged cars?
Related posts: