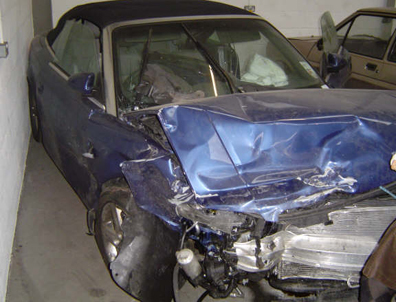 In 2010 Ford will unveil a vehicle key that parents can give to their teenage drivers, which changes the settings on various safety features within the car. It's called MyKey and it's creating quite a controversy with parents and their kids who are of driving age.
Teenagers in cars can be a deadly combination. How many times have you been cruising down the highway when you encounter a kid in a tricked out car tailgating you at high speeds and making faces or gestures indicating that he or she feels you're going too slow? And you're driving 80-plus mph in the fast lane?
How many times do you see teenagers racing each other, bobbing and weaving in and out of traffic at unsafe speeds? It's crazy. So, I believe that limiting these young drivers is a great idea and that Ford should be commended for it. Anything that will potentially save lives is a smart and prudent move.
I mean, let's look at the stats, according to www.car-accidents.com. Every year, 5,000 people between the ages 16-20 die in car accidents. Another 40,000 will be injured annually. Teenagers (16-19) are more at risk for getting into a car accident than any other age group. Teenagers represent 10% of the entire U.S. population, yet they account for more than 12% of all fatal car crashes in this country. And it's the boys who are doing most of the unsafe driving. 19.4 per 100,000 teenage male drivers will be killed in car wrecks, while 11.1 teenage females per 100,000 will perish.
Since many of the more serious accidents are alcohol-related, the next step would be to put breathalyzers in these vehicles, kind of like the ones people with too many DUI's have to use. I knew a guy who taught his dog how to blow into one of those, however, so you know that teenagers who have been over imbibing would eventually figure out how to bypass a breathalyzer.
Here's more information on the Ford My Key system:
The MyKey system gives parents the ability to program any key through the vehicle message center, which updates the SecuriLock™ passive anti-theft system. When the MyKey is inserted into the ignition, the system reads the transponder chip in the key and immediately identifies the MyKey code, which enables certain default driving modes, including:
Persistent Ford Beltminder™ with audio mute. Ford's Beltminder system typically provides a six-second reminder chime every minute for five minutes. With MyKey, the Beltminder chime continues at the regular interval and the audio system is muted until the safety belt is buckled. A message center display "Buckle Up to Unmute Radio" also appears on the instrument cluster.
Earlier low-fuel warning. Rather than a warning at 50 miles to empty, MyKey provides a warning at 75 miles to empty.
If MyKey is in the ignition, features such as Park Aid and BLISTM (Blind Spot Information System) with Cross Traffic Alert cannot be deactivated.
Additional MyKey features that can be programmed through the vehicle's message center setup menu:
Limited top speed of 80 mph
Traction control system, that limits tire spin, cannot be deactivated
Limited audio volume to 44 percent of total volume
A speed alert chime at 45, 55 or 65 mph
Related posts: