Yee-haw! Ford and Harley-Davidson team up again for a new Ford F-450 Harley-Davidson™. Ford officially announced the details of two special edition packages to its 2009 F-Series Super Duty line-up co-branding with Harley-Davidson™ and Cabela. The F-450 Harley-Davidson™ and Cabela edition FX-4. Someone break out the cheap beer and stale peanuts. We are celebratin' tonight!

Seriously, the F-450 Harley-Davidson™ comes with a blue-flame paint job that's carried through into the interior on the gauges. Custom interior features include perforated black leather wrapped seats, door panels and center console cover that reveal blue leather underneath giving the same blue-flame effect as the exterior. And, of course, it wouldn't be a Harley-Davidson™ edition F-Series if there weren't a collection of commemorative badges on the truck to remind you.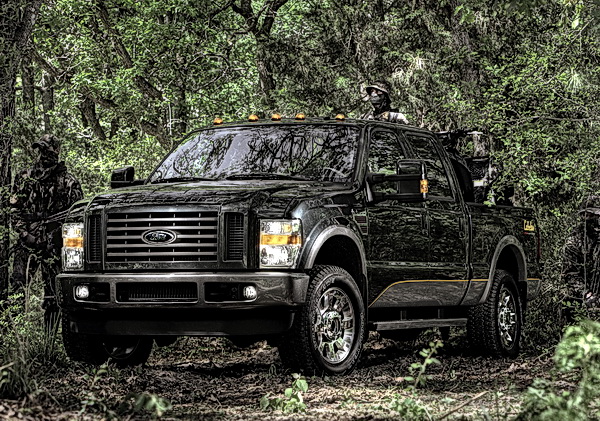 Ford knows its customers and more than 75% are outdoor enthusiasts who hunt and fish. Cabela is an outdoor retailer that appeals to hunting and fishing types, so this co-branding deal is just the ticket for Ford. The Cabela edition FX-4 gets a two-tone paint scheme that can be ordered up in a number of colors, cloth seats, dark Paldeo wood trim and lockable storage units to hide your hunting rifle, fishing pole or whatever.
Official press announcement and photo slideshow of the new special edition trucks from Ford follows on page 2
Related posts: