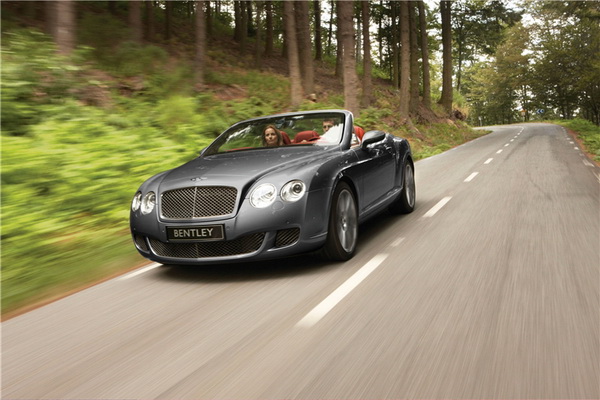 On Jan. 6th, Bentley kicked off the New Year with the unveiling of the Continental GTC Speed, a more powerful version of its Continental GTC convertible aimed at attracting younger buyers to the luxury marquee.
This isn't a car; it's a rocket. It's been engineered to achieve 203 mph. If I owned this vehicle I'd lose my license in a month. A new generation of driver wants this type of speed and apparently Bentley is listening in a big way.
The new Continental GTC Speed will debut at the North American International Auto Show in Detroit next week and will be touted as the most powerful Bentley convertible ever built.
Its twin-turbo, 12-cylinder engine delivers 600 horsepower — 9 percent more power and 15 percent more torque than the standard GTC — and can reach 200 mph with the roof up. The extra power is derived from increased airflow, a recalibrated ECU, lighter connecting rods and decreased internal friction.
The GTC Speed rounds out the family of Continental Speed models that Bentley started in 2007 with the introduction of the GT Speed coupe. The four-door Continental Flying Spur Speed followed last summer.
Bentley's Speed models are the carmaker's highest performance vehicles and feature retuned steering, revised suspension with a dropped ride height, more aggressive spring and shock settings, and stiffer anti-roll bars.
Bentley Chairman Franz-Josef Paefgen said in a release the GTC Speed "broadens the appeal of the GTC to customers who demand a more focused, open-top driving experience."
The GTC Speed will go on sale this summer as a 2010 model year. Bentley expects it to account for up to two-thirds of GTC sales worldwide in its first year of production.
Rich Lindell of Silicon Valley Auto Group, a Bentley dealer in Los Gatos, Calif. likes what he's heard about the newest Bentley. "It's going to be popular, because people want speed and this car has it," Lindell said. "It's the most powerful engine Bentley has ever built. We're looking forward to getting some on our showroom floor."
Related posts: