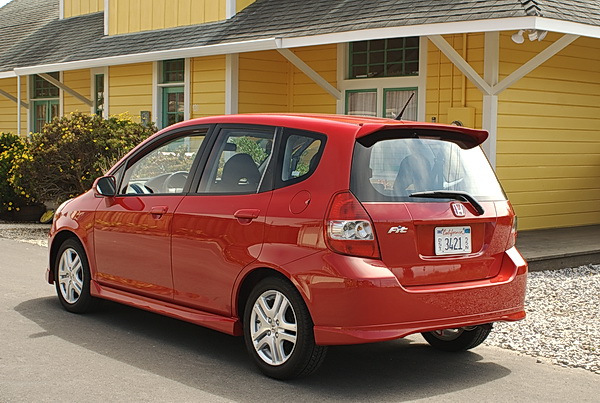 Initial impressions of the Honda Fit:
The car is nimble and fun to drive
Can make tight U-turns in a flash
2nd row Magic Seats™ fold flat more ways than a spider has legs creating a versatile cargo area
Good low-end torque from 0 – 35 gives the Fit a snappy off-the-line launch
5-speed automatic downshifts too easily and robs fuel economy potential
Tall 5th gear – the engine was humming along at 2400 rpm while driving 65 on the freeway
Includes lots of basic amenities for only $16k
This week we received the Honda Fit for testing. I'm happy the Fit finally arrived on American shores after I spotted the Fit while traveling in Hong Kong back in 2005. Attractive aero design, versatile folding seats that can accommodate many different shapes/sizes of cargo, and very desirable as gas prices approach $5/gallon.



One person on my team borrowed the Fit for a few days since it has been on his wish-list for weeks now. I get the car back and a report that he was barely able to get 22 mpg. Sheesh! I swear his feet must assume the proportions of a cinder block whenever he gets into a test car.
22 miles per gallon is way too low for a car with EPA estimates of 27 city/33 hwy with the 5-speed automatic. The Honda Fit is outfitted with a 109 hp, 1.5 liter 16-valve SOHC VTEC® engine, is very aerodynamic, and only weighs 2,551 lbs. I take the keys back and drove the Fit for two days, log over 250 miles, and use every gas-saving technique in my little book of driving skills. Voila! I was able to squeeze almost 39 mpg out of Little Red Riding Hood.
I suggested that somebody's foot should go on a strict no-carb, barf till you drop, diet.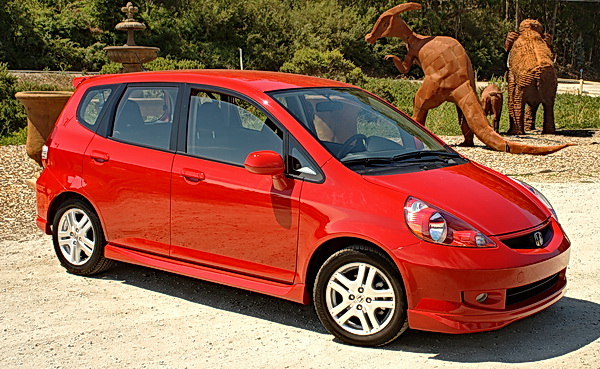 So how did I get 39 mpg where the other driver got 22? The biggest way to improve the fuel economy of most cars is to keep the engine revs as low as possible, especially when accelerating. The Honda Fit downshifts very easily if you try to accelerate too hard. By accelerating smoothly and evenly, most times I was able to keep the RPMs well below 3,200 and avoid downshifting from the automatic transmission. Also, the Fit has a tall fifth gear and that helps improve fuel economy when running at steady highway speeds. The Fit hums along at 2,400 RPM at 65 MPH. By comparison, my '02 Acura RSX is revving at 2,800 RPM and gets 31 mpg on the highway.
Related posts: