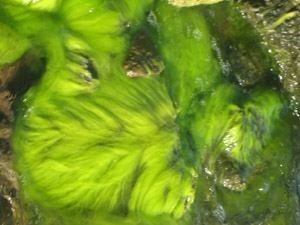 So, assuming we still have cars in the future, just what are we going to put in the tank? And that's even assuming that there's a tank to put "fuel" into. By this time 50 years hence, everything could be electric. ExxonMobil, a company that knows a thing or two about energy production is investing very heavily in, of all things, algae as a possible future fuel. And yes, that's algae as in the same stuff that grows on the inside of a fish tank.
The quick rundown of the numbers looks like this: ExxonMobil is investing 600 million dollars (which is a pretty big sum) with a company that is heavily into turning algae into a fuel source for our cars. That company, Synthetic Genomics, is run by J. Craig Venter and their biggest triumph to date has been mapping the human genome. In other words, neither of these outfits are new venture start up/pie in the sky sorts of deals.
Of note in all of this is that ExxonMobil has not put any money into biofuels, while many other energy giants have been putting money and research into biofuels and algae-based fuels in large numbers.
That's all in the past now as ExxonMobil is supplying more than $300 million to Synthetic Genomics and another $300 million into other projects J. Craig Venter is working on. All told, this 600 million should pay for up to six years of research.
Exxon's Research and Engineering Co. vice president of R&D Emil Jacobs, said that billions of dollars in additional investment to commercialize the technology will be necessary for algae fuel to be distributed via Exxon's existing infrastructure. He also said that within 5-10 years ExxonMobil expects to be producing "large quantities" of transportation fuel via this means.
He didn't specify just what "large quantities" would be, nor did he say just what sort of vehicles would be driving around on "gas" made from fish tank scum, but what is abundantly clear is that ExxonMobil, one of the heaviest hitters in the business, just got into algae as fuel in a big way.
Source: Gas2.org
Photo from Flickr user Alexander H.M. Cascone
Related posts: