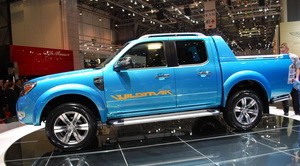 What's this, the all-new Ford Ranger makes its debut at the Geneva show? It gets even odder than that, while we have to make do with a moderately updated Ranger for now, the rest of the world will be getting an all-new version of the small pickup for 2009. So what is debuting in Geneva is the Euro-spec version, and probably a pretty good indication of what we'll soon get.
The new ride will offer seating for up to five, and will come in three body styles — Single Cab, Double Cab and something called the RAP, for Rear Access Panel, Cab. The RAP feature two forward-hinged doors and two rear-hinged access panels. Naturally it comes in 4X2 and 4X4 configurations.

Engine-wise, Ranger buyers in Europe will be able to choose from two diesel engines, a 143 horsepower 2.5L putting out 243 lb-ft of torque or a 3.0L generating 156 horsepower and 280 lb-ft of torque. Either engine option is available with a five-speed automatic or manual gearbox. The new Ranger will begin production in Thailand (Ford has a plant in Thailand?) this March, and Euro sales start a month later.
Ford hasn't confirmed if the new Ranger will make it to our shores, but they really should, and they should bring those diesels mills in too. Current industry speculation says the new truck could surface in the United States as early as 2011.
Source: LeftLaneNews
Related posts: