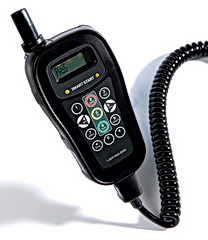 It's getting trickier for drunk drivers to do what they love to do, which is drive drunk. Why hasn't anyone thought of this earlier (a time right before now)? Motorists convicted of driving drunk will have to install breath-monitoring gadgets in their cars under new laws taking effect in six states earlier this month. How does it work? The gadget, which resembles a walkie-talkie, fits on the dashboard. It's wired to the car's ignition system. The driver blows into it (the device) to start the vehicle. If alcohol is in their system, then it's no-go and time to reach for that bus pass. Manufactured by a Texas-based company, and going by the name Smart Start Ignition Interlock, the device require periodic retesting while the car is running just so crafty alcoholics wont convene their drink driving time after the engine is started.
Who is on the roster for the Smart Start Ignition Interlock? Alaska, Colorado, Illinois, Nebraska and Washington began January 1st, requiring the devices for all motorists convicted of first-time drunken driving, while South Carolina requires the use for repeat offenders. Not only that, but the user must pay for the booze-detecting dashboard gadget. Tack on the drunk driving charge bill roughly $80 to install onto the dashboard, $80 a month to rent it, and another $30 a month for state fees. Think of all the booze that wont be bought with that money!
Not surprising, Mothers Against Drunk Driving (MADD) supports the use of the Smart Start Ignition Interlock. I'm sure if I—your trusty blogger interviewed someone from MADD, I would surely get quotes such as, "We support the Smart Start Ignition Interlock very much!" and "This will surely help cut down on road fatalities," and of course, "This will save many lives." MADD has been conducting a nationwide campaign to mandate ignition locks for anyone convicted of drunken driving
Controversy? Hell yes. If the driver's blood-alcohol level is over 0.02 percent, the vehicle won't start, while its only illegal to drive with a blood-alcohol level of 0.08 percent. Believe it or not, the American Beverage Institute—a trade association representing restaurants and retailers—is critical of the Smart Start Ignition Interlock, citing that the device could lead to measures that restrict alcohol policies too much.
According to the Associated Press, ABI managing director Sarah Longwell has foreseen a Big Brother climate on the horizon: "We foresee a country in which you're no longer able to have a glass of wine, drink a beer at a ball game or enjoy a champagne toast at a wedding," she said. "There will be a de facto zero tolerance policy imposed on people by their cars." Well perhaps these convicted drunk drivers should have considered this before they got behind the wheel of their cars, well, drunk (with driving involved). I wish I could get one of these devices on my email account and cell phone to prevent me from doing the notorious and regretful "drink and dialing," to old girlfriends late at night. So either our roads are going to be more protected, or drunk drivers are going to learn how to train pets (such as dogs) to breath into the device for them.
Related posts: