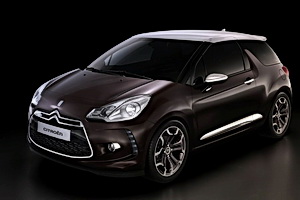 The first time I fell in love with a Citroën was when I saw the François Truffaut movie, Breathless. The Citroën DS, circa 1958, was like a minor character in the background, looking very tres chic as it zipped along the Champs-Élysées. Besides looking like a work of art worthy enough to hang (yes, I said hang) in the Louvre, what gets me about these old Citroëns is that the rearview mirror sits impractically on top of the dashboard. That is soooooooo French! By far, the old model Citroën is one of my dream cars (though the hills of San Francisco would be a bitch on its suspension). The car looked like it could be in a 1950's sci-fi movie in order to show what vehicles of the future would look like.
Citroën built almost 1.46 million DS cars between 1955 and 1975, thrilling its loyal drivers with its pneumatic suspension and distinctive sleek design. Owners of the original Citroën DS included Brigitte Bardot, cosmonaut Yuri Gagarin, and French President Charles de Gaulle who escaped an assassination attempt as DS escaped at top speed despite the fact that two of its tires were shot out. Yes, the Citroën DS was as magical as those who drove it.
Photographs that were leaked out prior to the Geneva International Motor Show after the jump
But there's no need to fear. She is back, mon frère (translation: my brother). The nouveau (new) DS3 has arrived and it looks like the illegitimate son that resulted from a drunken one-night stand between the old classic DS and a MINI Cooper. (In fact, that's who Citroën is hoping to compete against: the MINI Cooper as well as the Alfa Romeo Mito.) Yes, much like Mickey Rourke in The Wrestler, the Citroën DS3 is the automotive comeback of the year.
The DS3 builds on the traditional Citroën aesthetic, reviving the classic image of its popular DS model from the 1950s, as it joins rival carmakers in reviving past car icons to persuade consumers to buy costlier models that generate a bigger profit. And bigger profits are just what French car brands need. Peugeot, Citroën and Renault SA have seen their combined share of domestic mid-sized car sales fall almost 11 points in the past three years to 45 percent in 2008. The main thing the new DS3 will have in common with its original is the purity of form and swiveling headlights. Unfortunately, the rear view mirror won't be mounted on the dashboard. Regardless, vive la France and vive la Citroën DS3.
Related posts: