Chrysler Group LLC said Wednesday it is offering up to $4,500 in cash toward the purchase of a new vehicle as it seeks to match a government incentive for people to trade in their old gas guzzlers. The automaker said it will offer cash or zero percent financing for six years on most of its 2009 Chrysler, Dodge or Jeep models. The incentive begins Thursday and lasts through Aug. 31.
Chrysler said in a statement that buyers are eligible for the new incentive even if they are not trading in a vehicle under the government's "cash for clunkers" legislation. Smart move. In this economy, people have been holding on to their vehicles, in many cases, praying they continue to run while foregoing maintenance to save money. Now, they can get a huge rebate toward a new car. It's a brilliant marketing move and I expect other car makers to copy it soon.

Curious exactly how the Cash For Clunkers bill works? The chart and fact sheet provide all you need to know about trading in a beater Geo Metro for a shiny new car. Basically, you have to have a car that's newer than 1984, and it also has to get 18 miles per gallon or less combined EPA rating.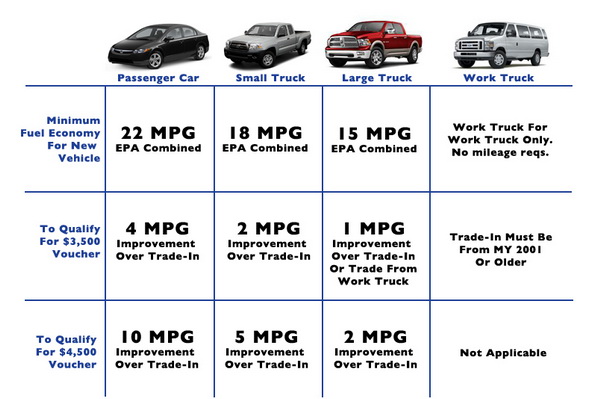 What is the Car Allowance Rebate System?
President Obama signed into law a program NHTSA is calling the Car Allowance Rebate System (CARS). This is a government program that helps you purchase a new, more fuel efficient vehicle when you trade in a less fuel efficient vehicle. See the program's Frequently Asked Questions page for more details.
Under the CARS program, NHTSA is charged with rules for program implementation in 30 days. You may want to contact your local dealer in mid-July. Program will start on July 1st 2009 and end on November 1st 2009.
This bill passed by U.S. legislation will provide qualified individuals with either $3500 or $4500 rebate on the purchase of a new car or truck that gets better gas mileage. Your vehicle must be less than 25 years old on the trade-in-date, to qualify you must purchase or lease a new vehicle that is more efficient than your current vehicle. Your trade-in vehicle must be registered and insured continuously for a full year before trade-in.
Related posts: