by Edsel Rollin
Las Vegas-The 2010 Chevrolet Camaro was unveiled as the official vehicle of the 2008 SEMA Show on Nov. 3 at the keynote speaker's luncheon in Las Vegas.  Chevrolet presented not just one, but a quartet of stunning concepts based on the all-new 2010 Camaro at the highlighted event.
"We are so excited about the return of the Camaro," said Ed Peper, North America vice president of Chevrolet.  "The Camaro will deliver cutting-edge new technology and unprecedented design features to consumers early next year.  We are looking forward to bringing this much-anticipated vehicle to market.  We are confident that there is nothing else like this amazing car out there today."
"The influence the Camaro has had on the automotive industry and vehicle personalization is truly undeniable," said Peter MacGillivray, SEMA vice president of communications and events.  "When you say the word 'Camaro' you're talking about one thing-American innovation.  Since this car was introduced in 1967, enthusiasts have developed a love affair with the Camaro.  It's quite simply a prime example of the passion, commitment, and pure adrenaline that is produced by this industry.
"General Motors, through several of its brands, including Chevrolet, GMC, Cadillac, and Saturn, has been a staunch and highly active supporter of the SEMA Show," Peper said.  "GM has exhibited at every SEMA Show since 1996 and has always demonstrated an unyielding commitment to vehicle personalization by collaborating in numerous SEMA programs."
"We couldn't be more enthused to be working with the General Motors family at the SEMA Show," MacGillivray said.  "The automaker has a long and elaborate history with our industry, and it's apparent that through the vehicles that they manufacture, we're going to have a long and extremely fruitful relationship with this American car manufacturing icon.
"Each of the new concepts introduced in the new Camaro represents a different interpretation of the new vehicle's performance, styling and personalization possibilities, from no-holds-barred high-performance to carefully crafted, street-savvy customizing," Peper said.  "It is evident to everyone that this Camaro will lead the way to a new American automotive rejuvenation.
"The new Camaro is a 21st century sports car for the young and young at heart," Peper said.  "Wherever your automotive passion lies, the Camaro complements it with world-class design and an exciting driving experience. The concepts unveiled at SEMA accentuate those qualities and trigger the imaginations of countless enthusiasts."
In addition to the concept and classic Camaros, a production 2010 model was displayed at the luncheon, illustrating the range of accessories that will be available from Chevrolet when the car hits dealerships early next year.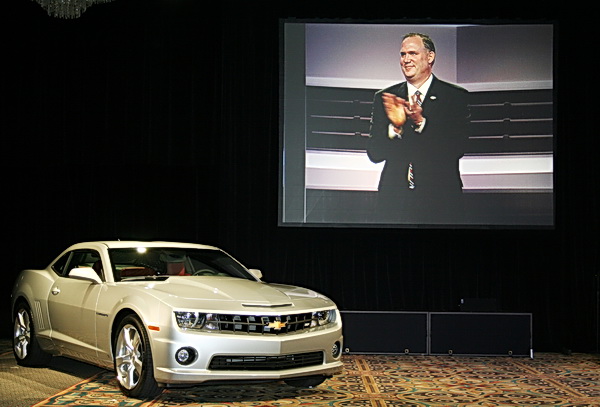 Ed Peper, North America vice president of Chevrolet, proudly unveils GM's 2010 Camaro at the SEMA keynote luncheon on Nov. 3.
Related posts: