Gift Suggestions, $25 – $50
6. For readers #1– The enthusiast doesn't want a coffee table book. For them, eye candy is in the garage or at the dealership. However, learning the engineering and design history behind their passion will provide ongoing pleasure. For those who like to get under the hood, a service manual or performance bible from a publisher like Bentley will also be treasured ($35 and up).
6 ½. For readers #2 — A gift certificate to your local bookseller for "Car" magazine wrapped by this month's issue ($10 + gift certificate + latte purchased while at the bookstore). Some drivers may not know about "Car" and its unique position in automotive journalism. While CarReview will always be your best choice for up-to-the-minute news and consumer oriented reviews, "Car" is without peer when it comes to storytelling, photography and a unique insiders' views of the industry. Best of all, if the recipient don't quite love "Car", they can always use the gift certificate to subscribe to the periodical that suits their fancy. Subscribing to Car is even more deluxe, but it can be expensive given current exchange rates.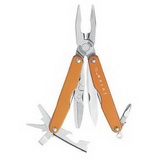 7. Multi-tool ($30-50) – Most car buffs will have a garage well stocked with tools, but how about in the car itself? Typically only the basic tire changing gear is needed because most cars don't need tools for the road anymore. Have tire gauge, will travel. Yet wouldn't it be nice to have scissors or a knife handy on occasion? There are a million reasons to have a multi-tool, which is why they tend to live in the most accessible kitchen drawer. How about having one in the car for both the car and garage? While they won't admit it, most enthusiasts are tired of running from the garage to the kitchen and back again for the multi-tool. This particular model comes in a Lamborghini-esque orange, is top notch quality and has all of the essentials.
(Continued on page 3)
Suggested reading: CarReview Top 5 GPS Navigation Systems and Buying Guide
Related posts: