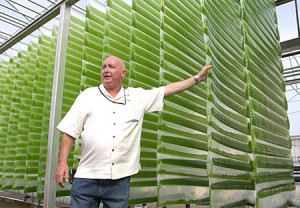 I was at the coffee shop this morning and people weren't talking about the newest Colombian or Brazilian roast. Instead, they were discussing algae as a fuel source. It's a hot topic, but there's a ton of misinformation out there about algae. A lot of the data is very technical, and I'm not a scientist, but I've done some researched on this topic.
Algae is the flavor of the month right now, so let's look at the facts about this new thing on the green scene.
ALGAE FACTOIDS

Algae is the fastest yielding of any crop on the planet. (A distant second-place is Chinese tallow.)The per unit area yield of oil from algae is estimated to be from between 5,000 and 20,000 gallons per acre, annually.
It's too expensive to be viable at this point. Algae oils have a variety of commercial and industrial uses, and are extracted through a wide variety of methods. Estimates of the cost to extract oil from microalgae vary, but are likely to be around $1.80/kg compared to $0.50/kg for palm oil.
Algae is a simple fuel source to produce , but it's costly to harvest. It grows with water, carbon dioxide, minerals and light—all of things that are in abundantly available at low-cost.
Harvesting and processing is time and effort-intensive, implementing simple methods like mechanical crushing of the algae, all the way to a more sophisticated technique like ultrasonic extraction.
Best features of algae: It won't affect fresh water resources; it can be produced growing on raw sewage; it's greener burning than any other comparable fuel source and the Dept. of Energy estimates that if algae fuel can replaced all the petroleum in the U.S., requiring 15,000 square miles to produce this much. This is less than 1/7th the area of corn harvested in the U.S.
One of the greatest things about algae is the fact that the substance can create many forms of fuel—including "Straight Vegetable Oil" (SVO), biobutanol, biodiesel, biogasoline, methane, jet fuel and much more.
Cars, boats, even large commercial planes can run successful on algae. Continental Airlines is demonstrating the use of sustainable biofuel to power a commercial aircraft for the first time ever in North America. The demonstration flight – which is being conducted in partnership with Boeing, GE Aviation/CFM International, and Honeywell's UOP – marks the first sustainable biofuel demonstration flight by a commercial carrier using a two-engine aircraft, a Boeing 737-800 equipped with CFM International CFM56-7B engines.
Related posts: