What else is cool about the Volt?
When you power up the Volt, it makes a sci-fi sound effect that makes you think, if only for a second, that Majel Barrett's "computer" voice will start talking to you. Then you giddily think, "There should be an app for that!" And there it is, right there. When you're getting in a Volt, you know that it's going to be a different experience than driving your parents' car. There is no key – you press the brake with your foot and punch a big button to the right of the steering, and you're ready to go. It may not sound like it, because there's no chugging engine, just a barely audible buzz or whine. In front of you on the other side of the wheel there are no dials, simply an illuminated panel.  On the left is a graphic showing you what kind of power your are using and how much you have left; it is green if you are using the battery alone, and blue if the battery is getting powered by the gas. In the middle is your speedometer, and on the right is a green ball that shows you where you are getting the best  battery economy. You're generally in the green range at 55 mph – go faster than that, and your usage starts getting less eco-friendly. Of course, I only found this out because I had to speed up to pass a few camper vans.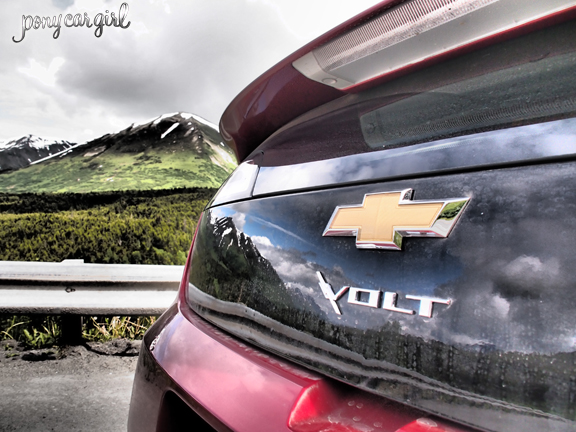 To the right of the steering wheel is a large touch panel. Hit "Drive Mode," and "Normal, "Sport," and "Mountain" are displayed on the panel behind the steering wheel. There are various climate controls – simply touch the symbol or word, and the controls are displayed on the touch screen. Likewise, the Sirius satellite radio choices are displayed on the screen – volume is a knob in the center. Most importantly, touch the "Nav" button for OnStar navigation.
I had every intention of photographing and documenting my energy efficiency along the road trip, but as I started to drive, I was enamored by the scenery. When in Seward, I was simply having too much fun and forgot. Ultimately, that's the beauty of it; you quickly get used to the cool Star Trek features and the self-consciousness of the green car badge and electric falls to the wayside, and you just drive. It's a car.
One thing that did cause concern while driving was passing a bunch of bikers on a two-lane – I gave them a wide berth because I didn't know if they could hear me. I was also very aware of the quietness of the car in a parking lot with children walking. This Volt had the rear-camera package, which gave me a lot more confidence backing out of the parking spot.
I live in New York City, and it's well talked about by now how electric vehicles (EV's) are great for short trips and commuting in an urban environment. The reality is that I don't need a car for short trips; the subway works just fine, or in a pinch, I hail a cab. Walking a few blocks to the grocery store with a granny cart is no great inconvenience, and it's pretty eco-friendly.
But when I want to get out of the city, I'm generally traveling beyond a hundred miles and need that range – not only to arrive at my destination in a reasonable amount of time, but to not have to worry about whether or not there is the needed infrastructure to recharge my vehicle.

Related posts: