Is the Chevrolet Volt a reliable option for a road trip? Yes, absolutely, it's a fun, drivable car that accelerates and handles well with great , unpretentious styling and comfortable interior, and no range anxiety. Is it right for my lifestyle – urban dweller that only drives occasionally? Perhaps. With the federal $7,500 rebate it falls to around $36,000 – that's still quite a bit for a car I'd realistically drive mostly on the weekend. Early adopters don't mind the price tag, and the 2012 model will cost slightly less (but with modified features.)
Would I want one anyway – yes!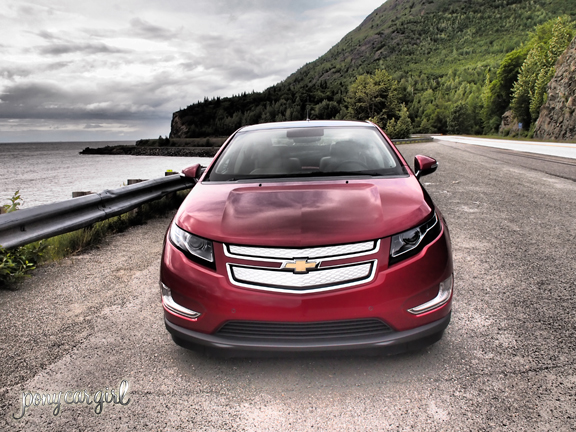 Chevrolet is rolling the Volt out slowly and it has only been available in ten states. Production in Detroit has slowed for plant upgrades so availability will be very limited through July, but according to a GM press release, the Volt should be available nationwide by the end of the year. Check http://www.mainstreetinmotion.com/ for dates and locations near you to test drive the Chevrolet Volt.
MORE CHEVROLET VOLT EXPERT REVIEWS
2011 Chevrolet Volt Review – Our Weekend With Chevy's New EV/Hybrid and a Prius
By Dan Tsuchiya

"Living with the Chevrolet Volt is about making a green statement, but without the usual green sacrifices"

2011 Chevrolet Volt First Impressions Review – Driving the Chevy Volt
By David Colman

"The best part of owning a Volt is staying green without being a dolt. Unlike the Leaf's ToonTown caricature face, the Volt looks slick and futuristic without pandering to stylistic digression."

2011 Chevrolet Volt First Impressions Review – Yes, it drives like a real car
By Derek Mau

"Typical of all battery-electric cars, there is no audio cue to signify the car is alive. Switching on the ignition, the driver is treated to a light show displayed in the instrument cluster."

RELATED CONTENT
The Wait is Finally Over! 2011 Chevrolet Volt Pricing Announced
By Derek Mau

"After nearly four years of development and extensive testing with the pre-production models, General Motors has officially announced pricing and has begun taking customer orders for the 2011 Chevrolet Volt in seven select markets starting today."

Chevy Volt On Schedule for November 2010 Debut
By Tony B.

"Despite all of the economic turmoil swirling around General Motors these days, they still say everything is on track for the late 2010 debut of the Chevy Volt plug in hybrid."

Flint Gets a Jolt From The Volt
By m35man

"Instead of constructing a whole new factory to make engines for its new Chevrolet Volt electric vehicle, General Motors has decided to build them in an existing facility located in Flint, Michigan."

Chevrolet Volt Unveiled
By Derek Mau

"General Motors continues to develop its gas-electric plug-in car called the Volt and unveiled a pre-production model at GM's 100-year anniversary celebration."

Chevrolet Volt Development Charges On
By Derek Mau

"A few months ago we had the opportunity to get a close look at the Chevy Volt Concept and speak with key people surrounding the project. Whenever GM releases news that the Volt is getting closer to its 2010 production date, we get all tingly inside."

Chevy Volt Waiting List Hits 10,000 Members
By Derek Mau

"Today we have hit a major milestone. 10,000 people have signed up on our waiting list, expressing their desire to buy a Chevy Volt. This site was started on January 12, 2007 in response to GM unveiling the Chevy Volt five days earlier."

First Look – Chevy Volt Concept Car
By Kurt Gensheimer

"There is no debating the visual aesthetics of the Volt. It's a sharp-looking machine. Whoever established the precedent that eco-friendly cars must resemble disfigured spacecraft obviously didn't affect GM designers when creating the Volt."

Chevrolet Volt Concept Car – video feature
By Derek Mau

"Kurt interviews Clay O. of GM and picks up a few details of the upcoming Chevy Volt and the new E-Flex system."

General Motors' Chevy Volt Concept Makes Its Debut In San Francisco
By Derek Mau

"Extended-Range Electric Vehicle Will Electrify The City By The Bay"

CHEVY VOLT PHOTO GALLERIES
2011 Chevrolet Volt | Volt vs. Prius | Chevrolet Volt Concept Car
Related posts: