Hypes: Superlative Fit and Finish, Exceptionally Quick
Gripes: Volvo Operating System Can Be Intimidating
Car model differentiation is getting so complicated that the official handle for this Volvo sounds more like a eulogy than a description. But let's try and decode the official title word by word. "XC" refers to the fact that this model is a sports utility Volvo. "60″ describes its position on the Volvo ladder, with 60 on a lower rung than 90. "T8″ refers to the fact that the supercharged and turbocharged 4 cylinder engine is augmented by an electric motor and a lithium-ion battery good for 400hp. "E-AWD" indicates that this Volvo is a Plug-In Hybrid ("E") that also boasts all-wheel-drive. So there you have all the attributes of this latest Volvo, which carries a base price of $52,900. However, the version we drove supplements that bottom line with enough expensive extras ( $17,695) to buy you a base model XC60 Volvo plus a new Rolex Daytona.
If you haven't driven a Volvo recently, you need to attend Volvo school first. Pretty much everything you know about operating a conventional car needs to be discarded before you earn your Swedish driving permit. For example, that Orrefors crystal ice cube jutting up from the console between the front seats actually operates the shift mechanism for the Japanese built 8-speed Aisin automatic. For some reason, Volvo engineers have decreed that you can't just move the cube into forward or reverse with one stroke. Rather you have to bump the stick twice in the intended direction of travel or the Volvo won't budge. The wiper controls demand a similar idiosyncratic pattern of operation that can be difficult to decode. If you miss the memo, you are consigned to watching the blades arc endlessly to and fro long after the rain has stopped. Most driving and climate functions are controlled through a 9″ x 4.5″ Sensus touchscreen that demands familiarization.
Ah, but once you have your PhD in Volvology, you will fall in love with this gorgeous SUV. From a sporting driver's perspective, the Hybrid XC60 is intoxicatingly quick. Blame 472 lb.-ft. of torque for orchestrating massive bursts of acceleration. With that much torque on tap, you never need to manipulate the Aisin gearbox manually – although you could do so by selecting the available "B" gate on the console. From a knurled chrome drive-mode adjuster located just behind the shifter, you can chose one of 5 imaginatively named drive settings: AWD (all-wheel-drive), Pure (eco-drive), Hybrid (everyday use), Power (sporty driving), and Off-road (rough road). In order to savor the ample combined output of the 313hp direct injected gas motor augmented by the 87hp electric motor, I invariably chose Power mode. Once, when traversing some rough off-road terrain in a gravel parking lot, I deselected Power mode in favor of Off road, but could discern no difference in ride quality or suspension behavior. Although most sport mode menus tighten steering feedback, choosing Power mode on the XC60 had no noticeable effect on steering response, which remained over-boosted and numb in all modes. But with Continental Cross Sport LX tires (255/45R20) mounted at each corner, the XC60 is unexpectedly responsive in the handling department.
Of all the add-on packages inflating the bottom line of this Volvo, the one you would least want to eliminate is "Inscription." For $3,800, this grouping adds bright chrome front grill bars, chrome side trim with logotype, integrated tailpipes with body colored lower trim insert, mechanical driver and passenger seat extensions, driftwood decor dash inlays, tailored dashboard, keyless entry with hands-free tailgate opening, Sensus navigation pro, cooled glove compartment and illuminated door handles. The exterior touches turn an already good looking vehicle into a supreme visual asset. the interior improvements elevate the cockpit of the XC60 to palatial refinement. Especially nice were the driftwood dash inserts, the deft stitching on the dash, and the incised "Inscription" notations on the front seat headrests. Even the chrome strip next to the glove box is incised with a replica of the Swedish flag.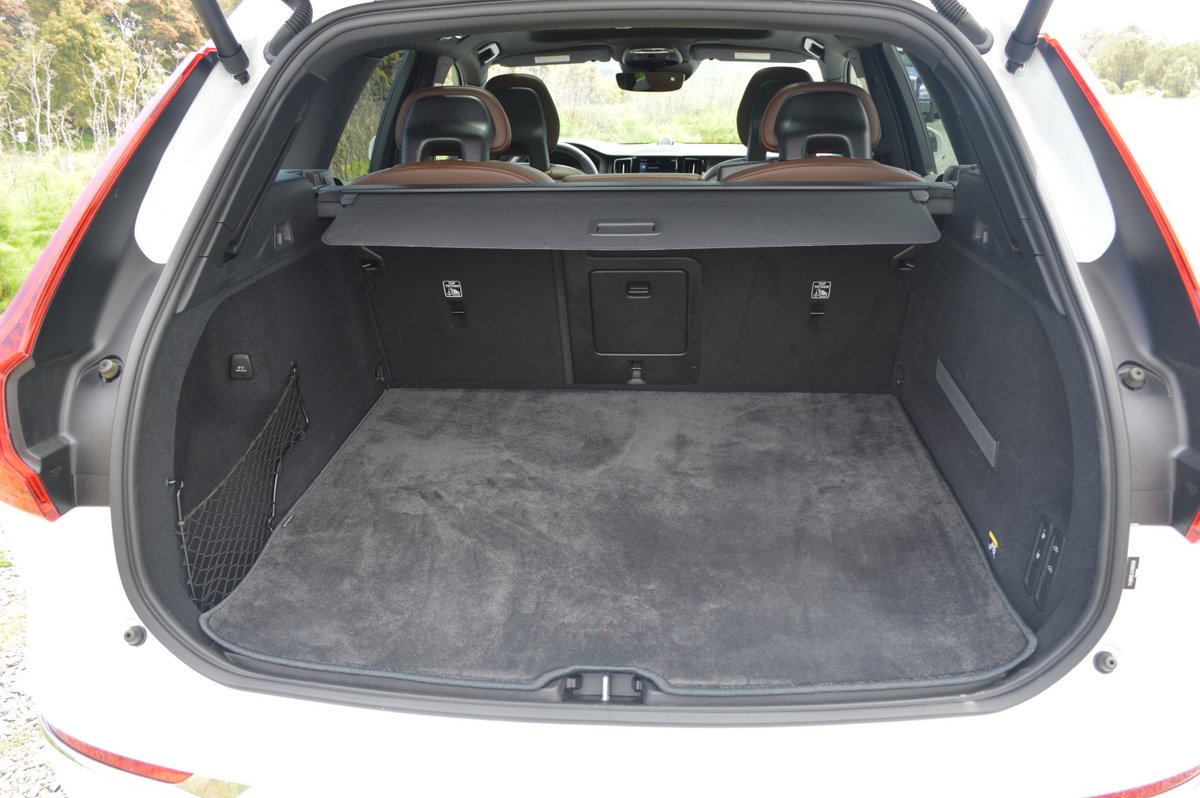 Blue and yellow flag tags are attached to the Nappa leather of the front seat seams because our test XC60 was fitted with the $3,000 optional Luxury Seat Package. That price tag also adds backrest massage to the front chairs. power seat extensions up front, and heated seats all around plus heated steering wheel. Volvo is the only company I have encountered with a pleasant 3 level heating element for the steering wheel. So if you want to turn the ultimate automotive parlor trick, order your XC60 with the Luxury Seat Package, then activate the massage feature without first warning your front seat passenger.
2018 Volvo XC60 T8 E-AWD Inscription
Engine: 2.0 liter inline 4, turbo and supercharged direct injection, with electric motor and 10.4 kWh high voltage battery
Horsepower: 400hp
Torque: 472lb.-ft.
Fuel Consumption: N/A
Price as Tested: $71,590
Star Rating: 9 out of 10 Stars
Related posts: