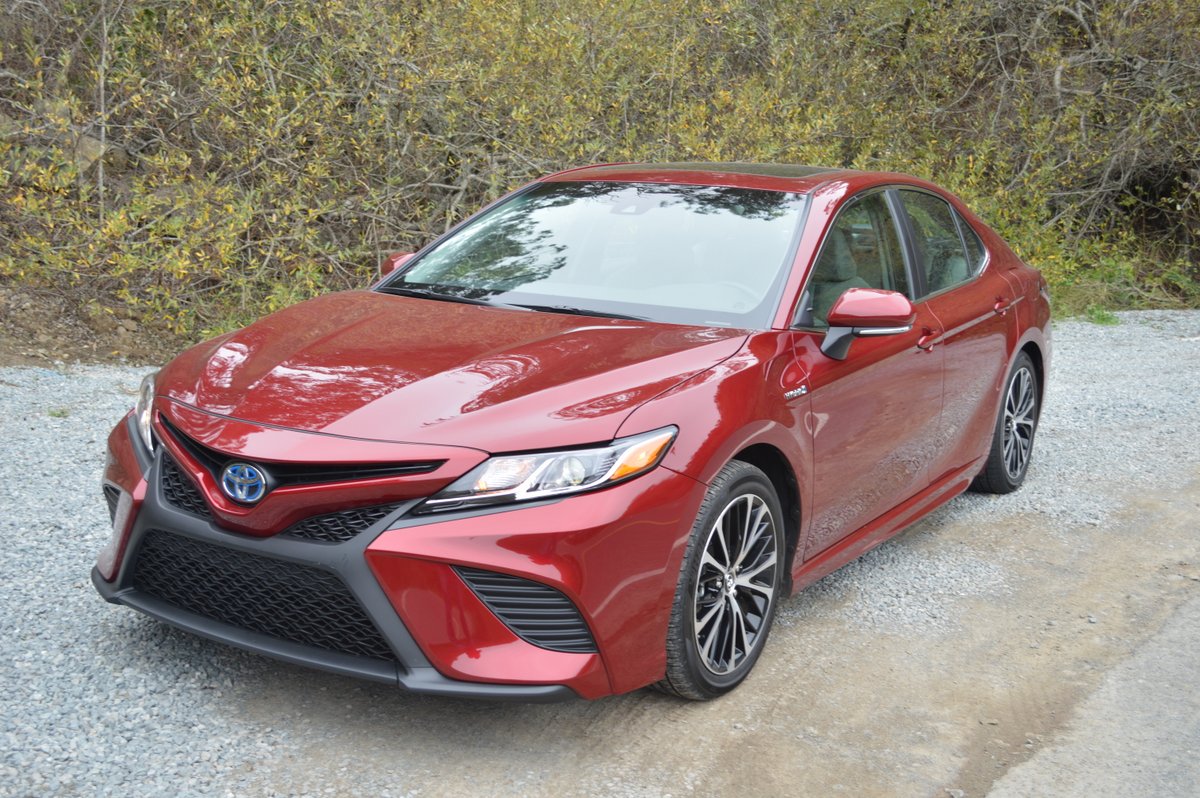 Hypes: Improve Looks, Packaging, Performance
Gripes: Poor Regenerative Brake Pedal Feel
Toyota's official designation for the color of this week's 2018 Camry is "Ruby Flare Pearl." It costs $395 extra and is worth every penny. But since when is Ruby Flare Pearl a name you'd associate with a Camry? Since now. Toyota has finally begun to veer off the straight and narrow path that defined the plain vanilla Camry franchise for so long. Our candy apple red Camry Hybrid colors an all new design for 2018, the first to use the TNGA platform that lowers roofline and driving position by a full inch. This architectural revision signifies a willingness to rethink, redirect and reinvigorate the staid Camry model line.
Camry's reduced height is hardly the only noticeable change for 2018. Both the nose and tail have been radically re-proportioned, with newly incised slits and gills up front, and nips and tucks to the rear to eliminate the outgoing model's hefty butt. The all new Camry is so much better looking than the model it replaces that you wouldn't know it was even a distant cousin to Toyota's long line of frumpy looking sedans . Setting off the scintillating new fender flares are a set of sharp aluminum wheels, 18 inches in diameter, finished in black but set off by the high gloss silver of machined facings. Hankook Kinergy GT tires (235/45R18) supply the show quality rims with excellent all weather grip. They promise long life too, with a tread wear (TW) rating of 580.
Inside the cabin, the changeover is even more apparent. The interior of our up-market SE level four-door sported a sweeping, lavishly appointed dashboard, set off by discreet hammered aluminum trim. The plush seats, upholstered in cream colored SofTex fabric, looked dramatic, with bold horizontal ribs defining the actual seating surfaces. Belying this car's base MSRP of $29,500, the driver's seat features standard 8 way power adjustments plus power lumbar, and 6 way manual adjustment for the passenger. In the center of the dash sits a 4.2 inch multi-informational display. This screen is well integrated to the confines of the available space, and avoids the drive-in movie screen effect so common to dashboards today. It's easy to read in all lighting, and a snap to operate when setting or selecting favorites on SiriusXM radio. To Toyota's everlasting credit, all HVAC controls are operable independently of the screen, with separate heat, blower and A/C buttons that leave your eyes focused on the road, not the dash.
The big news for Hybrid fans in 2018 is the complete revision of this system's battery and packaging. An all new, smaller Lithium-Ion battery pack now sits beneath the back seat, allowing the sizeable 15 cubic foot Hybrid trunk to offer a flat floor for the first time. That's a net gain of 2.0 cubic feet in storage space this year. Even better, the Hybrid offers a 60/40 split rear bench seat for the first time ever. But the most important aspect of the latest Hybrid is not its appearance, its wheels, its tires or its interior. Rather, this is the first Camry Hybrid I have driven that is fast enough to justify calling it a legitimate sports sedan. This SE is genuinely quick in a straight line. It will rocket from 40mph to 80mph on the freeway so fast you will disbelieve your speedometer. This year, Toyota has coupled a very sophisticated 2.5 liter, 4 cylinder, 176hp gasoline engine to the revised 118hp electric motor. When prodded in unison, this duo provides 208 combined horsepower, and more importantly, 302lb.-ft. of torque. That's enough output to rocket this Camry from the slow lane to the fast lane in an eye blink. It's also the first sedan I have driven that is perfectly suited to the rheostat like power management of a CVT transmission. Although Toyota provides floor mounted manual shifting through faux "gears" as well as steering wheel adjacent paddles, neither is necessary to harness the turbine-like performance of the new "Dynamic Force" engine. On all counts, then the 2018 Camry marks a huge improvement over the Hybrid it replaces. At $33,695 including optional moonroof ($900), uprated audio package ($1,080) and Blind Spot Monitor with Rear Cross Traffic Alert ($600), this drastically revised sedan makes a strong case for choosing it over any cumbersome SUV.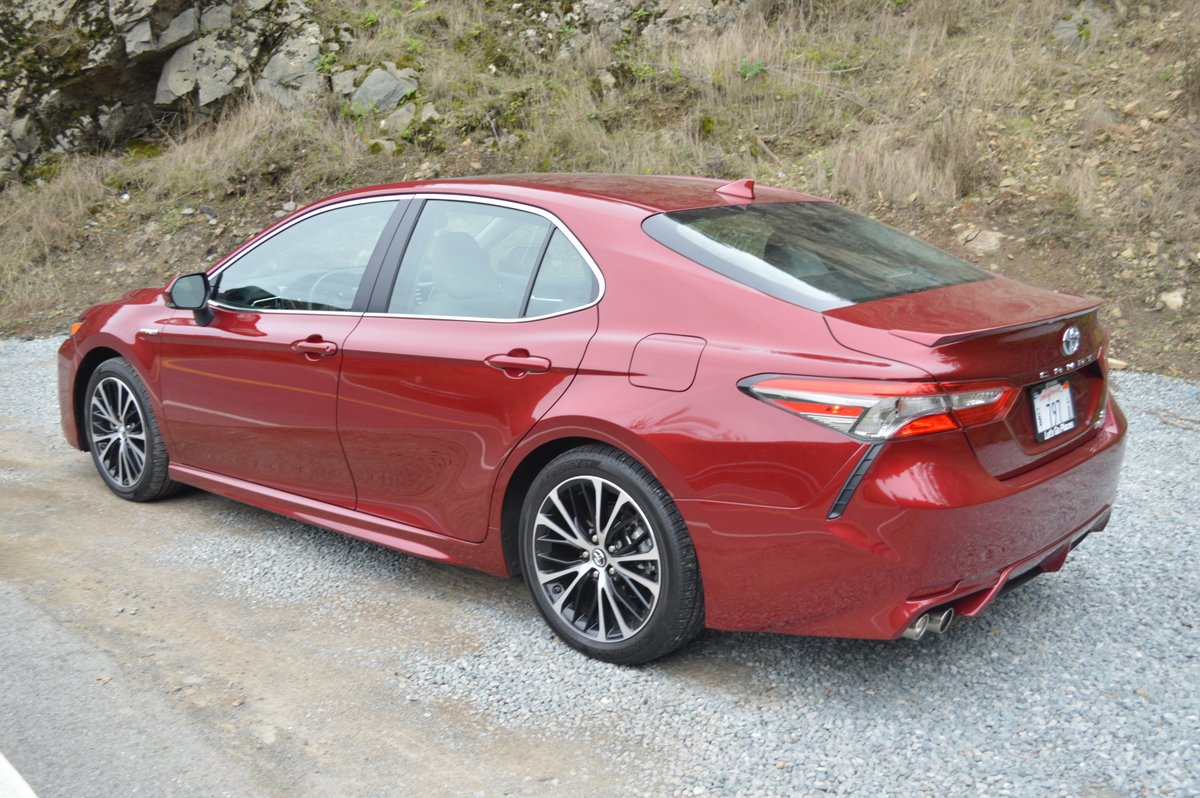 2018 Toyota Camry Hybrid SE
Engine: 2.5 liter inline 4, DOHC, 16 valve, dual injection and VVT-i; Electric Motor, permanent magnet, AC synchronous
Horsepower: Gas Engine – 176hp@5700rpm; Electric Motor – 118h
Torque: Gas Engine – 163lb.-ft.@5200rpm; Electric Motor – 149lb.-ft.
Fuel Consumption: 1MPG City/53MPG Highway
Price as Tested: $33,695
Star Rating: 8.5 out of 10 Stars
Related posts: