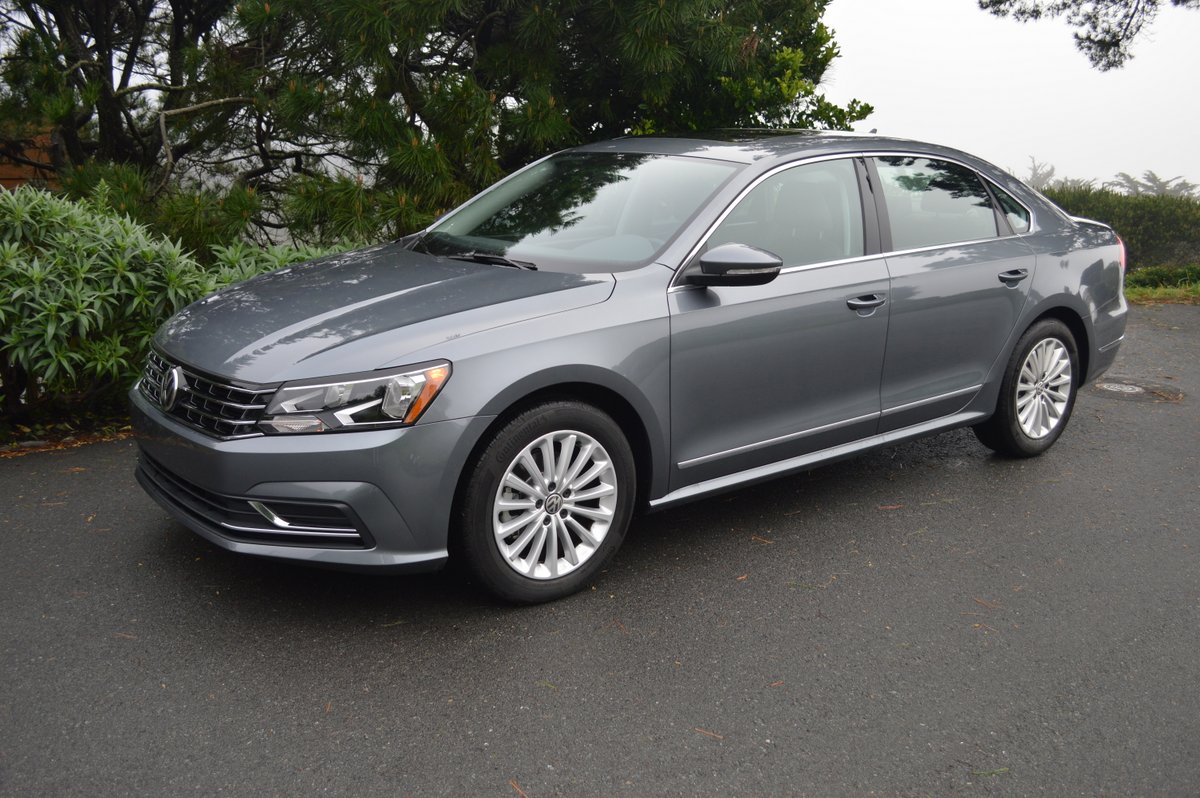 By David Colman
Hypes: Interior Layout Simplicity, Handling Balance
Gripes: Launch Hesitation in First Gear, Sticky Brake Feel
For 2017, Passat continues to benefit from the major makeover it received in 2016. In addition to restyled front and rear fascias, the Passat's 6.3 inch graphic user interface touchscreen now includes Android Auto and Apple CarPlay. Also now standard are VW Car-Net upgrades, including App-Connect (Smart Phone integration and interface) and Security & Service (Emergency Assistance). This latter feature is operable at delivery time, but must be subscribed for continued service. Also standard on Passat is a suite of technology safety upgrades. A rearview camera helps you reverse safely. Front Assist helps bring your Passat to a halt when frontal blockage is detected. Blind Spot Monitor is now standard, and features Rear Traffic Alert. These safety improvements operate silently and seamlessly, without the noisy intrusiveness characteristic of many such systems.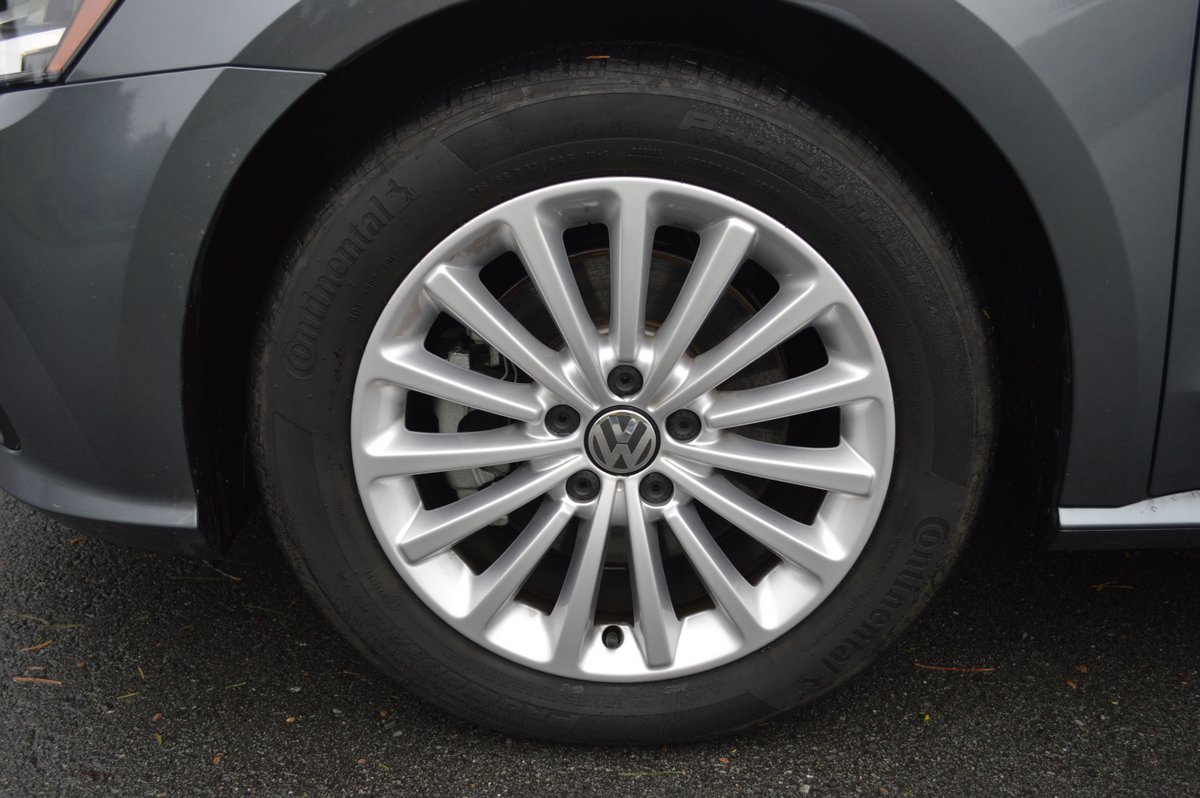 If you select the SE level of Passat, VW literally upgrades your wheels from 16 to 17 inch silver alloys wearing Continental ProContact mud & snow rubber (215/55R17). Another advantage of opting for an SE level Passat is inclusion of KESSY, keyless access with push button start. After spending a week fumbling for the keys of a VW Alltrack to gain entry and start the engine, the proximity system and push button of the Passat saved a lot of key search time. The Passat's huge 16 cubic foot trunk includes a spare tire buried in a mat covered well. This emergency unit is made by Firestone and measures a scant 135/90/16, but gets the temporary job done since it matches the rolling diameter of the Continental radials. A jack and lug wrench are included.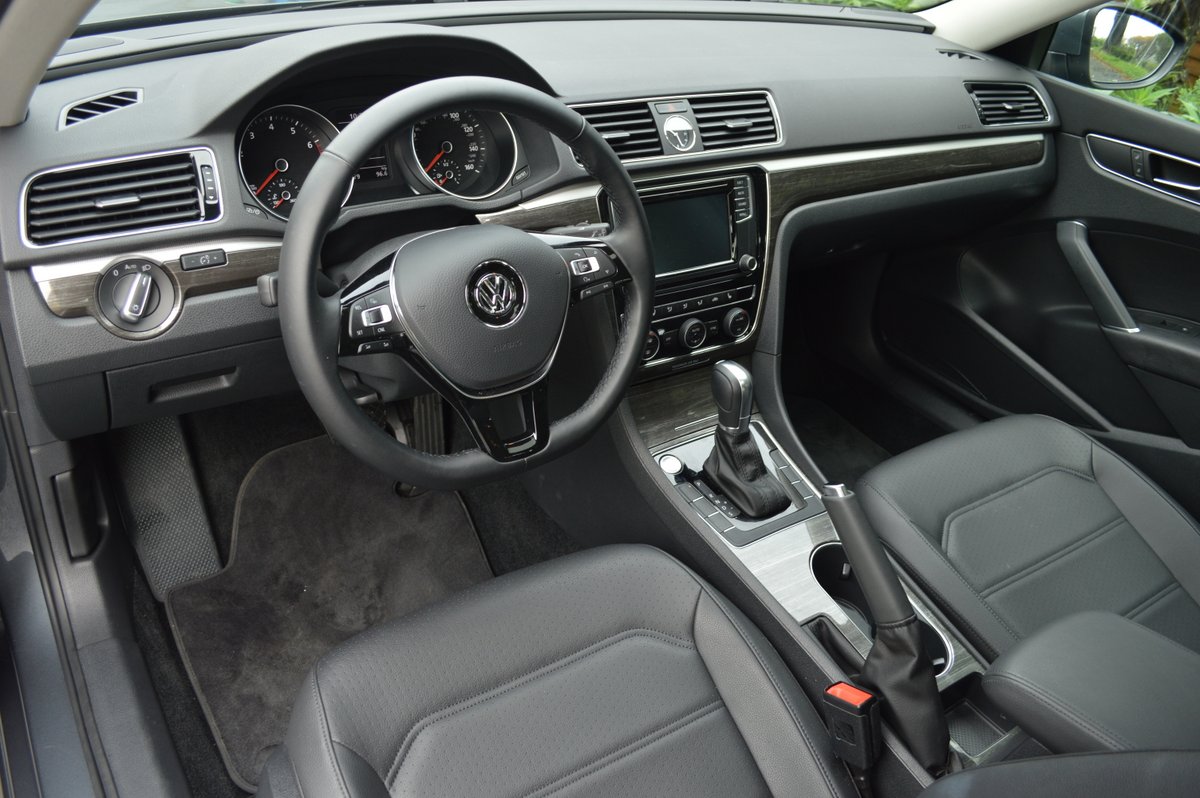 The Passat is not designed for extroverts. You appreciate its subdued nature the minute you scan the quiet color choices available: 3 shades of silver or gray, muted blue, very muted red, beige or black. You certainly won't find VW's outrageous Beetle shade of Fresh Fuchsia Metallic available to dress your Passat. Rather, our test sample was painted Platinum Gray Metallic, set against a Titan Black interior. This is not to say the combo was objectionable. In fact, it looked handsomely subdued, in the way a Brooks Brothers suit is fashionably reserved. Adding to the pleasing medley of interior tones and patterns is a wide strip of what appears to be varnished driftwood. This material, set off in turn by an inlay of finely corrugated matte aluminum, stretches across the dash, and continues through all four door panels.
What we continue to love about VW vehicles and the staff that designs them is their resistance to sublimating vehicle operation to touchscreen menus. Here is a short list of vintage features that make Passat so much easier to operate than the current competition: a fly-off handbrake that is conveniently located and easy to operate; three large knobs to control temperature and fan operation; seven prominently positioned buttons to operate seat heaters and air flow; one overhead swivel knob to control slide/tilt operation of the standard sunroof; conveniently located manual lift/slide/rake controls for both front seats. Car designers today have abandoned this mode of simplicity in favor of complex, unnecessary, menu-driven operations that invariably deflect your attention from the serious requirements of driving. Bravo to VW for refusing to turn their Passat into a motorized smart phone.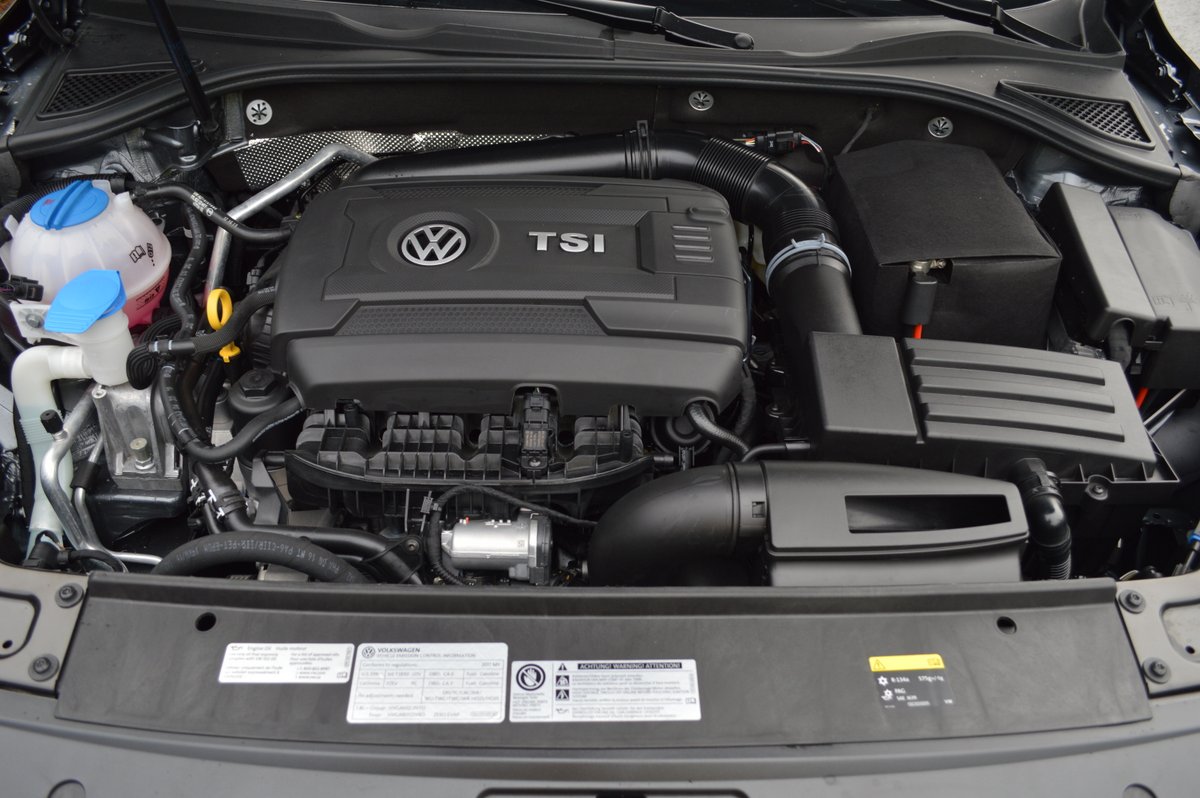 This largest of all VW sedans is meant to be a family hauler, a mission it accomplishes with customary German dexterity. The Passat is without question a spacious sedan, with its wheelbase of 110 inches insuring that both front and back seat occupants will never wont for legroom. Even though the weight distribution of the Passat's 3,220 pounds is heavily biased toward the front (59%F/41%R), this mini limo still covers twisty back roads with surprising agility. The front end never plows through tight turns, and the lively 170hp TSI turbo 4 unleashes enough zip to make exiting corners exhilarating. While the Passat's deadpan looks may not give a clue from the outside, its sporting nature is always ready to be unleashed. If 170hp is insufficient, VW offers an even quicker variant in the V6 Passat, which makes 280hp from 3.6 liters. Either way, the Passat earns its stripes as a premium German sedan, which flies fast under the radar, and does so without draining your wallet.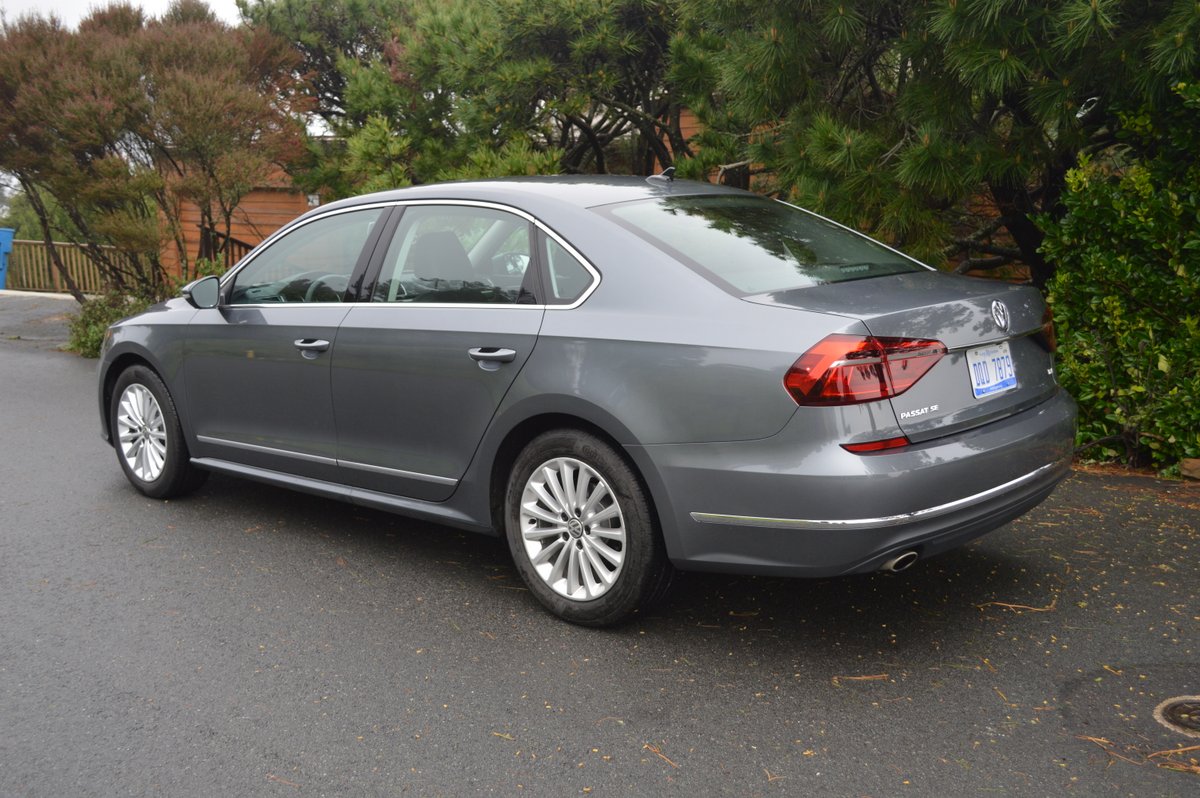 2017 Volkswagen Passat 1.8T SE
Engine: 1.8 liter DOHC turbo 4 cylinder with direct injection (TSI)
Horsepower: 170hp
Torque: 184lb.-ft.
Fuel Consumption: 23 MPG City/34 MPG Highway
Price as Tested: $26,315
Star Rating: 9 out of 10 Stars
Related posts: