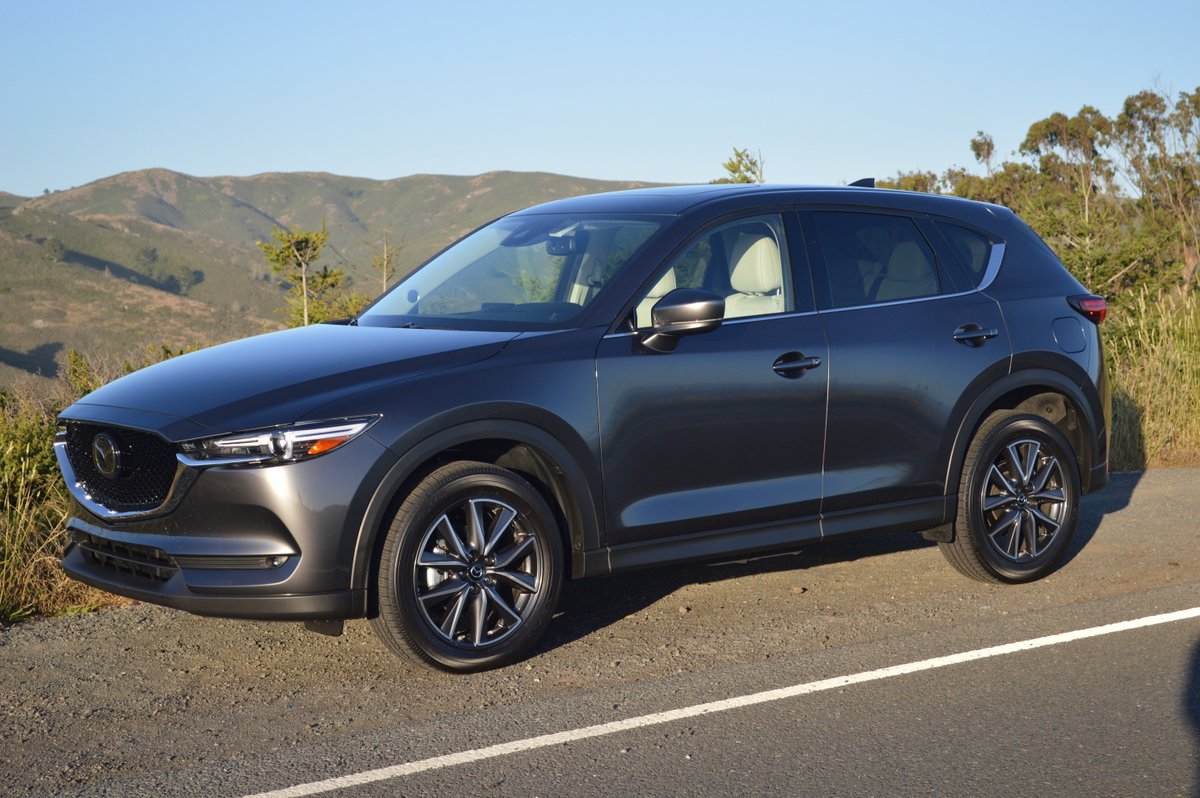 Hypes: Deftly Sculpted Shape, Refined Interior, Superb Handling
Gripes: Turbo Motor Would Be Nice
Unlike its flamboyant Japanese counterparts, Toyota and Honda, Mazda refrains from boisterous design in crafting their vehicles. They call their subdued style language "Kodo" which translates into "Soul of Motion." Without getting too Zen about the concept, suffice it to say that Kodo style understatement infuses every aspect of the CX-5, from its sweeping and fluid side profile to its clean-lined dash and stark instrument binnacle. This integrity of design permeates the CX-5 crossover utility vehicle (CUV). The array of pleasing curves, lustrous finish and sublime comfort all go to define Kodo as the art of Speed Design.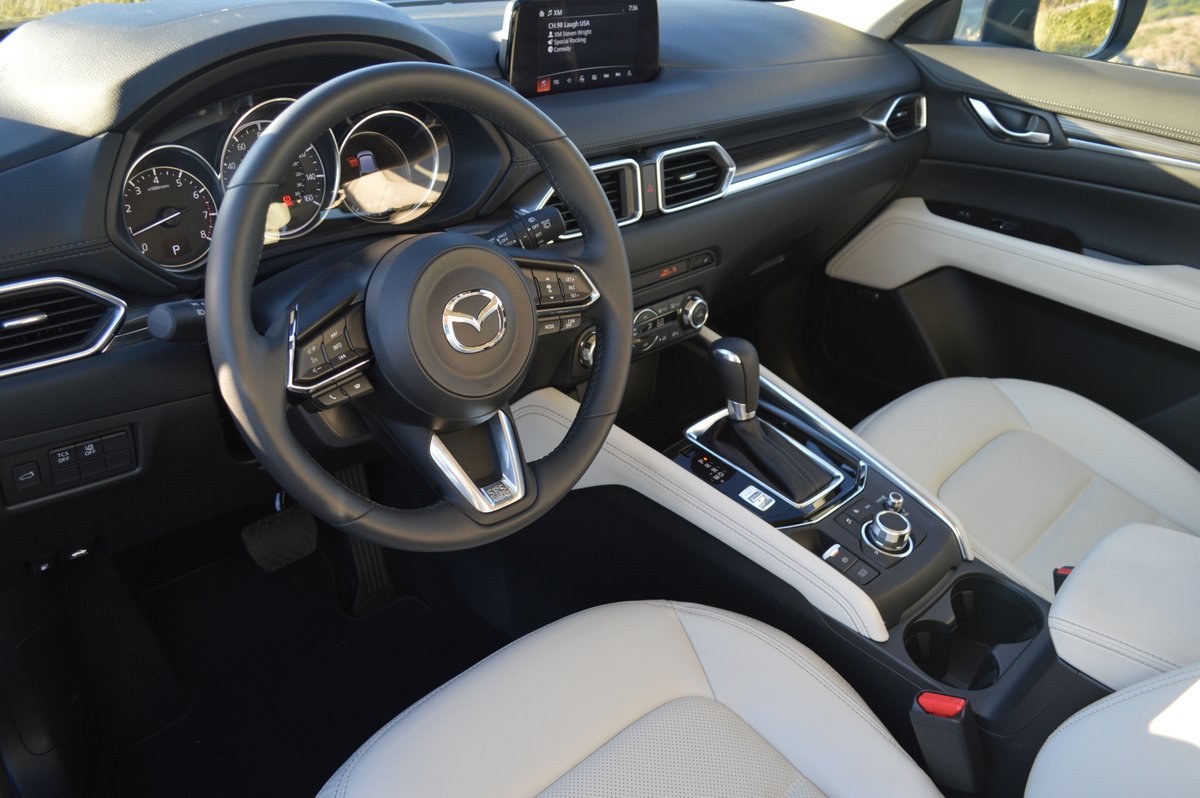 Mazda has repeatedly shown the ability to build high quality, fun-to-drive vehicles at price points that defy logic. The CX-5 GT is no exception to that welcome tradition. With a base price of $29,395 and a delivered price of $32,785, the CX-5 provides substantial bang for the buck. Our test sample, finished in handsome, $300 optional Machine Gray Metallic – Mazda's version of the Car in the Gray Flannel Suit – benefitted from a "1GT" Premium Package that added $1,830 to the base price. Included in this 1GT grouping are 2 position memory settings for the driver's seat, 6-way adjustable front passenger seat, heated rear seats and steering wheel, active driving display, and wiper de-icer.
The Parchment leather trimmed interior seating surfaces, perforated to breathe, convey a richness beyond expectation in this price range. In fact, your initial positive assessment of quality never dissipates. The closer you look at the MX-5, the better constructed it appears to be. Consumer Reports (CR) corroborates this impression of sturdiness by conferring their coveted "Recommended" check mark on the CX-5. CR predicts this Mazda's reliability will fare "Better Than Average."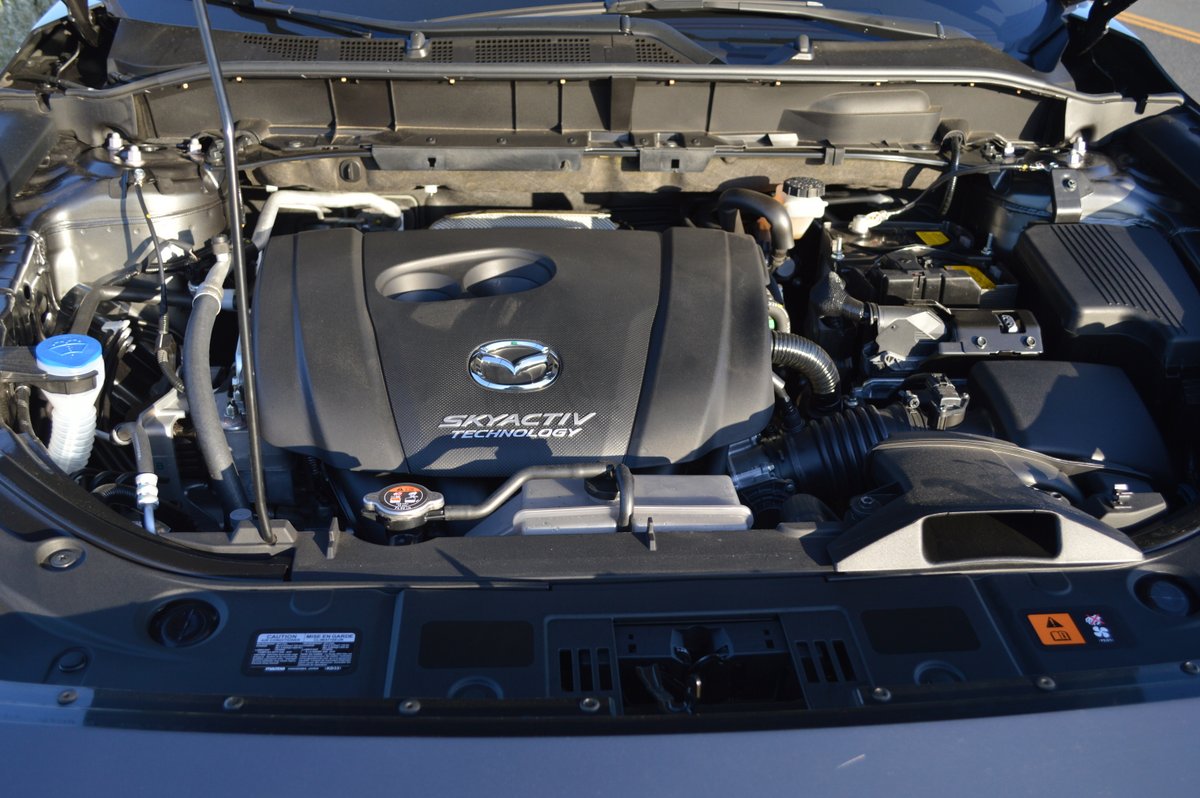 Since its founding as a cork maker in 1920, Mazda has always striven to ascend the next rung of the success ladder. Corks led to machine tool production, and finally to the design and fabrication of the company's first motorized vehicle, the 3-wheel Mazda-Go in 1931. Since its inception, Mazda has been determined to make less do more than any other automotive concern. For example, they currently field a team of exceptionally fast prototype racers in the IMSA road racing championship that rely on small 4 cylinder power while the competition invariably resorts to large displacement V8 engines. At last year's IMSA race – at Mazda Laguna Seca Raceway no less – the company's less is more prototype took pole position. That kind of put-up-or-shut-up performance inspires confidence in Mazda's mantra that "Every Detail Matters. Because Driving Matters."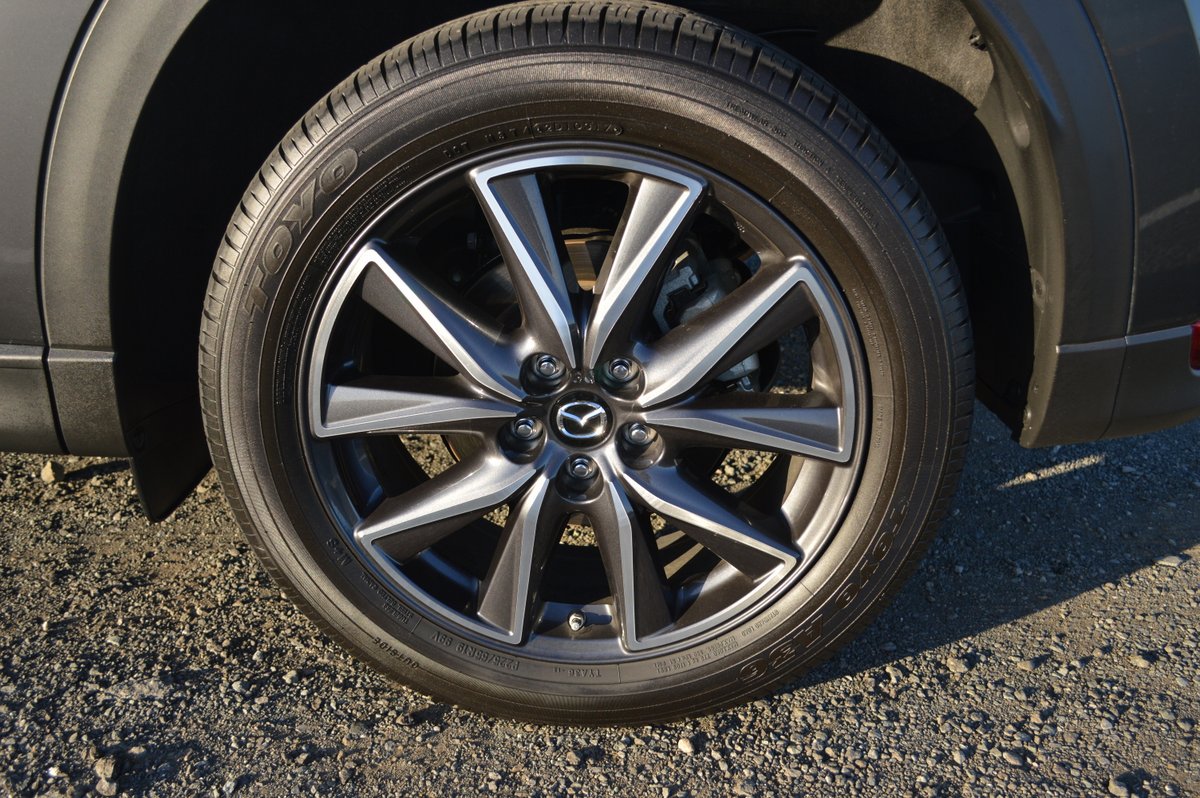 While the CX-5 will never be an MX-5 Miata, there are enough uncanny similarities between the crossover and the company's hallmark sports car to make you wonder just how they managed to infuse so much racy feel in a five-door, 3,435 pound station wagon on stilts. Start with steering feel. Most crossover manufacturers favor the kind of nebulous feedback that would have felt about right in a Buick Roadmaster from 1956. Mazda takes a different approach. The front wheels respond to the most incremental commands you issue through the electric power assisted steering. This precision control system defines your most basic interface with the CX-5.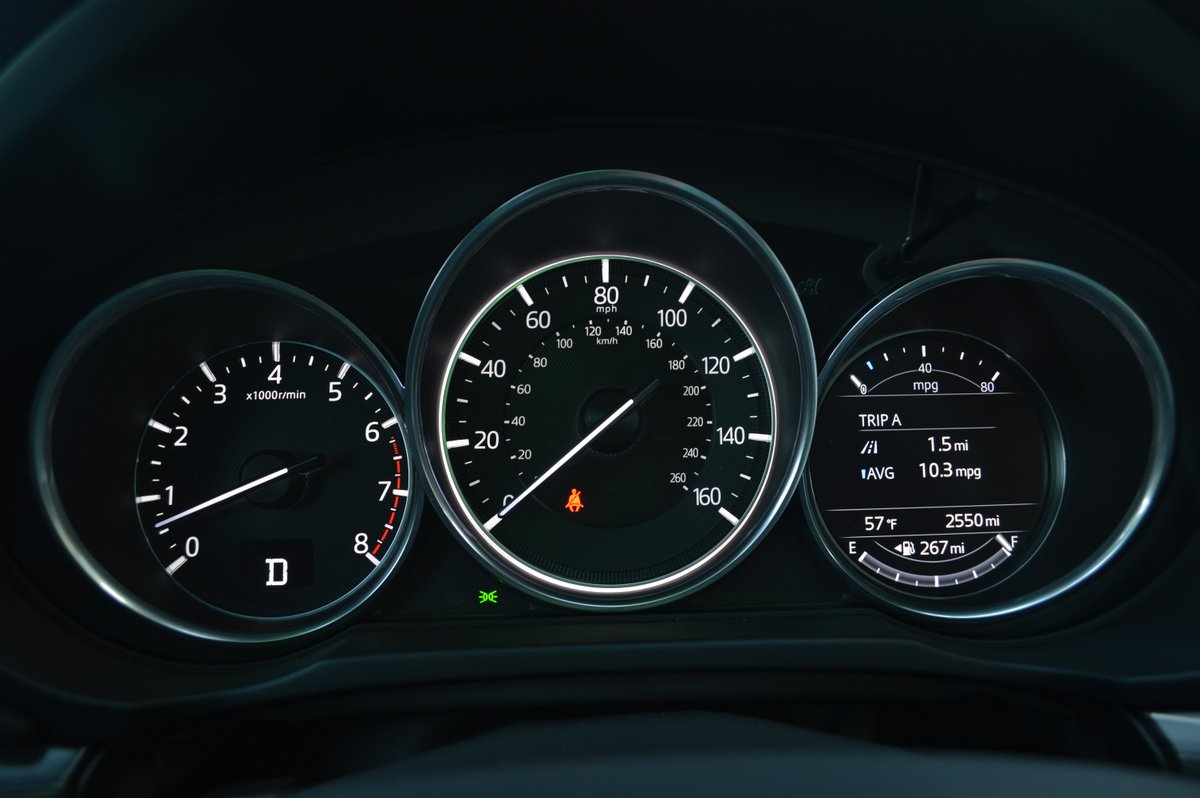 The reason steering response is so positive reaches far beyond the unit's ratio or the number of turns from lock-to-lock. Rather, precision steering control depends on the fully integrated, top shelf components with which Mazda chooses to equip the CX-5: independent front and rear suspension, front and rear stabilizer bars, 19 inch alloy rims with 225/35R19 Toyo A36 mud & snow radials. These are not inexpensive components. A lot of manufacturers feel that a crossover utility doesn't need an independent rear suspension system or a front and rear stabilizer bar because of the extra cost. Mazda refuses to stint on such components because they know that only such an ensemble of the right stuff will satisfy customers who believe that driving does, indeed, matter.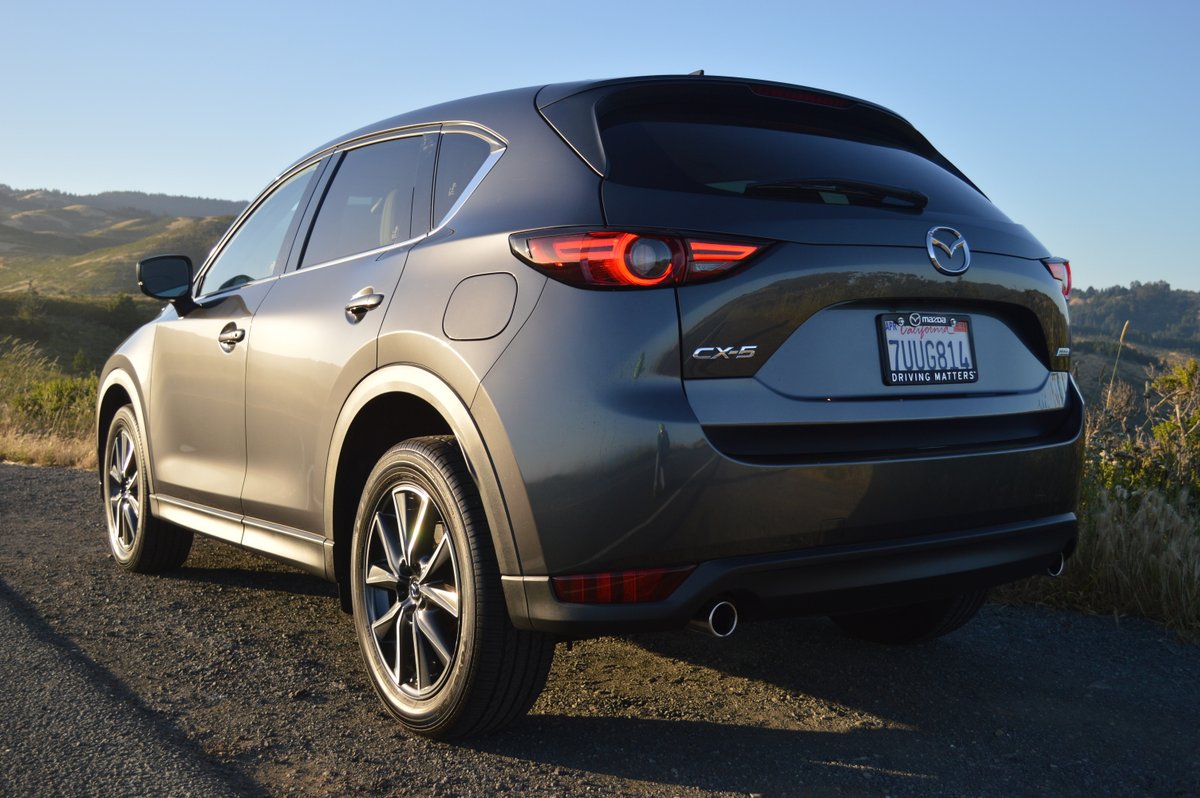 2017 Mazda CX-5 GT FWD
Engine: Skyactive 2.5 liter inline 4
Horsepower: 187hp
Torque: 185lb.-ft.
Fuel Consumption: 24 MPG City/31 MPG Highway
Price as Tested: $32,785
Star Rating: 9 out of 10 Stars
Related posts: