By David Colman
For: Light, Swift, Agile, Racerized
Against: Needs Stickier Tires, 6-Speed Automatic Is Buzz Kill
The bold new Scion FR-S looks best when painted in Hot Lava, a shocking shade of pearlescent orange that perfectly summarizes the impertinent nature of this sizzling hot hatchback. With the FR-S, Scion engineers have managed to craft the perfect autocross car. Once properly classed by the Competition Board of the SCCA, the FR-S will win many national titles, not only in autocross, but road racing as well. In fact, the FR-S is destined to become the next Mazda Miata/MX-5 in terms of affordability, competitiveness, and cult interest. The FR-S will also launch a cottage industry of tuners dedicated to making it go faster and handle better.
This is a ground-breaking product, because its design was generated, not by considerations of practicality, comfort, nor gadgetry, but by performance metrics alone. This is not to say that the FR-S is impractical, uncomfortable, or bare bones, because it is not any of those things. But those ancillaries never factored into the basic equation here. Toyota, with input from Subaru (who sell their own version called BRZ), never wavered from their laser-like design vision: "Build a sports car – not by committee, but by passion – that is light, compact, agile, and intuitive, delivering true sports car performance at an affordable price."
Just like the original Miata of 1990, the FR-S offers quintessential sports car performance. And it does so at a remarkably affordable base price of $24,200. In fact, the out-the-door bottom line on our test car was $24,997, including $67 for wheel locks, and $730 for delivery processing and handling fee. At the long-lead press presentation of the FR-S, Scion included hot laps on the Spring Mountain motorsports and country club track in Pahrump, NV. Just to prove the car's bona fides, event planners also included a testy autocross course on an adjacent skidpad area.
Every parameter of cockpit design is tuned to extract maximum driver performance. From the fat rimmed 14.4 inch steering wheel, to the enduro capsule racing bucket seats, the FR-S is a performance lover's delight. Out on Spring Mountain's deceptively hilly ultra-late apex circuit, the FR-S handled with precision. Thanks to its 53/47 front/rear weight split, and modest curb weight of 2,758 pounds, the FR-S hunted apexes with no drama, exited clipping points without tail wag, and sprinted from corner to corner with enough zing from its 200hp motor to make the whole undertaking a pleasure.
On the autocross circuit, the standard Michelin X Primacy 215/45/17 tires did a fair share of squealing, thanks to their hard compound 240 wear rating. But the FR-S always remained manageable, predictable, and agile. It was relatively easy to run off a series of ever-improving laps. When you can do this in a car that is not familiar to you, it testifies to the inherent soundness of the design. On the autocross course, 7 separate laps looked like this on the time slips: 49.510; 49,199; 48.714; 48.459; 48.023; 47.972; 47.262. As anyone who's done a modicum of autocrossing knows, it's not at all easy to post a perfect progression like this, but the FR-S made it possible, thanks to its perfect balance and feedback.
Scion makes it easy to set the FR-S up for your preferred driving style, offering full Vehicle Stability Control, partial "Sport" VSC, or complete deletion of VSC and TRACTION CONTROL via a 3 second hold of the "TRAC" button mounted on the central tunnel. After 4 runs with VSC Sport engaged, I deleted TRAC entirely, and felt the move had cost me time, because the rear end stepped out so vigorously. But the clock showed the FR-S was immediately 3/10s quicker with TRAC delete (48.714 vs. 48.459).
I almost fainted when, during the technical presentation, a Scion engineer mentioned that the inside of the cabin had been designed to carry 4 autocross compound wheels/tires to an event! In more than 25 years of attending such introductions, no one from a major car company had ever referenced such a design concern. More power to Toyota, Scion (and Subaru) for recognizing this hidden and specific market niche. The FR-S is destined to become a cult classic.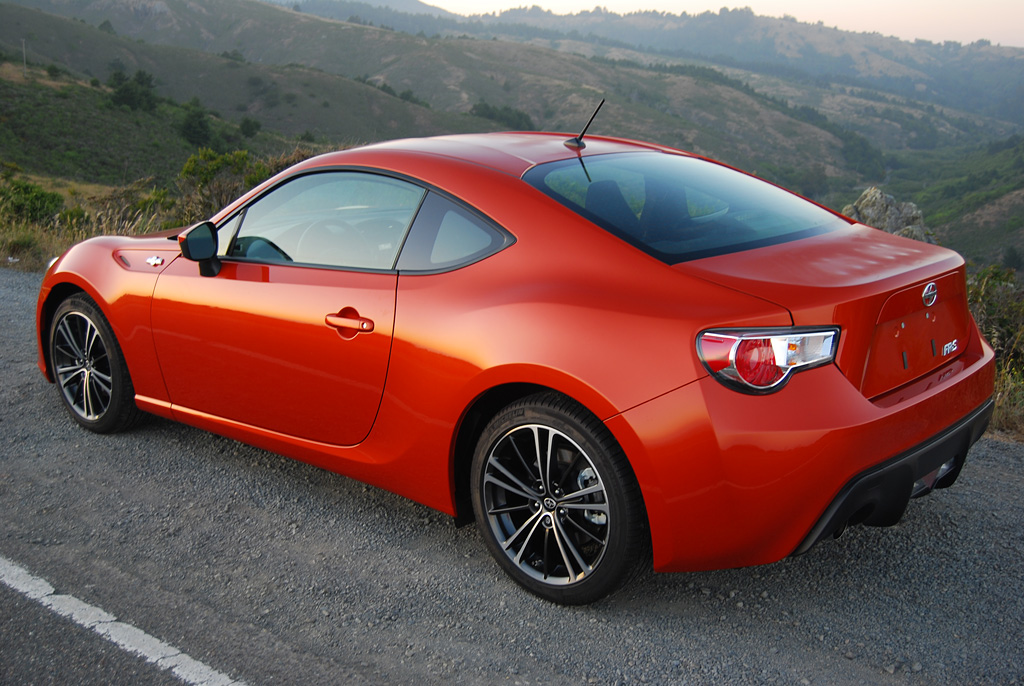 2013 Scion FR-S
Engine: 2.0 liter DOHC, 16 Valve flat 4
Horsepower: 200hp @ 7,000rpm
Torque: 151 lb.-ft. @ 6,400-6,600rpm
Fuel Consumption: 22 MPG City/30 MPG Highway
Price as Tested: $24,997
Star Rating: 10 out of 10 Stars
Related posts: