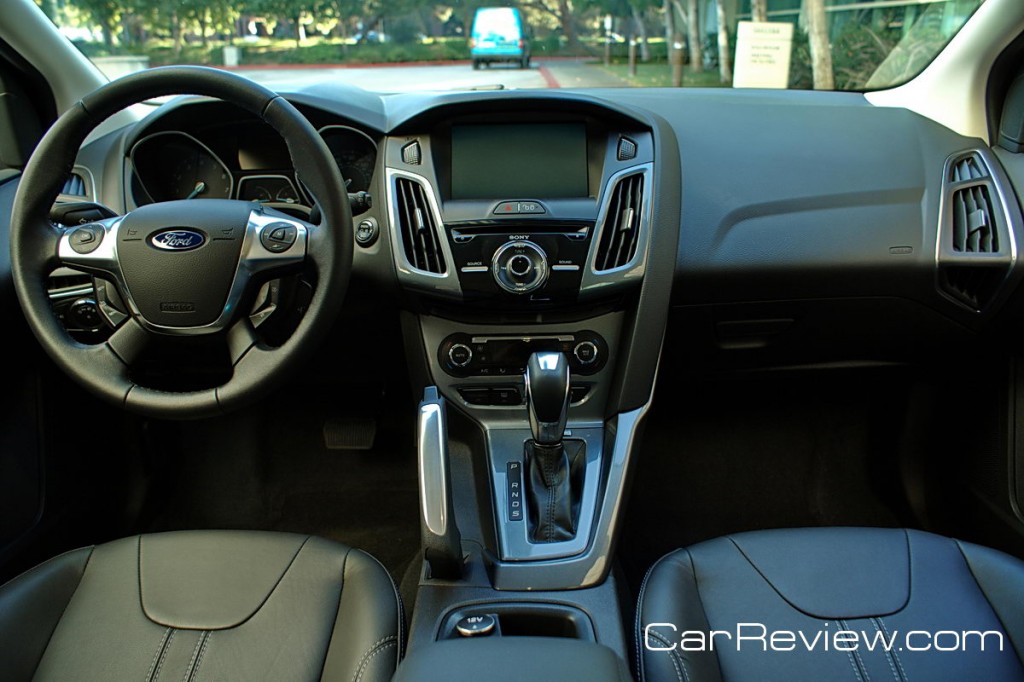 Interior Comfort and Ergonomics
The tester came with the top-of-the-line Titanium premium package, which includes a list of noteworthy options you don't expect to see in a compact car. Not to mention keyless entry and MyFord Touch are standard. The Titanium package equips the Focus with parking sensors in the rear, rain-sensitive wipers, and a 6-way power driver's seat.
Our Focus also came equipped with the optional rearview backup camera and the automated parking system, which is quite a life-changing experience once you see it in action. It's not natural instinct to let go of the steering wheel, so it takes some getting use to, but once you allow yourself the luxury of letting go, the Focus literally parks itself. All you have to do is keep your foot on the brakes.
OK, back to interior comfort. The seats are quite supportive and firm, and the controls are all within easy reach, and Ford does not go overboard with steering wheel-mounted controls like some manufacturers these days.
The biggest beef I have with the Focus interior is the MyFord Touch screen-operated system that controls entertainment, navigation, phone, and climate. The worst fault is the delay between when you touch the screen and the feedback you get from the system. It is very noticeable and the wait (however slight) is just long enough to make you wonder whether the system heard you or not. My instinctive reaction is to keep pushing until I see or hear feedback from the system, so the delays just drove me crazy.
On top of that, the virtual buttons are way too small to read and use while driving, and there's no tactile feedback that you get from good old-fashioned physical controls. I did not get enough time to learn the Sync system which allows voice commands, which would most likely alleviate this situation somewhat. Side note, this MyFord Touch system can be found in other Fords and Lincolns these days, so it's not specific to the Focus.

Related posts: