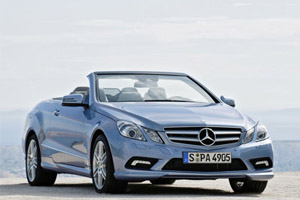 Fans of drop-top driving may be excited to hear that the 2011 Mercedes-Benz E-Class Cabriolet will hit the market in May of 2010. Pictures of the car made its way to the Internet and now details of the car have been released before the Detroit auto show.
The E-Class Cabriolet will have two engine options both mated to a 7-speed automatic transmission. The base E350 will have a 3.5-liter, 268-hp six-cylinder. The beefier E550 will have a V8 5.5-liter 382-hp engine.
The car also has an amazing, best in class, coefficient of drag of 0.28. As a reminder, the higher this number is, the greater the drag force the engine must overcome to move the car at any speed. This combined with the 7-speed automatic should improve fuel efficiency. To put the coefficient of drag number into perspective, a Corvette has a 0.28.
Like the Audi A5 Cabriolet, Mercedes-Benz decided to go with a traditional cloth top for the E-Class Cabriolet. This is an odd choice considering that past convertible models from the German automaker have powered hardtops.
According to Mercedes-Benz, the almost inch-thick soft top is well insulated and the cabin will be quiet enough for a phone conversation. One advantage of a cloth top is that it's lighter than its hardtop brethren and it can fold up smaller, leaving more room for luggage in the trunk. The top can also retract in 20 seconds at speeds up to 20 mph. Compare this to the Audi A5 Cabriolet's 15 seconds at 30 mph.
Competition like the BMW 3-series and Infiniti G35, both have retractable hardtops which makes the E-Class Cabriolet appear to be less of a value. Also both the G35 and 328i look much better with their tops up. The new E-Class Cabriolet looks best with the top down.
Despite the lack of a hardtop, the E-Class Cabriolet does offer many amenities for drivers that love driving with the top down. The car features an automatic draft stop system called AIRCAP. This feature uses a wind deflector mounted behind the seats which will allow the driver to soak in the sun without bothersome wind noise. Purists can disable this system with a push of a button.
Another new feature is the AIRSCARF system which will provide neck-level heating for top-down driving during cold days. This invisible scarf can be adjusted to suit short and tall drivers. The Audi A5 Cabriolet has a similar feature that blows warm air from vents located at the top of the front seats.
The E-Class Cabriolet will make its official appearance at the North American International Auto Show (NAIAS) in Detroit  next month.
Related posts: