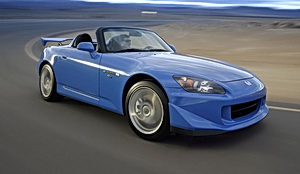 More word that Honda is not only getting into the hybrid thing in big ways, but also that the company's upcoming hybrids will be performance oriented. This is good news, not only for car people with a green bent, but also for sports car lovers. A few months ago, Honda publicized the end of the S2000 Roadster's 10-year production run, which left the Japanese company without a proper sports car. Now news is out that in addition to the launch of the front-wheel drive CR-Z hybrid coupe in 2010, Honda is also working on a larger and more powerful coupe as a replacement to the S2000. No exact word has bubbled up whether it will actually be a coupe, or hopefully a convertible, although some sources point to the S2000 successor being a 2+2 coupe that would feature the company's Super Handling All-Wheel Drive system.

The supposed details on the hybrid portion of the drivetrain say that it would be a system like the ones used on Honda's Insight hybrid car. Internal combustion engine-wise, things are even murkier. Homeland based fanboys are pulling for another high-revving 4 banger, and others say it will be a smoother and more refined V6 engine.
The official word from Honda is … well, mixed at this point, They have formally given the green light to the CR-Z hybrid sports car, and we know that the replacement for the NSX (featuring a V10 engine) was canceled some months back, leaving a big hole in the Honda product line-up.
Do you think they'll leave a void like that unfilled? Neither do we.
Source: Carscoop
Related posts: