By contributing editor David Colman
Hits:
Now with four full-size doors with the Supercrew version
New cab configuration increases interior volume and allows for more comfort for rear passengers
Large 36 gallon fuel tank
Unique Raptor motor roar
SelectShift automatic transmission as close to a manual transmission as an automatic can be
Misses:
Large 36 gallon fuel tank
Uncomfortable upright rear seating position
If Popeye owned a pickup, the Raptor would be it. When you fit the 6.2 liter, 411hp engine to this 4×4's beefy frame, you've got way more muscle than a tin of spinach. No other truck in our care has ever engendered so many conversations. Most of them began with the question, "Is that the Raptor?" because lots of truck fans have been on the lookout for this stout rig since it was announced at the beginning of the 2010 model year. However, the mid-year addition of the $3,000 optional 6.2 liter V-8 motor, which produces 434lb-ft of torque, is just what the hefty 5,850 lb Raptor needed to make it fly. If you need a power boost for passing, the 6.2 is your ticket to the fast lane. On back roads, just drop the massive shift lever into second or third gear, and the Raptor will jump obligingly when you prod the accelerator. On the freeway, in the "Drive" gate, a stomp of the gas pedal instantly drops the rig into passing gear. The 6.2 liter V-8 rocks the truck slightly at idle, and sounds like a motorboat at full chat. It's a delightful motor that failed to use a full tank of gas during a week of heavy-footed driving.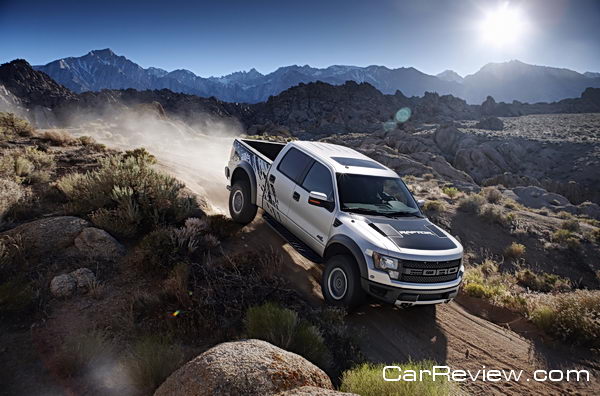 What's really going to sell the Raptor is its appearance. Without question, this is the best looking sport truck on the road today. The compendium of stylistic innovations is ingenious. Because the front bumper has been eliminated in favor of a pair of resilient pads, the snout of the Raptor looks clean and nasty. Gigantic "F-O-R-D" letters are so skillfully integrated into the flat black grill matrix that you hardly notice them at first. A bevy of orange running lights cover the front end and illuminate whenever you open a door or lock the truck. They match the shocking "Molten Orange" metallic finish of the exterior. Large operative heat exhaust grills atop the hood mimic nostrils, and a pair of SVT-logo extractor vents add interest to the front flanks. Running boards that look like dinosaur backbones help lift you into the cab.

Related posts: