By Holly R.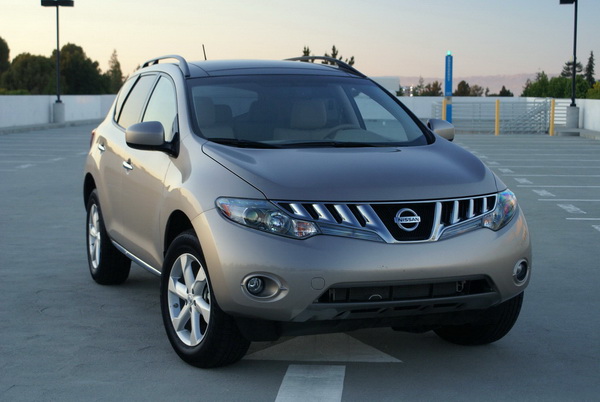 Pros:
Decent mileage
Blazing acceleration
"Beefy" looking
Incredibly roomy
XM Satellite Radio
Power fold-up rear seats
Grocery-bag holder hidden in the rear trunk area (ingenious)
Cons:
Drives so smoothly at higher speeds that you might end up with a lot of tickets!
Wimpy door pockets (advertised as "map pockets")
Introduction:
The Nissan Murano has been re-designed for 2009. It's a bit taller, slightly wider, and has increased horsepower than the previous generation Murano. The edges have been rounded out, creating a muscular, but sexy crossover vehicle. I had originally wanted a Murano when they first debuted in 2003, and I was thrilled to finally be able to drive one! It did not let me down… I've had so much fun driving it that I didn't want to give it back!

The new Nissan Murano is available in three trims, the S, SL, and LE, with 2WD and AWD options. Options on the luxury side of the street include a large moonroof, power liftgate, and power folding rear seats.
Driving Impressions:
Wow. The Murano drives like a car. I guess it should, since based on the Nissan "D Platform", which is shared with the 4th generation Altima and 2009 Maxima. The Murano was fun to drive, accelerated like a sports car, and handled itself so smoothly that most of the time I had no clue I was going as fast as I was. While the turning radius is not that of the ZX, it did a reasonable job doing a 360 on a suburban street. The Murano got up and moved when I wanted it to, and came to a stop in an emergency situation, such that I didn't have to swerve onto the shoulder. And the mileage was pretty darned good, given the 265-horsepower V6 engine.
Build:
The doors were light, without being flimsy. The seats were solid, yet comfortable. I didn't have to slam the hatchback. Just a gentle push latched it. The hood is solid without being too heavy or wimpy, and revealed a nice layout for the engine. All of the inner compartments (glove box (which appears to be able to house a laptop), center console, 2 storage areas in the center console) were solidly put together, and nicely hidden from view when closed. A slight push on a hidden compartment opened the compartment door, and it latched closed firmly with a gentle touch.
Interior Comfort and Ergonomics:

The good:
Where do I start? The instrument panel is easy to see, easy to read, and simple, yet effective. The moon-roof is huge and opens up the view for both front and back-seat passengers.
The seats seemed infinitely adjustable, and it took only a very short time for me to move the driver's seat around until it was a perfect fit. Also, since this model had the leather interior, I have to mention that the leather was smooth, supple and very inviting. The seat heaters have a high and low setting and heated up really quickly. I didn't really NEED them since the weather was warm, but I needed to test 'em! The seats are so comfortable that a 2+ hour drive left me fresh enough to finish extremely well in a bike race. Not only that, the interior has so much room that with some creative packing, we were able to fit the following in the back, with 60% of the rear seat folded down: 3 full-sized road bikes, 2 stationary trainers, 2 small coolers, 1 sleeping bag + pillow, 3 full bags of clothing/stuff/helmets, shoes, 1 floor pump, 1 sleeping bike racer, and two that were wide-awake and hopped-up on caffeine.
Everything in the interior area of the vehicle blended and matched perfectly. It's so well thought-out that everything is within easy reach. Nothing looked out of place or like it just didn't "fit". Nissan has done a very nice job with hiding things you don't need to see, but doing so in a very elegant manner. A gentle touch will open a hidden compartment as well as close it. In case you can't tell, I was REALLY impressed.
The bad:
My only complaint is the map pockets in the doors. I wish the pockets were a bit wider to accommodate a CD holder, but that was the ONLY thing I could find wrong with this vehicle.
The ugly:
Absolutely nothing to add here. Except that I was really sad the day I had to return it.
(Continued…)
Related posts: