Last Thursday was a great day at CarReview.com when we took delivery of the Mazdaspeed3. We heard about the incredible power of this car. 263 bhp and 280 ft lbs of torque on this small, front wheel drive car was either a recipe for trouble or spirited driving nirvana.The car had 1900 miles on the odometer. It was a bright orange red and we had it for a week. Could it handle the power? Was it comfortable? Is it easy to live with? We were intrigued. Part of the reason we were excited about this car is we are hatchback fans. Hatchbacks are fun, roomy, affordable and practical. It fits the active lifestyle and it won't break the bank doing it. With this package, looks like it would fit the driving enthusiast lifestyle as well.
So we've driven the car for a few days and are duly impressed. The power is there. 280 lbs of torque is force that will snap you back to the seat of this car. It is an experience that is addicting. The interesting thing is it's not so simple to get all this power out of this car. To manage torque steer in this front-wheel drive car, there's a bit of power limiting technology present here. First gear, not so much. Second gear, pretty darn good, third gear, WHOOSH and you're off. It's really in third gear and the higher gears that you're allowed to unleash the full fury of this engine.
Can this car handle the power? Well yes. The body is solid and the handling is impeccable! What struck us most about this car is how well thought-out the package is. The red stitching on the seats, the aluminum pedals, the 18-inch wheels, the throaty exhaust all rally together to form one fine $25,000 car. The one weakness so far, it's way too easy to spill your latte!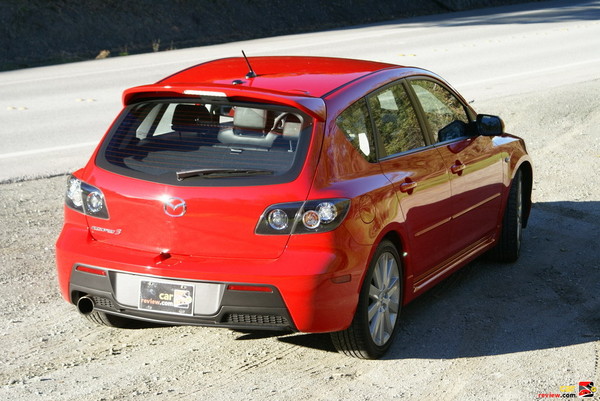 ---
Related posts: