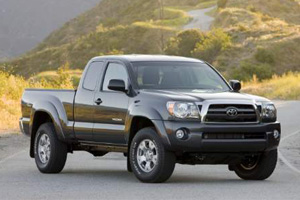 A broken front drive shaft could end a weekend of four-wheeling prematurely.
GM's Akio Toyoda voodoo doll must be working, because 8,000 Tacoma pickups are being recalled due to possible cracks in the front drive shaft. The recall is only for the 2010 4WD model. Toyota decided to issue the recall after Dana Holding Corp. issued a report stating up to 34,000 drive shaft components it produced may be defective.
Dana Holding Corp. also supplies drive shaft components to both Ford and Nissan, but the two companies have claimed their trucks are not affected. Toyota has admitted that the cracks in the drive shaft components could lead to a separation of the drive shaft and joint portion.
In a document obtained by Reuters, Toyota has discovered that when the drift shaft fails, it could separate from the joint and hit the road which could potentially cause the driver to lose control of the vehicle. This could be a worst case scenario and there are no reports of people being injured as a result of the front drive shaft failing.

Owners of the recalled trucks will be notified by mail mid-March. The recall procedure is an inspection that Toyota estimates will take ten minutes. If the defect is discovered, the front drive shaft may need to be replaced.
This is not the first time Toyota's trucks have had defects that made the news. In 2007, 20 Tundra trucks suffered from camshaft failures due to manufacturing defects that cost the company over $5,000 each to fix. There was speculation that every truck would need to be repaired, but it turned out that only a very small number of trucks were affected. Nevertheless the story made headlines.
One of the lesser known Tacoma problems is a corrosion issue that affected 1995-2000 model years. During this time period the trucks may have not received proper corrosion protection and as a result the frame was susceptible to corrosion.
Angry Tacoma owners posted pictures of their trucks rusty frames all over the internet. Toyota responded and eventually extended the rust warranty for 1995-2000 Tacoma's for up to 15 years. This warranty was even extended to people who bought the truck used.
This is a tough time for Toyota, but they are proving to consumers that they are willing to fix their mistakes. To be fair, Toyota is not the only company that currently has cars that need to be recalled due to potentially dangerous failures. General Motors is recalling some Chevy Cobalt's due to the power steering system failing. The NHTSA has claimed they have received over a thousand complaints about the electric power steering system failing in the car.
Cars are made by humans and as a result sometimes mistakes will be made. Toyota is currently getting beat up by the press, but they will recover. Not too long ago, Ford was raked over the coals because of the tire issues that plagued their Explorer model. Remember all the "Ford Exploder" jokes? Ford recovered from that bad press and so will Toyota.
Related posts: