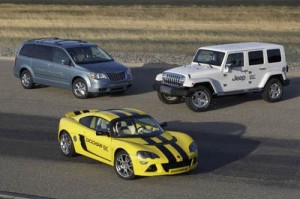 Going down swinging, or not dead yet? One or the other (or something I missed) Chrysler will bring three of its EV concepts to the upcoming North American International Auto Show (NAIAS) to make plain the fact that they're still in this game, and don;t count them out.
Before the proverbial stuff hit the fan in front of congress, Chrysler had a little dog & pony show concerning the possible future of Electric Vehicles (EV) coming from the company. Some of them looked to be quite smart and far along, and Chrysler is looking to bring those cars to the forefront of everyones attention, and (hopefully) put the recent past and financial nastiness out of everyones mind.
According to sources, Chrysler is planning to unveil updated versions Chrysler EV, Dodge EV and Jeep EV at this month's Detroit Auto Show. This is the same trio of cars that they showed to the press in September. The Chrysler EV and Jeep EV have powertrains much like 2010 Chevrolet Volt. The Dodge EV used electric power only, and is based on the Lotus Europa platform. Essentially the Dodge EV is their version of th Tesla Roadster.
Most car wonks at the September press gaggle pronounced the cars production ready and completely viable for every day use.
Let's see what Chrysler brings to the Detroit show, shall we?
Source: LeftLaneNews
Related posts: