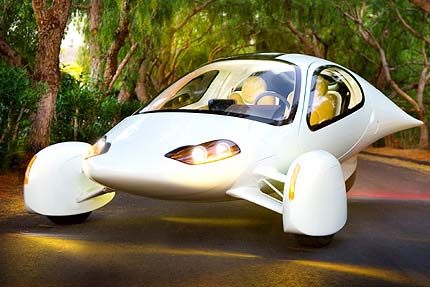 A futuristic looking electric car with three wheels, called the Aptera 2e, is supposed to start production in October. Aptera Motors describes their 2e as a two-seat commuter vehicle that will feature a driving range of more than 100 miles per charge, go from zero to 60 m.p.h. in under 10 seconds and hit speeds of 90 m.p.h.
The Vista, Calif., company is one of several new start-ups hoping to sell electric cars. The 2e will be sold only in California initially with plans to sell it elsewhere in the United States by late 2010. Aptera gave a wide range for the price–$25,000 to $45,000.

Electric car companies are sprouting up throughout the country, and while many of them have experienced some rocky times, laying off people or delaying production, Aptera is growing at a rapid rate. Their production facility in Vista, Calif. is currently hiring new people and ramping up to produce more vehicles. And the 2e is a big part of their plans.
If you don't know much about this company, here's a little background information: Two guys, Steve Fambro and Chris Anthony, came up with the idea of making an electric vehicle that's safe and energy efficient. In 2005, they took their idea to Bill Gross, who runs what's called a "business incubator" called Idealab. It's essentially a place where great ideas go to grow. After developing the concept and sharing their vision, Gross got Fambro and Anthony the seed money they needed to start Aptera Motors.
The story is that Fambro was sitting in bumper-to-bumper traffic when he started brainstorming about a vehicle that would make it easier and less expensive to go from point A to point B. The general idea was to design a vehicle that "follows nature and glides through the wind instead of pushing it." Anthony is a former boat builder and is credited with coming up with the 2e's composite body system.
When these cars hit the roads of California, they're certain to attract a ton of attention. The head-turning design looks like something out of science fiction, but you can be sure yuppies will love this thing, because it is an attention-getter that's also green.
Related posts: