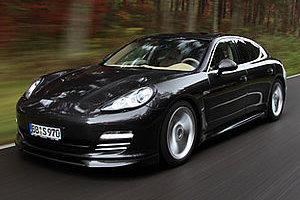 TechArt adds panache to the Porsche Panamera.
If the rather unique look of the Porsche Panamera is not enough for you, maybe you should look into the range of aftermarket goodies TechArt is offering. The Leonberg, Germany based company claims their body kits are of OE quality and we would have to agree. The new front bumper really does look like it came straight from Porsche's plant in Leipzig. The body kit improves the look of the car without looking gaudy or losing the signature Porsche look.
The TechArt front bumper kit not only improves the look of the Panamera, it also may improve the aerodynamics of the high-end sport sedan. The three-part front spoiler should help improve high-speed stability and the redesigned front bumper helps cool the front brakes.
Like every tuning company these days, TechArt is offing a set of 21 or 22-inch wheels shod in high performance summer rubber. What is more interesting is the German tuner is going to offer an extensive interior modification package. The company will outfit the interior of the Panamera with decorative stitching, "exclusive" two-color leather finishing and wood trim.
A TechArt modified Panamera should be at this year's Geneva International Motor Show in March. Pricing has not be revealed yet, but more than likely it's a citation where if you had to ask you probably could not afford it anyway.
With only 20,000 Panamera's built each year the market will be rather small for aftermarket parts, but well-heeled enthusiasts may like what TechArt has to offer. Now if RUF would sell a 1,000-hp kit the world would be a perfect place.
Related posts: