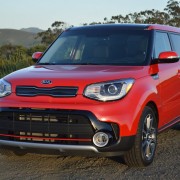 Kia's distinctive looking Soul is currently the only survivor from the flying brick school of automotive design. The popular Scion XB, which had developed a cult-like following, disappeared when Toyota folded Scion's tent several years ago.
Read More »
The happy Soul enters its 4th year of production in mildly revised form. This year, you can opt for the base model Soul, a step-up version designated Plus (+), or the full featured Soul Exclaim (!). In view of the fact that top shelf Souls have escalated in price from $17,190 in 2011 to $23,575 for this year's loaded !, your exclamation might be limited to the steep price creep.
Read More »
The Soul is Kia's foray into the youthful box-car market, currently dominated by the Scion xB, Nissan Cube and the Honda Element. The Soul will definitely be attractive to first time buyers, with its low cost, curious design, vibrant interior and multitude of techie gadgets.
Read More »