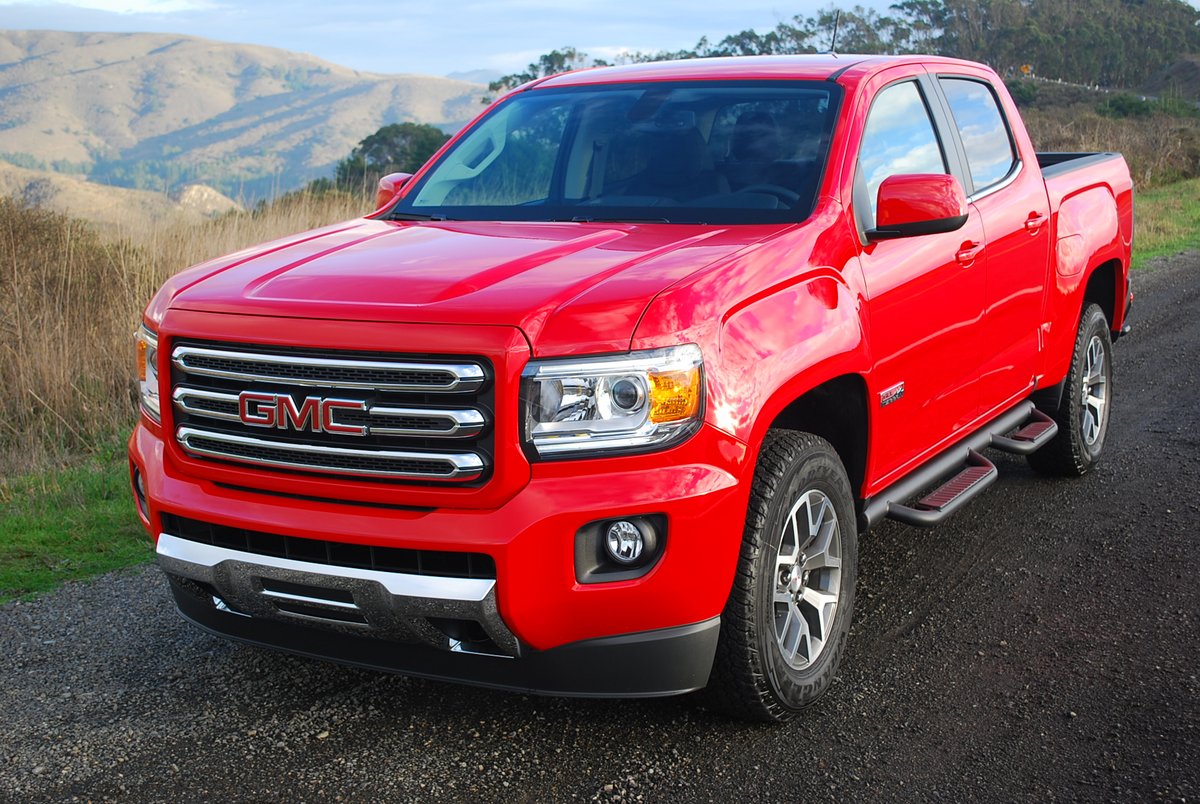 By David Colman
Hypes: Looker with a Cooker of a V6
Gripes: Automatic Rain Sensitive Wipers Needed
Is there a better way to prove a new truck's mettle than to drive it through a raging storm, not once, but twice? That's just how we experienced GMC's completely new Canyon pick up. Our round trip called for a run from Marin County down to Monterey on the very day the biggest rain storm in two years rolled into Northern California. Our return trip back to Marin coincided with the arrival of the second big front three days later. The Canyon passed all tests – from traction to comfort to outward vision – with dismissive ease. If you 're looking for a staunch companion in bad weather, the GMC Canyon is as good as it gets.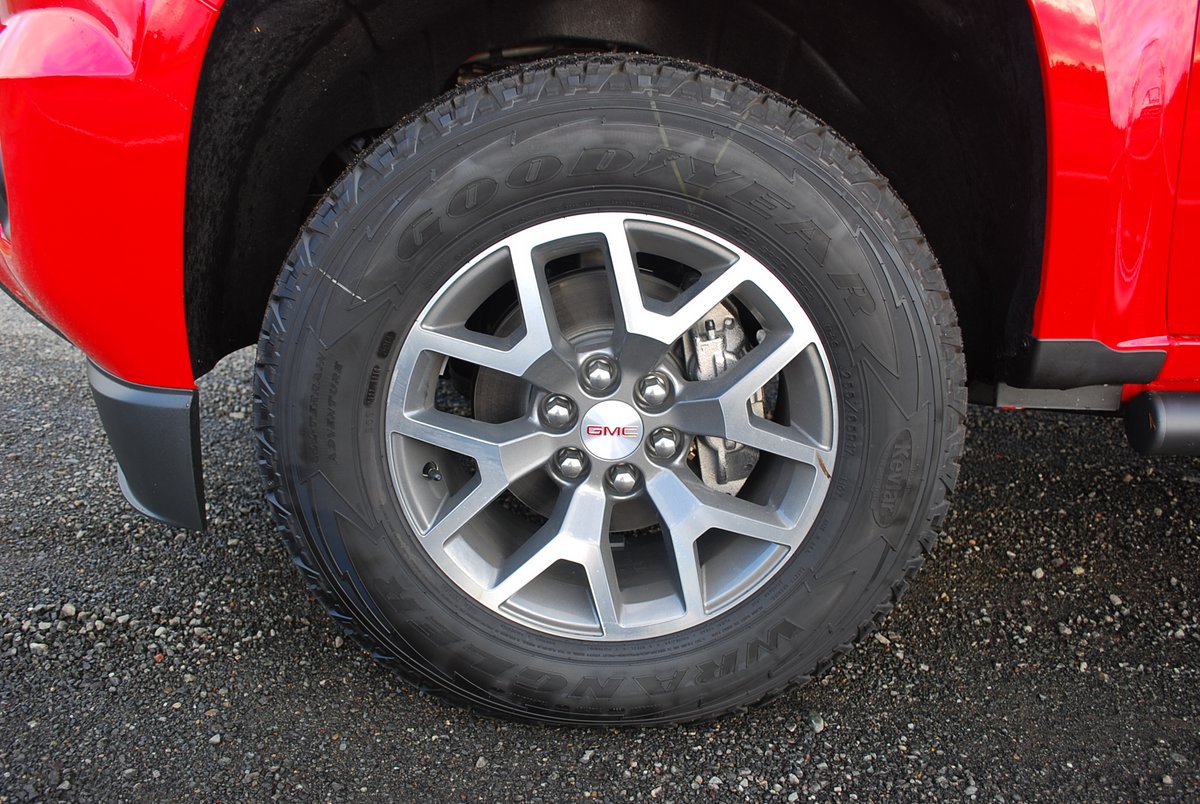 GM's Brazilian design staff had a hand in crafting this stunning hauler's bold but businesslike appearance. Our 4×4 model, fitted with an $1,190 All Terrain Package, stood Texas tall on its off-road capable Z71 suspension, and 17 x 8 inch "Dark Argent Metallic" alloy rims with Kevlar-reinforced 255/65R17 Goodyear Wrangler rubber. The wide channeled tread of the Wranglers did the trick in repulsing rivers of rain water. At a steady 65mph on Interstate 101, the Canyon swept through the puddles without ever losing its footing. It did so, moreover, in 2WD, because traction with just the rear wheels driving was so good that 4WD was never needed. For the record, the AutoTrac 4WD offers 4 different settings for conditions ranging from sport driving to snow bashing. If off-roading appeals, you will appreciate the fact that the Z71 package offers hill-descent control. However, the mild price you pay for all that under body clearance is a high cab step-in. To seat yourself with relative ease, you'll need the optional ($745), tubular off-road assist steps which are unobtrusively finished in matte black.
GMC has done a swell job with this pick up's exterior finish. The massive chrome grill looms over lesser traffic like the prow of a cruise ship. A pair of 'All Terrain' ID plates grace the front quarter panels and match similar tributes branded into headrests of all four seats. The 5'2″ short bed (a 6'2″ long bed is available) sports a $475 liner appliqué that matches the matte black of the assist steps. Although you can opt for an extended cab, the crew cab is the way to go if you plan on carrying passengers. During our stay in Monterey, we chauffeured four occupants for two days running and never once heard a complaint from the back seat. Vision outside is excellent from inside, even in back. The panoramic rear window of the cab contributes to the stunning greenhouse effect.
Our Canyon enjoyed 18MPG for the long round trip, The EPA rates overall mileage at 20MPG for the 3.6 liter version we tested. Although a base model 2.5 liter inline 4 is available, it produces only 190hp and 183 lb.-ft. of torque, hardly adequate for such a beefy vehicle. The V6, on the other hand, makes 303hp and 270lb.-ft. of torque and reports smartly to your right foot whenever you need a boost to merge or change lanes. Assisting in this regard is an exceptionally smooth shifting 6-speed automatic that can be locked into Manual Mode ("M"). When you select M, a cumbersome set of factors restrict transmission selection to limited gears, depending on your speed. However, these limitations can prove helpful when traversing slippery roads at low speeds. When configured like our test GMC, with a $250 optional "Trailering Equipment Package," and the digger 3.43:1 rear axle ratio (no extra charge), the V6 Canyon will pull a 6,700 pound trailer.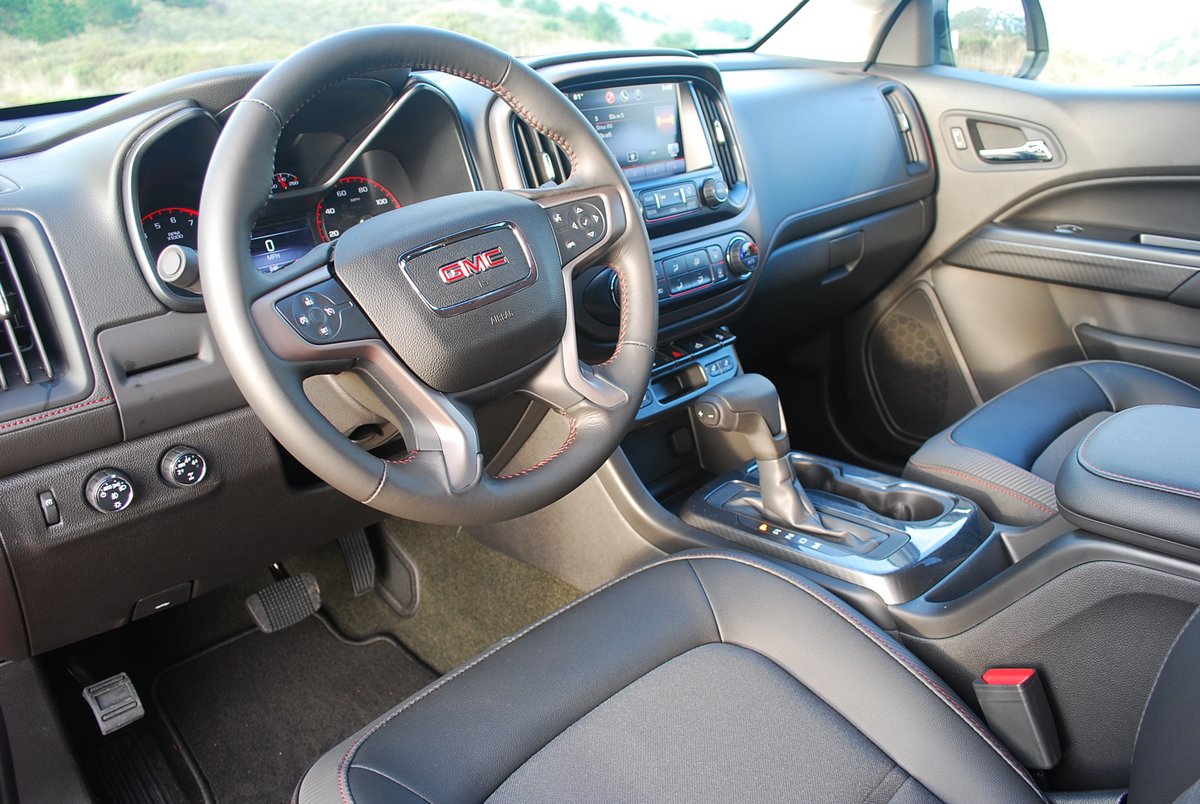 The Canyon cabin is a place of many virtues. The dashboard snaps into action when you insert the ignition key by scrolling spectacular GMC graphics across the huge 8″ color touch screen. The screen displays your free 3 month trial XM Satellite radio reception, as well as your 6-month free introductory On Star hook up, which includes directional commands. There's also an Intellilink connection, so you are never short of information sources inside this command center. The red stitched jet black seats feature separate heat sources for squab and backrest. We were entirely complaint free after many long hours in the saddle.
This is a fairly big rig, so your only operational complaint is going to stem from parking it. It does require more 'terrain' than you may be used to locating. Aside from that obvious caveat, this new, stunning GMC is a real grand Canyon.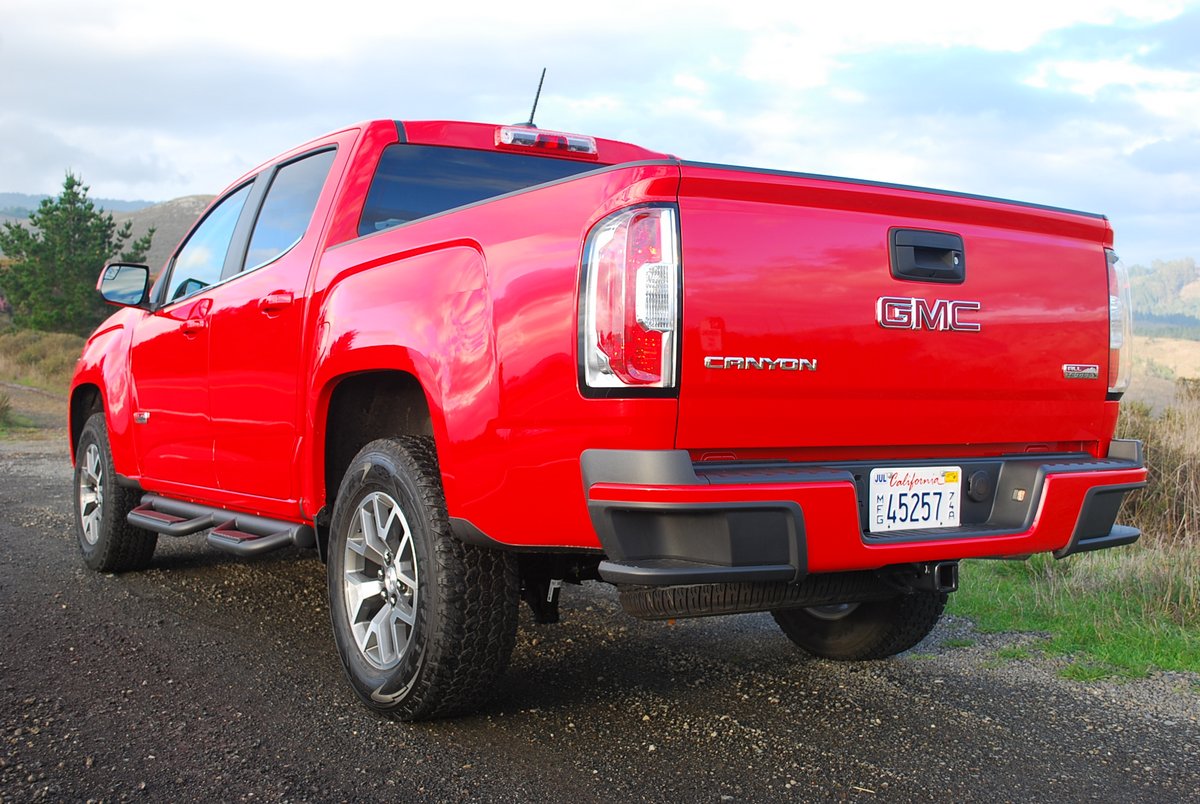 2015 GMC Canyon 4WD SLE Crew Cab Short Box
Engine: 3.6 Liter Direct Injection DOHC V6 with VVT
Horsepower: 302hp
Torque: 270lb.-ft.
Fuel Consumption: 17 MPG City/24 MPG Highway
Price as Tested: $39,090
Star Rating: 9.5 out of 10 Stars
Related posts: