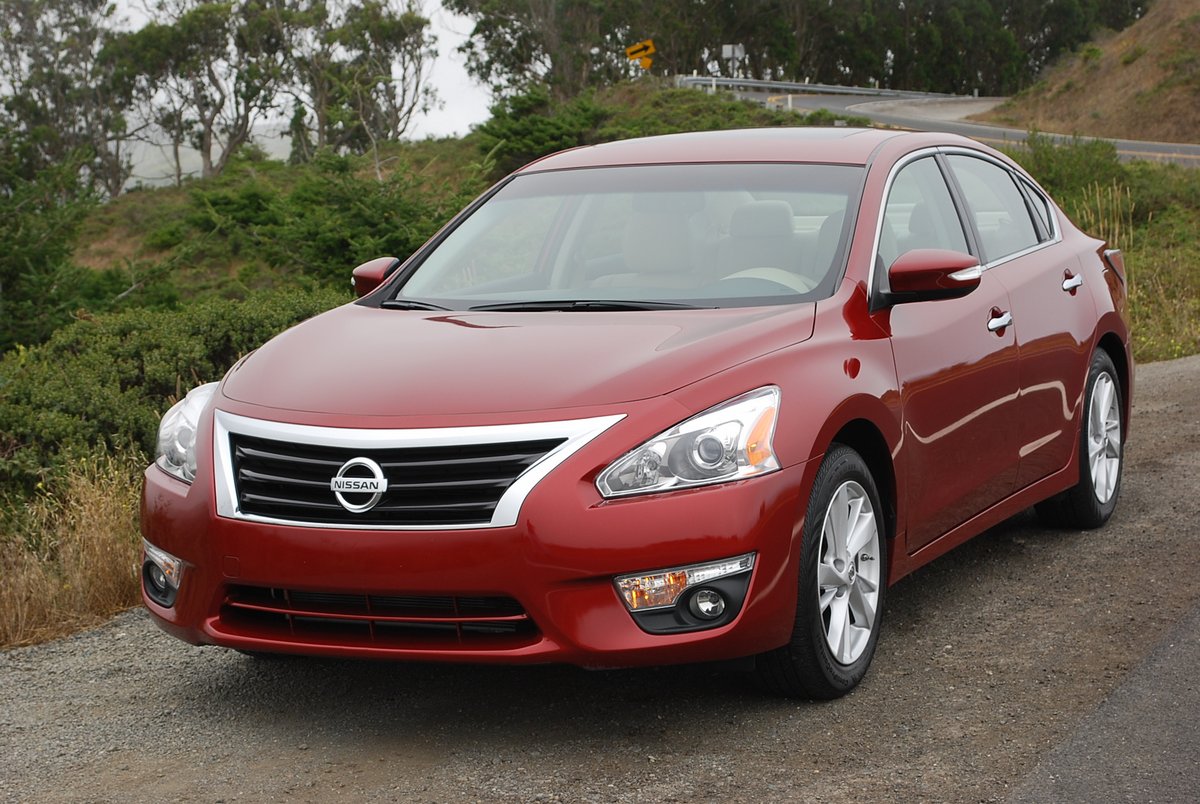 By David Colman
Hypes: Spacious Back Seat, Inviting Interior
Gripes: Needs To Lose CVT Transmission
The Altima is Nissan's scrappy contender in the turbulent family sedan marketplace. When you're battling mainstream heavyweights like Toyota's Camry and Honda's Accord, you need something special to attract buyers to your product. Although the Altima 2.5 SL is nothing special to look at or drive, it still merits consideration due to its affordable base price of $27,775. Seven different tiers of Altima are available (2.5, 2.5 S, 2.5 SV, 2.5 SL, 3.5S, 3.5 SV and 3.5 SL). Base prices range from $22,010 to $30,660. Models designated 2.5 utilize a four cylinder engine rated at 182hp. 3.5 models upgrade performance with a 3.5 liter V6 good for 270hp. Our test Altima fell squarely in the middle of the price range, with its 2.5 liter four mated to a CVT transmission. This combination yields 31MPG in overall driving.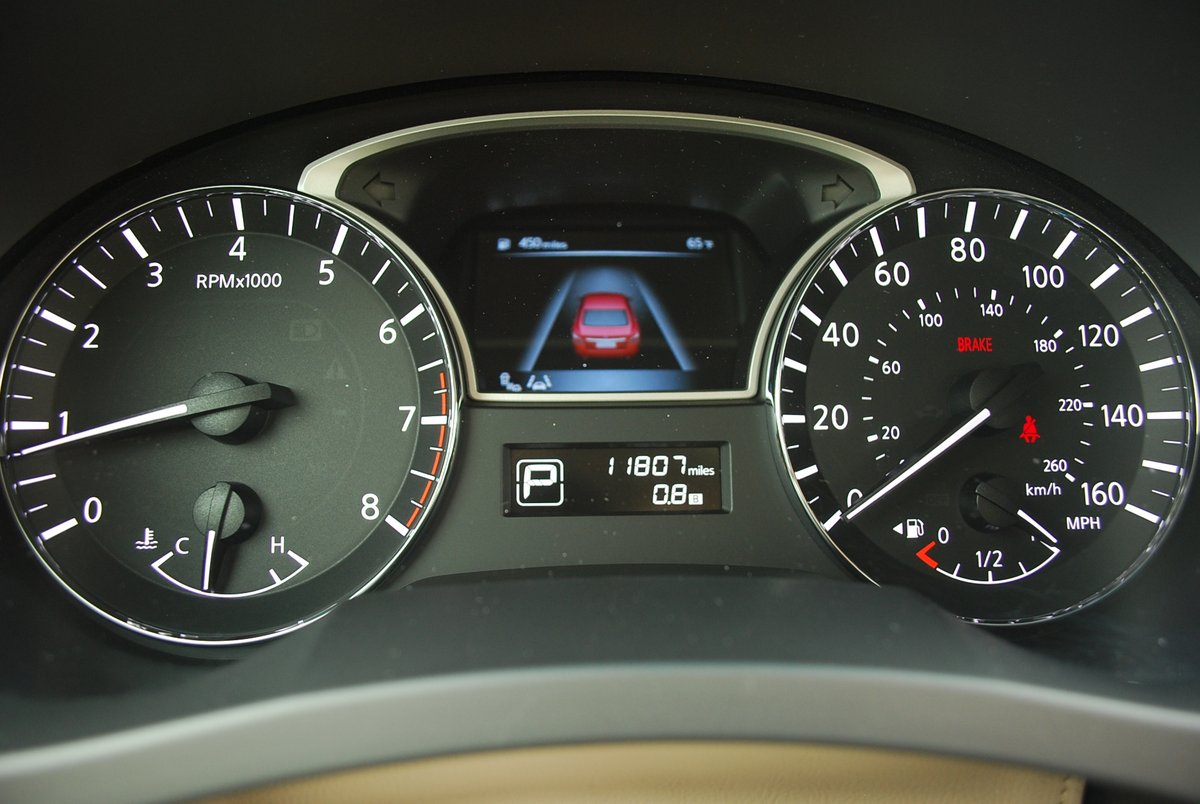 The SL designation adds the following improvements to the base 2.5 Altima: integrated turn signal rear view mirrors, fog lamps, premium Bose sound system, heated leather front seats, driver adjustable lumbar support, and auto dimming rearview mirror.
In addition, our test SL added an $800 moon roof, $210 in floor and trunk mats, and $1,090 for a Technology Package that increased color display screen size from 5 to 7 inches, and added navigation, blind spot and lane departure warnings, plus moving object detection. The $30,830 price brings you a fully equipped long distance cruiser with few flaws. In a world full of attention getting designs, the Altima SL is sedate and inoffensive, rather than brash and boastful.
Comfort ranks high on the list of attributes here. Ride is plush, with good damping of road imperfections. Nissan's tire selection contributes to the plush ride. The 215/55R17 Continental Pro Contact tires help absorb bumps, though at the expense of precise steering feedback. Although handling is hardly cutting edge, the Altima will tackle any back road without embarrassing itself. To prove the point, Nissan is running a pair of Altima coupes in SCCA's hotly contested Pirelli Touring Car Series, where they are consistent podium finishers.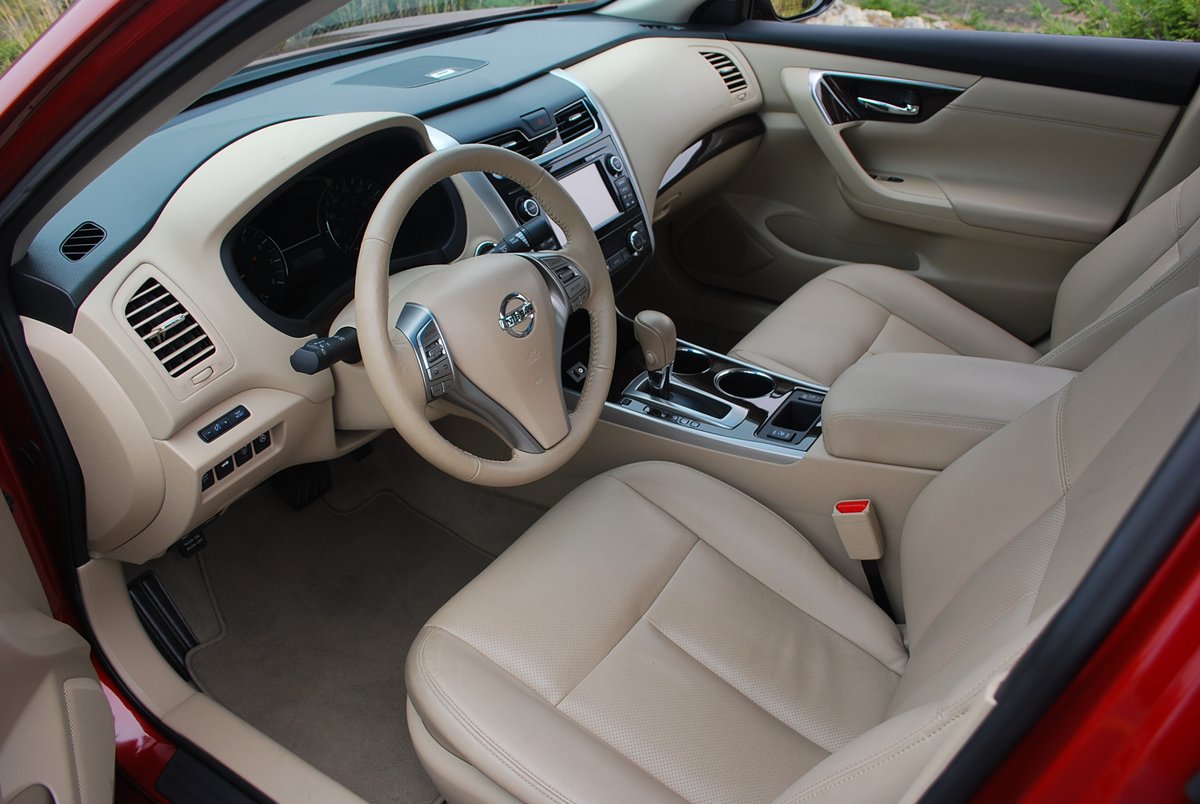 The interior of the SL looks expensive. The seats in particular, offer outstanding support and comfort. Nissan calls them "zero-g" because they are so light to the touch that you feel like you're floating on air. With the exception of the driver's seat, each seating position has been thoughtfully supplied with overhead grab handles to ease entry and exit. The commodious rear seat offers so much legroom you could almost sneak a pair of floor mounted jump seats into the mix. The rear seats also fold down in a 40/60 split, opening a vast storage space to the 15 cubic foot trunk. A pair of buttons on the rear window sill control the seatback flop. In another thoughtful touch, these buttons contain key locks, thus restricting trunk access to intentioned adults rather than playful children.
No matter which Altima you select, you have no choice but to accept the CVT transmission. Anyone who enjoys driving soon learns to loathe this invention. While CVT insures excellent fuel consumption figures, it drains the joy out of operating the 2.5 SL. With just 2 selections available for forward motion ("D" and "Ds"). you have very little control over your Altima's rate of acceleration. Of course, this will only matter to you if back road driving comprises part of your daily itinerary. In those circumstances, your inability to resort to higher engine speed via lower gearing virtually mandates you will never pull out to pass slower traffic. The CVT thus insures tediously strict conga line behavior on twisty roads.
But aside from the pair of drivers who contest the Pirelli series, no one would think to buy this Altima for its performance potential. Rather, the 2.5 SL is a sedan that makes sense to the accountant in us all. Its parsimonious behavior starts at the dealership where you can buy it for just a tick over thirty grand. It continues through the life of the sedan, where the EPA estimates annual fuel cost to be just $1,700. That's about the same as you'd pay for a new Mini Cooper ($1,650). And if you have a family of four to transport, there's no question which car makes more financial sense.
2014 Nissan Altima 2.5SL
Engine: 2.5 liter inline 4, Double Overhead Cams, 16 Valves
Horsepower: 182hp
Torque: 180 lb.-ft.
Fuel Consumption: 27 MPG City/38 MPG Highway
Price as Tested: $30,830
Star Rating: 7 out of 10 Stars
Related posts: