By David Colman
Hypes: Thumper Motor, Superb Fit and Finish
Gripes: Bi-Xenon Headlights Need to Swivel
Attention BMW M Customers: Be sure to check out this Lexus before you buy Bavarian. The newest version of the Lexus IS-F is without question the most hard edged performance car the company has built since the $400,000 LFA ceased production three years ago. Now that BMW has forsaken V-8 power for the M4 in favor of a turbocharged 6, Lexus maintains a performance advantage over the German benchmark by offering the IS-F with a throbbing 416hp 5 liter V-8 that pulverizes pavement with 371 pound feet of torque.
This is a true muscle car motor, worthy of any drag strip you care to attack. But Lexus conceived of the F as a complete package, with the kind of suspension refinement period muscle cars never came close to achieving. You will appreciate the IS-F's finely tuned, race bred double wishbone front suspension, which reads pavement changes like a savant. With the added benefit of sophisticated multi-link rear geometry, the IS-F steers and adheres better than any product Lexus or parent company Toyota currently offer.
If you have any doubt about the F's handling supremacy, just look at those 19 inch forged BBS alloy wheels and super sticky tires Michelin Pilot Sport tires. The 14 spoke wheels, finished in fetching liquid graphite, measure 19 x 8 inches front and 19 x 8.5 inches rear. They are shod with rubber measuring 225/40R19 front and 245/35R19 rear. Recessed behind the alloys are massive 14.2 inch Brembo style 6 piston front disc brakes backed up by 13.6 inch double piston rear discs. With high friction pads, these stoppers will let you spend a day at the track without losing your brakes.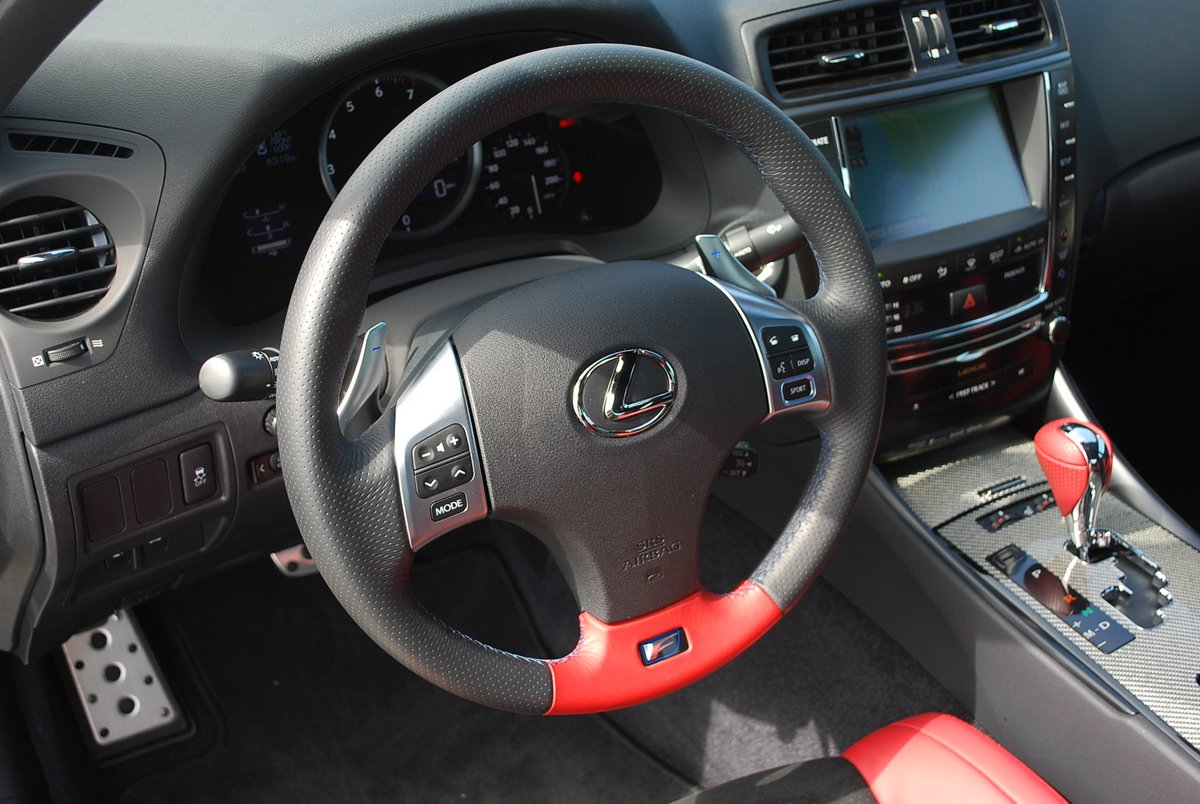 The idea of taking the IS-F to the track is not at all farfetched. With its standard TORSEN limited slip differential, you are assured of intelligent torque distribution through the F's rear wheel drive. You'll also never be at a loss for the correct gear ratio since the IS-F's Sport Direct Shift automatic offers 8 gears controlled by either the stick between the front seats or the oversize paddles attached to the steering wheel. The steering wheel itself is eminently grip worthy thanks to a fat rim covered in perforated leather. The front seats can be configured to encapsulate you like racing buckets, or relaxed to emulate the comfort of your favorite lounge chair. Both seats are heated, and covered entirely in red and black leather, with 10 modes of power adjustment available plus memory settings for both sides. Front seats feature the letter "F" embroidered on the side bolsters and headrests.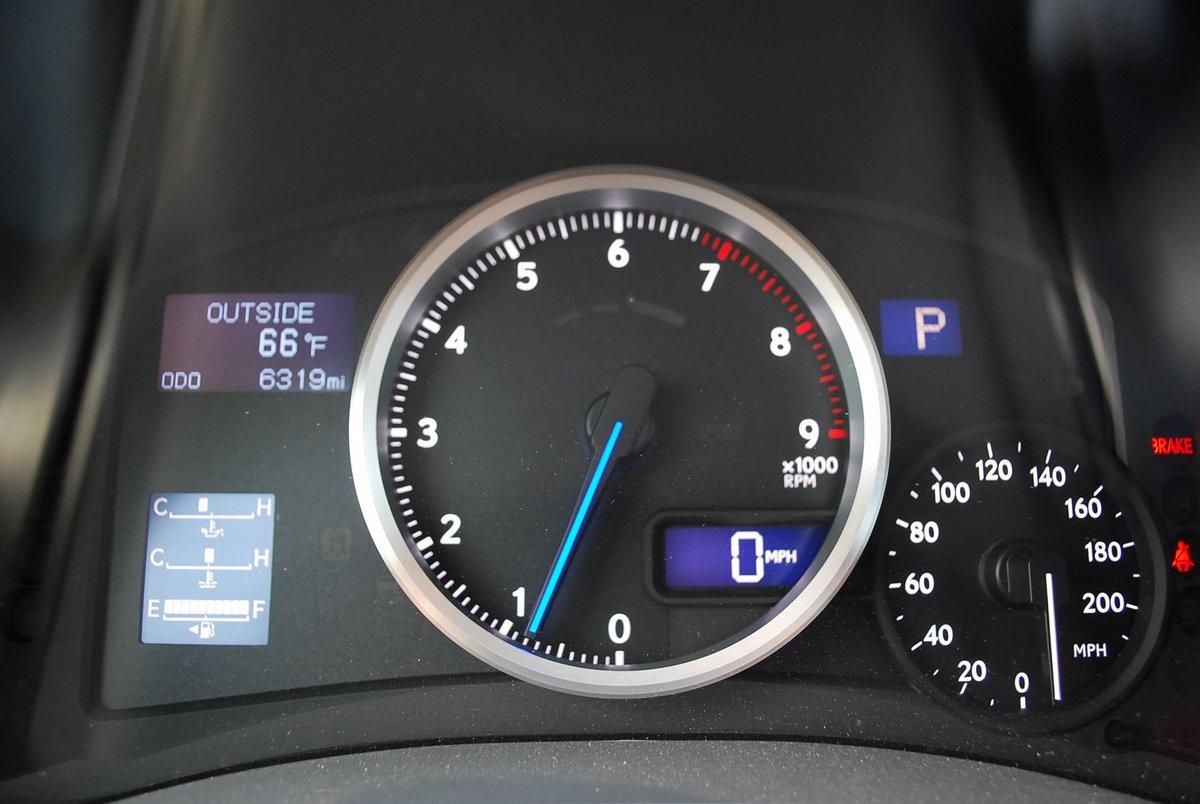 Especially effective are the Optitron electroluminescent gauges, which come alive during night driving with a brilliance that will shock you. Right under your nose is a pie plate sized tachometer that reads all the way to 9,000 rpm. Redline is 6,800rpm. Flanking it on the right is a much smaller 210 (!) mph analog speedometer, augmented by a digital speed readout window. The important gear selection indicator could stand to be larger and more prominently displayed, since its current location in the upper right quadrant of the display panel plays hide and seek with the steering wheel. All trim surfaces on the dash and door panels are done in a silver carbon fiber like material that reinforces the F's image as a race track bred machine. The cockpit is seamlessly constructed, with the kind of panel fit you've come to expect from Lexus. Most cars with track aspiration tend to look like boy racers designed them. The IS-F, on the other hand, with its merciful lack of flamboyant flourish, was expressly designed to appeal to the mature adult.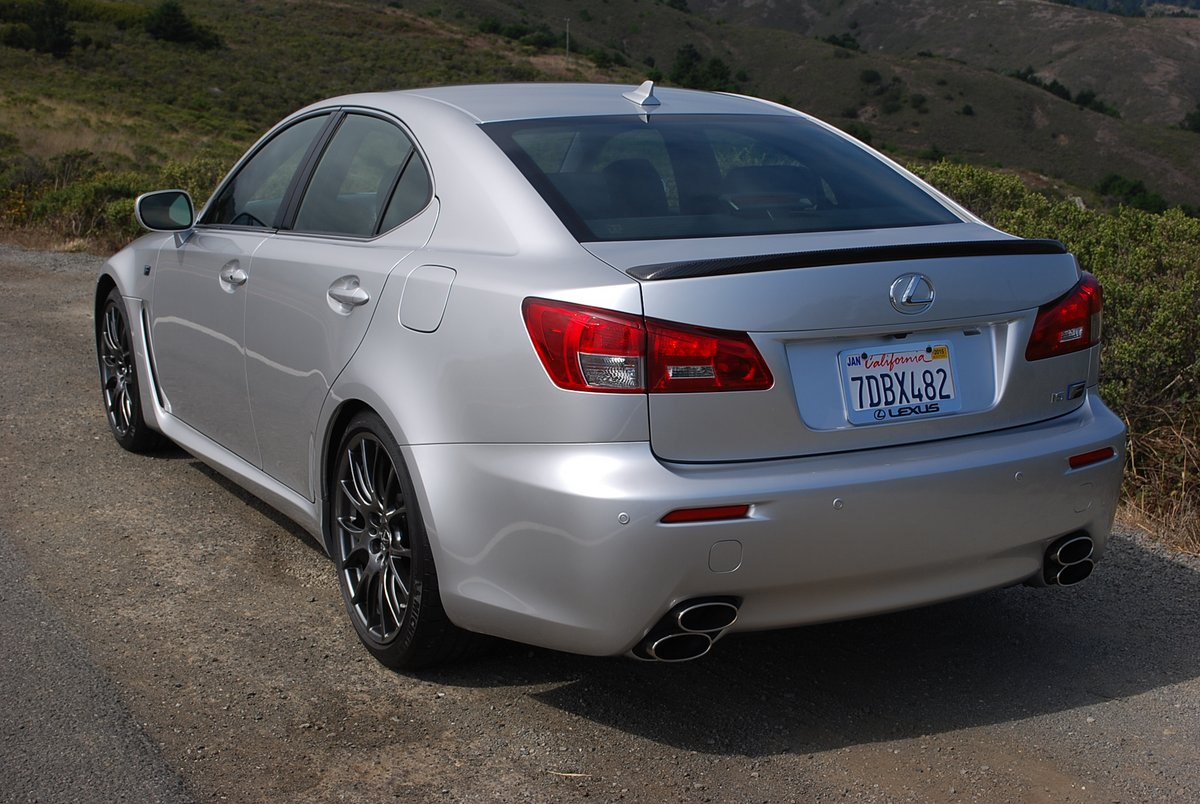 This Lexus shows just how many cannons Lexus has stored in its go-fast arsenal. It's not often that parent corporation Toyota displays this much technology. But every few years, the world's leading auto manufacturer takes the wraps off something special. Last time it was the LFA, this time the IS-F. You might think it looks like just another gap-mouthed Lexus family sedan until you notice the bevy of subtle F monikers on its flanks, or the sizeable carbon fiber tail spoiler anchoring its trunk lip. At that point you realize this Lexus is in many ways directly related to the splendid prototype sports cars Toyota fielded at Le Mans in this year's 24 hour race. No clearer example than the IS-F can be found to prove once again the adage that racing improves the breed.
2014 Lexus IS-F 4-DR Sedan
Engine: 5.0 liter V-8, DOHC, 32 Valves, Direct and Port Injection, VVT intake and exhaust
Horsepower: 416hp
Torque: 371 lb.-ft.
Fuel Consumption: 16 MPG City/23 MPG Highway
Price as Tested: $67,419
Star Rating: 10 out of 10 Stars
Related posts: