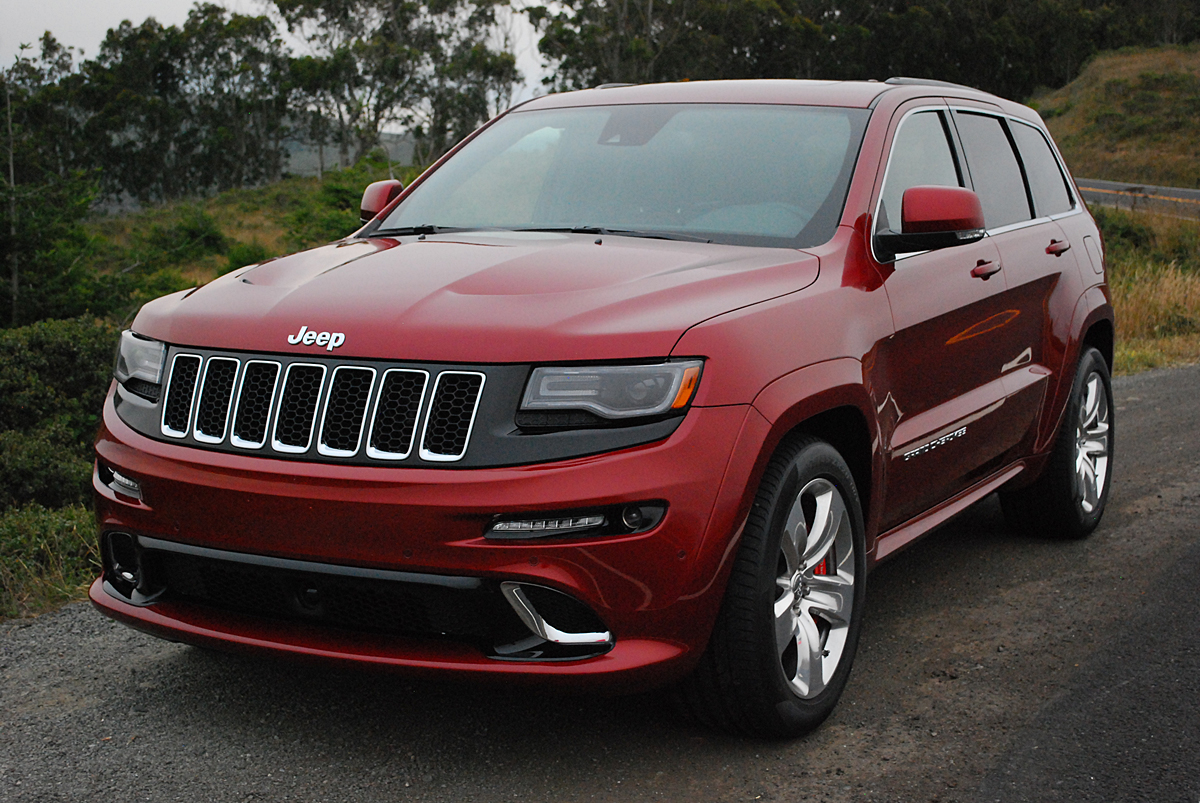 By David Colman
Hypes: Beautifully Constructed Street Fighter
Gripes: Poor Detents on Center Console Gear Change Stick
Forget everything you thought you knew about Jeep quality. Long gone are the days when the interior of a Grand Cherokee resembled the lobby of a Motel 6. When you gain admittance to the cockpit of the new Grand Cherokee SRT, you're more likely to think Ritz than 6. Chrysler has managed to elevate the SRT experience to a level of gratification previously reserved for Porsche Cayenne, BMW X5 and Audi Q7 owners. Swing open the door and you'll observe a distinctly European mode of finish, trim and appointment that will stagger your sensibility. For example, almost every seam from the top of the dash to the bolsters of the seats is double stitched with white thread for a custom tailored look. Instead of phony wood dash inserts, Chrysler provides carbon fiber slashes to the door panels and dash face that look just right with the purposeful, supportive SRT-embroidered front seats. Best of all the competition inspired touches is the Launch Control panel on the center console which allows you to program the SRT for instant departure when the light turns green. Backing up the track-ready promise of this Jeep, Chrysler has provided a series of performance measurements available via steering-wheel toggled menu: 0-60mph; 1/8 and 1/4 mile acceleration times; peak lateral and longitudinal G-Forces; instant peak G-Forces; Braking Distance from 60mph to zero.
In case you're wondering why a mass production 4×4 requires such meticulous performance documentation, think of the SRT version of the Cherokee as a race truck first and a passenger Jeep second. Just look at the specification sheet and you'll get the idea. Instead of the base Cherokee 's 290hp V-6, or optional 360hp V-8, the SRT harnesses Chrysler's top HEMI V-8, the 6.2 liter monster that produces 470hp and 465 lb.-ft. of torque. Couple that prodigious output to a paddle-shifted, 8HP70, 8-speed automatic gearbox that will hold any gear as long as you like when manual mode is selected. The gearbox also tunes itself to your preferred style of driving within the first 300 miles of operation. Adding to the joy of such extensive gear selection are the extra-large alloy paddles affixed to the superbly designed sports steering wheel. This SRT wheel features a tactile lower quadrant formed from buffed aluminum feeding into side grips of perforated leather with deep thumb indentations.
Jeep did not stint on premium suspension apparatus to cope with the engine's humbling horsepower. The front geometry features independent short/long arm design modulated by adaptive Bilstein gas dampers, while rear architecture consists of multiple links, adaptive Bilsteins, and adjustable toe links. Front and rear sway bars maintain equilibrium, and Jeep's patented Selec-Trac works with the Bilstein dampers to provide 5 ride settings: Tow/Snow/Normal/Sport/Track. These refined suspension bits feed thrust through new 5-spoke SRT-specific "Goliath" 20 inch diameter polished alloy rims supporting huge Pirelli P Zero run flat tires (295/45 ZR20 all around). Equally impressive Brembo disc brakes – 15 inch, 6 piston front, 13.78 inch, 4 piston rear – haul this monster truck down from its top speed of 160mph.
From the outside, the SRT is all nostrils and gill slits, meaner than a catfish, more purposeful than an MP. Yet the whole design blends together so successfully that unless you're super-attuned to Cherokee variants, this super Jeep could easily pass muster as a common grocery getter. After all, it still has all the attributes to fulfill that prosaic occupation. The rear tailgate is power assisted to lift or shut at the press of your key fob remote. The rear seat will hold 3 in a pinch, 2 comfortably, and provide them with A/C outlets, heated seats, and reclining backrests to boot. The Panorama sunroof enlightens front and back seat occupants with its generous sweep, and visibility to the rear and sides is unusually informative for an SUV of this type.
The Grand Cherokee in SRT trim is expensive, at $69.470, but worth every dollar when you compare it to its competition. For an equivalent performer from Porsche, BMW or Audi, you'll easily spend twice as much as the outlay for this Jeep. And to my eyes, none of these German canons look as good as the finely fluted, flying new Cherokee.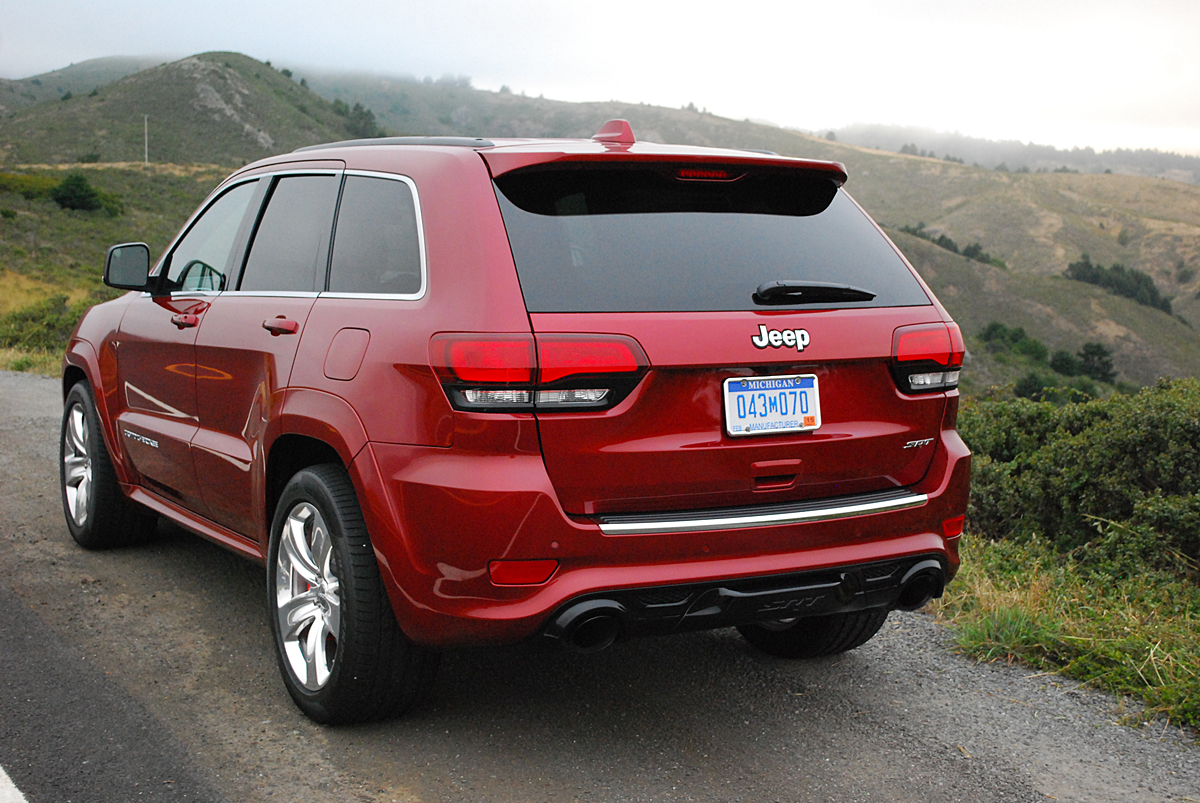 2013 Jeep Grand Cherokee SRT 4×4
Engine: 6.2 liter HEMI V-8 with Fuel-Saver Technology
Horsepower: 470hp @ 6,000rpm
Torque: 465 lb.-ft. @4,300rpm
Fuel Consumption: 13 MPG City/19 MPG Highway
Price as Tested: $69,470
Star Rating: 9.5 out of 10 Stars
Related posts: