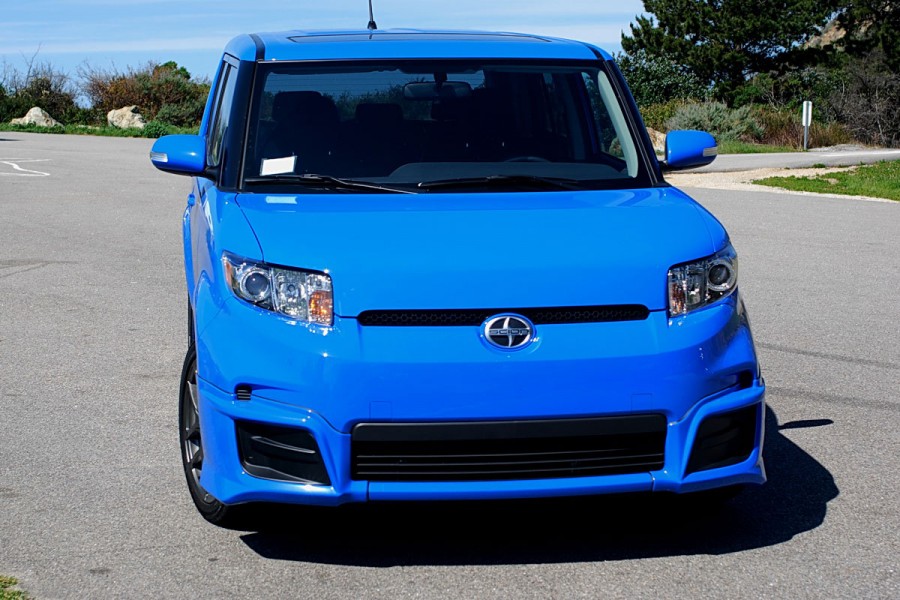 By contributing editor David Colman
Hits:
1 of 2,000
Utilitarian
Affordable
Misses:
Glacial acceleration
Alpine Premium iPod Ready stereo not ready for my iPod
Let's say you've set yourself a price limit of $25,000 for a small, but fun-to-drive 5-place transportation module. You want something that's minuscule enough to park anywhere, but large enough inside to forestall claustrophobia. In addition to those seemingly contradictory requirements, your ideal pick must also be sufficiently idiosyncratic to stand apart from anything else in the parking lot. Allow me to introduce you to the Scion xB Release Series 8.0.
No, it's not some kind of computer, nor is it a Microsoft upgrade. Rather, this xB is a highly select version of the more prosaic xB commonly available today. Above all, what distinguishes the 8.0 from lesser xBs is color, specifically VooDoo Blue. Although you might have seen the xB's distant cousin, the Toyota FJ Cruiser done up in this vibrant shade of French Racing Blue, you've never seen a VooDoo xB before. And honestly, the cerulean hue does wonders for the boxy little people mover. Release 8.0 is not a vehicle for introverts, because the lurid paints just adds an exclamation point to the xB's already extroverted appearance. In addition, unique Kenstyle body cladding further stimulates your visual cortex. Exaggerated lower fascias front and rear blend into tiered rocker panels that impart a ground-hugging look to the xB that is notably absent from the standard issue model.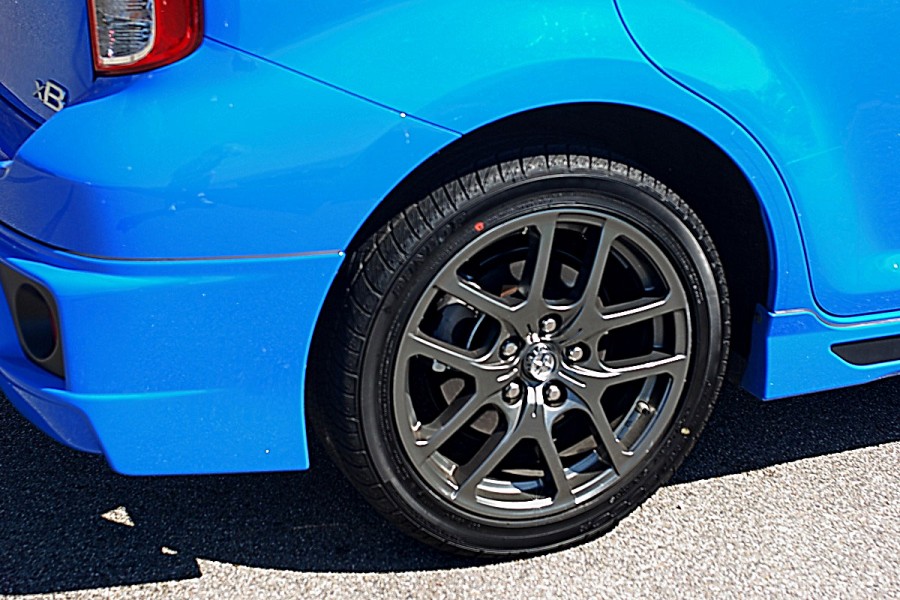 Optional $1,595, 10-spoke alloy rims further the slammed illusion thanks to low profile Dunlop SP Sport 5000M rubber measuring 225/45R17 front and rear. The wheels and tires offer more than an illusory advantage, however. The Scion goes exactly where it's pointed, handling more like a sports car than a family sedan thanks to a deft 34.8 foot turning radius and a tight steering rack that travels just 2.9 turns from lock-to-lock. Although Scion offers hundreds of dealer-installed amendments to the base package, you'll definitely want to opt for the $299 Carbon Fiber Window Trim (Option PO), which makes the little brute look more sinister than ever.
From the inside, this is one lovable little pug, thanks to the terrific exterior vision those tall windows provide. You can make lane changes without having to consult lane departure flight control. Just a quick look in the mirrors will tell you more than you need to know about adjacent vehicles. And the interior, done up in special black fabric with blue color tuned inserts, is a restful and spacious place. In order to reassure you about your exceptionality, Scion has seen fit to provide you with a builder plaque on the dash certifying that your Series Release vehicle is one of but 2,000 similarly equipped xBs. Each plaque is numbered and you'll also find model specific carpets underfoot. The 8.0 also features a standard double-action sunroof that, like the color blue, is not available on standard issue xBs.
The undersquare powerplant of the 8.0 will not exactly snap your neck at full trot, but the payoff for the 2.4 liter motor comes at the refill island, a place the xB rarely needs to visit thanks to its 22/28 MPG rating. You can order your Scion with 5-speed manual gearbox (base price: $18,405) or opt for the 4-speed automatic, which weighs 66 pounds more and costs $19,355.
2011 SCION xB SERIES RELEASE SERIES 8.0
ENGINE: 2.4 liter in-line 4, DOHC, 16 Valve with VVT-I
HORSEPOWER: 158 @ 6,000rpm
TORQUE: 162lb.-ft. @ 4,000rpm
TRANSMISSION: 5-speed manual /4-speed automatic sequential
FUEL CONSUMPTION: 22 City MPG/28 Highway MPG
EXTERIOR COLOR: Voodoo Blue
PRICE AS TESTED: $23,186
###
David Colman has been writing vehicle tests for 25 years. His work has been featured in AutoWeek, the San Francisco Chronicle, San Francisco Examiner, and Marin Independent Journal. In 1987, he helped start Excellence, The Magazine About Porsche, which he edited for many years. He has been an active participant in racing and Solo events since 1961.
---
Official website for Scion – www.scion.com
Related posts: