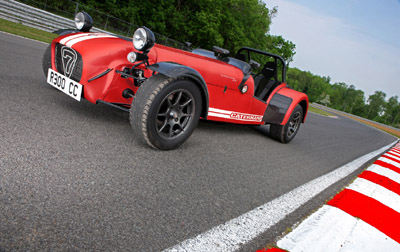 Ah, now THIS, is a car.
I know, I know … "It doesn't even have a heater or a roof!" you say. "Paint is an option!"
You're right. Who am I to argue? Things like heaters and paint and roofs and airbags are very nice things to have in a car, but you know what's also nice to have in a car? As little as possible.
Caterham Sevens, heirs to Colin Chapman's immortal Lotus Seven, are just such a car, if not the standard bearer for that idea. If it doesn't make the car go faster, it's not there. Lightness is the goal, because the llighter you get things, the better the car will perform. Lighter means shorter braking distances. Lighter means achieving higher G-loading in the turns. Lighter means better acceleration. Lighter means better mileage (c'mon, you can't win a race sitting in the pits getting gas kiddo).
How light?
Well, the Caterham Superlight R300 tips the scales at right around 1100 pounds, and that results in some pretty impressive numbers. 0 – 60 in 4.5 seconds, skid pad figures that'll slosh your brain to one side of your skull, braking like Roadrunner cartoons.
The only downside is top speed, which is only 140 or so since the thing is as aerodynamic as a packing crate.
The full press release is after the jump.
Source: Autoblog
Related posts: