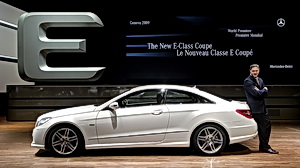 It's time for the New York Auto show, and although not the first show to spring into one's mind, this is the show that Mercedes-Benz usually rolls out some interesting stuff. For example, when they first wanted to show their gullwing to the world back in the 50s, Mercedes did it in New York. Anyway, at this year's show, the three-pointed star has decided to roll out some very interesting and efficient clean diesel concepts.
Case in point: the E 250 BlueEFFICIENCY Coupé. Sure, it's just "a concept", but it looks like one that could hit the showrooms by next week if they wanted to (and my bet is that Merc really wants to). The E 250 BlueEFFICIENCY Coupé gets 28 MPG around town and 39 MPG out on the open road. Which is pretty impressive for a car that weighs about what a WW II Tiger tank did. OK, that's an exaggeration, but Mercedes hasn't made a light car for 100 years, so getting figures like that is pretty impressive. What's even more impressive is that Mercedes manages to pull 369 lb-ft of torque from a 2.2-liter four-cylinder direct-injection diesel engine. And on top of that, it's a diesel that's legal in all fifty states.
Concept? OK Mercedes, here's a concept for you: very high sales figures in places like California. Just bring it to market and stop teasing us.
Source: AutoBlogGreen
Related posts: