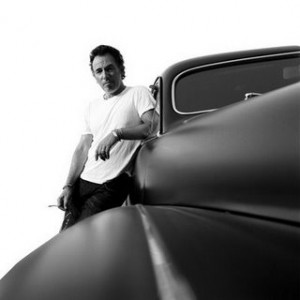 If I'm driving when Chuck Berry comes on singing, "As I was motivatin' over the hill/I saw Maybellene in Coup de Ville/A cadillac arollin' on the open road/Nothin' will outrun my V8 Ford" I better not be in Buda, Texas, the Mother of all speed-traps. Thank God I live in LA and am usually stuck on the 405. That came out wrong. "Maybellene" has two heroes, and she's not one of them. Everyone knows songs where the heroes are made of sheet metal. Lately, these heroes have been getting demoted. It's like scapegoating Batman for all that ails Gotham.
Last week, GM, Ford and Chrysler appeared at the doorstep of House Speaker Pelosi asking for money like those kids who sell candy bars door to door. Turns out that last quarter GM spent 6.9 billion dollars, cut 2200 jobs and saw its sales fall 11%. Ford spent 7.7 billion, and Chrysler is in the same boat car. There are 2-3 million jobs that rely on the auto industry, from factory workers to the guys selling steering wheel covers. The big question is whether to bail out more companies, or risk the economic domino effect of letting them go under. The public seems mostly outraged by another proposed bailout, some of whom cite the automakers' failure to the consumer.
In the 1950′s and 60′s the car was everything. It took you to the drive-in to "watch movies", and since flying was too expensive, it's what family vacations were about. Song after song talked about them. The Beach Boys made a career with songs like "409″-about Chevy's super powered engine, and "Little Deuce Coupe"-about a hot rod built from a 1932 Ford Coupe. And there's Ronny and the Daytona's "GTO", about its three, two-barrel carburetors. Later the songs were less about what's under the hood and more about mood, like War's "Lowrider", The Boss' "Pink Cadillac" or The Judds lyric, "She was sitting' cross legged on the hood of a Ford/Filin' down her nails with an Emory board." It wasn't until Gary Numan's "Cars" that we realized vehicles could isolate people, especially with the line, "Will you visit me please/If I open my door/In cars?"
What now? The big 3 are in trouble. Toyota closed its San Antonio plant, though it will reopen-minus one production line-and try to keep building Tundras. President-elect Obama opined that South Korea's 5000-cars-or-less trade barriers against US imports were unjust, given the hundreds of thousands of Korean cars entering the US annually. Gone are the carefree days of "The Little Old Lady from Pasadena" street racing in her "brand-new, shiny red, super-stock Dodge." And while the housing crisis has forced some people to move into their cars, perhaps prompting an updated lyric like, "Honey, I just wonder what you do there in the trunk of your Pink Cadillac" the biggest crisis facing car owners is still fuel prices, despite recent decreases. Maybe they'll inspire lyrics like, "I was ridin' around in my electric car/Had to plug it in or it would stop in your yard." Or an ode to a girl who's in for big surprise, "Pick you up at 7?/I should've said "Psych!"/You'll have to meet me there/Cause I'm taking' my bike." And on Obama's tough talk, "You know this tiny car you're seein'?/Don't get attached/We ain't buyin' Korean." For now, there's little solace when Janis Joplin sings "Oh Lord won't you buy me a Mercedes Benz?" But there's always the oldies station-if you still like your car enough to sit and listen.
Here are more car songs. Care to add any?
"American Pie", Don McLean
"Beep, Beep", The Playmates
"Bitchin' Camaro", Dead Milkmen
"Dead Man's Curve", Jan and Dean
"Coupe De Ville", Neil Young
"Drive My Car", Beatles
"Drivin' My Life Away", Eddie Rabbit
"Fun, Fun, Fun", The Beach Boys
"Geronimo's Cadillac", Michael Martin Murphey
"Hey Little Cobra", The Rip Cords
"Hot Rod Lincoln", Commander Cody
"I Can't Drive 55″, Sammy Hagar
"Jesus Built My Hotrod," Ministry
"Little Red Corvette", Prince
"Mustang Sally", Wilson Pickett
"Ridin' Dirty", Chamillionaire
"Surf City", Jan and Dean
"Teen Angel", Mark Dinning
"Tell Laura I Love Her", Ray Peterson
"Tranfusion", Nervous Norvis
"Ventura Highway", America
"You Can't Catch Me", Chuck Berry
Related posts: